The Barking Lot is a regular weekly feature of This Just In…Written by my lovely wife, Jennifer and me.  It opens with the weekend dog walking forecast followed by the main blog from dog lover, Jennifer. Then it's DOGS IN THE NEWS and our close. Enjoy!
THE FOLLOWING IS A SPECIAL YEAR-END EDITION OF THE BARKING LOT
THE WEEKEND DOG-WALKING FORECAST: We grade the weather outlook for taking your pet outdoors.
TODAY:  Partly cloudy and cold. High of 28. "D"

SUNDAY:  Sunny. High of 38. "C"
NEW YEAR'S EVE MONDAY: Rain and snow showers. Typical crummy New Year's Eve weather. High of 36. "F"
NEW YEAR'S DAY TUESDAY: Morning clouds. Afternoon sun. High of 26. "F"
Here's my lovely wife, Jennifer, with this week's main blog.
Everyone does a round-up and review of things this time of year; The Barking Lot is no exception.
Of the blogs I posted in 2018 this one isn't the most important, serious, touching, humorous, or cute. But it's probably my favorite. Hope you enjoy this look back.
It was early July, and as you  might expect…
The phrase of those days?
Hot enough for you?
Wish I had a dollar for every time I heard that one.
Our tenderhearted daughter, Kyla decided to help our furry friends by placing a plastic container (remember, no dog so we have no dog bowl) out by the curb with water. She made a sign to put on the tree that shaded the water.
One of us, including Kyla would periodically refresh the container with cold water, free of bugs.
Obviously we couldn't see every dog that walked by but we did witness quite a few that took advantage and slurped away.
But there were just a few more owners that didn't allow their pets to drink up. Instead, they pulled the dogs away by the leash and nicely told them no.
That's fine, of course. Possibly they worried about a spread of germs. If so, experts say they needn't be concerned.
According to the American Kennel Club (AKC) there are very few diseases dogs spread or contract by mouth.
Bacteria or viruses that can cause disease are more likely to be spread by fecal-to-oral transmission. And that can only happen in a bowl left out for dogs in the neighborhood  if fecal material somehow ends up in the bowl.
Still other diseases are of the respiratory kind. Can those be passed along by Kyla's water container? Of course. An infected dog would have to sneeze right on or near the bowl.
To summarize, the AKC contends if your dog is healthy, water meant to be shared is highly unlikely to be risky. Many other sources claim the same.
Does that end the debate? Not at all.
Susan Nelson, clinical associate professor at Kansas State University says, "Communal water dishes can be a breeding ground for bacteria and giardia, an intestinal parasite. It can live in a wet or damp environment for long periods of time. If a dog catches this parasite, it then multiplies to the point where it infiltrates the lining of a dog's intestines and blocks normal digestion and absorption of nutrients. To be safe, owners should simply bring their own water bowl (to a dog park)."
And the Center for Pet Safety recommends pet owners bring fresh bottled water during public outings and avoid the use of communal water bowls.
So when we repeat this ritual next summer we'll completely understand if the next dog owner on our street just keeps walking.
—Jennifer Fischer
Thank you, Jennifer.
Time now for DOGS IN THE NEWS, canines that made headlines the past week.
Woman flips van after dog barks at wipers on I-75 in Michigan.
They thought they were buying a family dog. Turns out they were leasing it.
TSA moving toward floppy-ear airport dog force because pointy-ear dogs 'scare children.'
Customs dog sniffs out millipede hidden inside traveler's suitcase at Atlanta airport.
Nonprofit raising money for service dog for paralyzed Sleepy Hollow veteran.
Sniffles, an adoptable dog without a nose, is getting love from across the country.
Want your kid to be the next big CEO? Buy them a puppy.
Dog walker wanted. That's not all. Creative writing skills required.
Snapchat has finally done it. Here's the dog angle.
The Life-and-Death Business of Being a Dog-Walker.
NY Times column: Starting Over by Learning the Language of Dogs.
I can't bear to share my bed with my dog anymore. How do I kick him out?
THAT'S IT FOR DOGS IN THE NEWS.
HERE'S OUR DOG PHOTO(s) OF THE WEEK.

A pack of hounds from the Members of Surrey Union Hunt look out from the kennels before taking part in the annual Boxing Day hunt in Okewood Hill, Dorking, Britain. Photo: REUTERS/Simon Dawson

And here are some other great photos from this past year that we posted.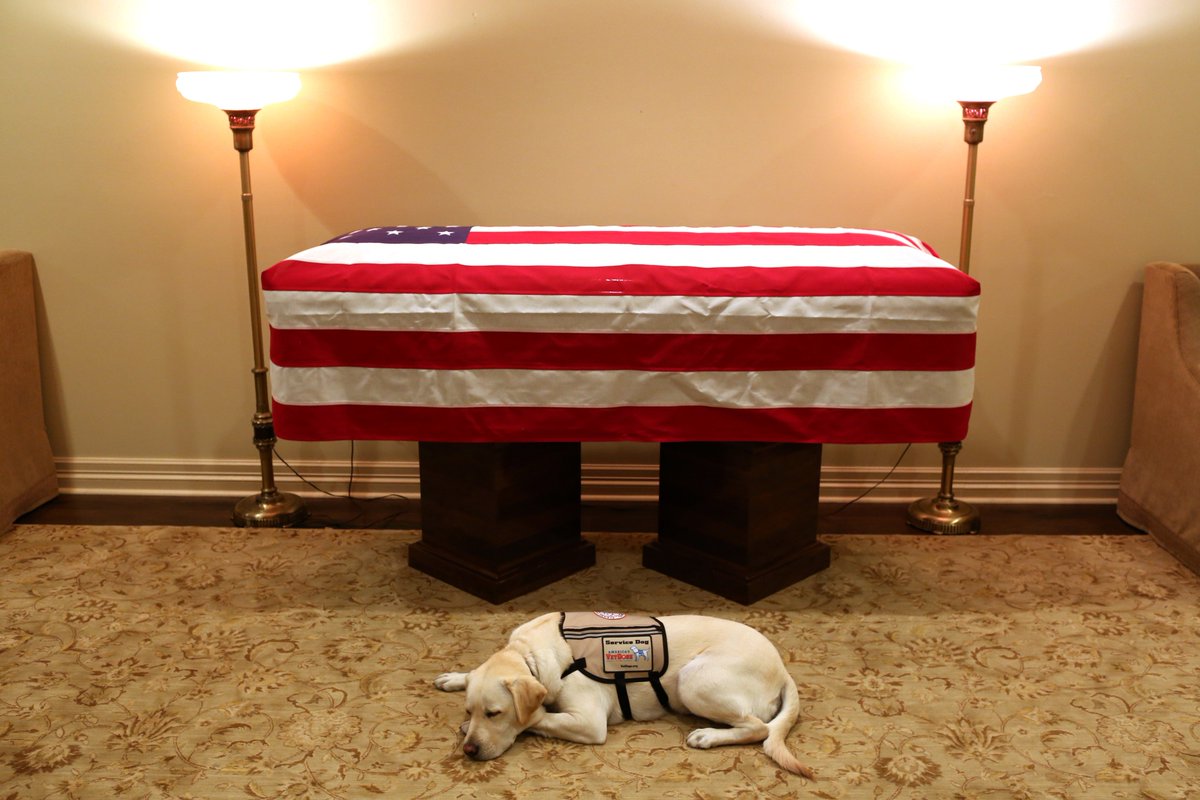 President George H.W. Bush's service dog, Sully, lays beside the casket containing the late president's remains at a Houston funeral home. Bush received Sully in June from America's VetDogs nonprofit organization. The president had a form of Parkinson's disease, and Sully could open doors, pick up items and summon help. Sully is named after former airline pilot Chesley B. "Sully" Sullenberger III, who became famous for landing a damaged passenger jet on the Hudson River and saving all 155 passengers and crew in 2009. KTRK-TV in Houston reports Sully will return to America's VetDogs in New York through the holiday season before joining the Walter Reed National Military Medical Center's Facility Dog Program. Photo: Jim McGrath on Twitter with the caption, "Mission complete. #Remembering41."
In June a dog stranded on a roof in Wells, Maine was pawsitively grateful to the firefighter who rescued him, showing his appreciation by giving the first responder thank you kisses.
Wells police said the dog managed to get on the roof of the home over the weekend through an open window on the second floor. Authorities received several calls reporting the stranded dog and one worried onlooker stood guard near the house until first responders arrived.
When firefighters and police arrived, Capt. Jeff Nawfel of the Wells Fire Department climbed a ladder to reach the dog and coaxed the pooch back into the home, but not before the canine thanked him with a few wet kisses.
Officer Steve McDonald captured the sweet moment in a photo that, you got it, went viral.
September…
Panicked dogs that were left caged by an owner who fled rising flood waters in the aftermath of Hurricane Florence, are rescued by volunteer rescuer Ryan Nichols of Longview, Texas, in Leland, North Carolina. Photo: REUTERS/Jonathan Drake
October…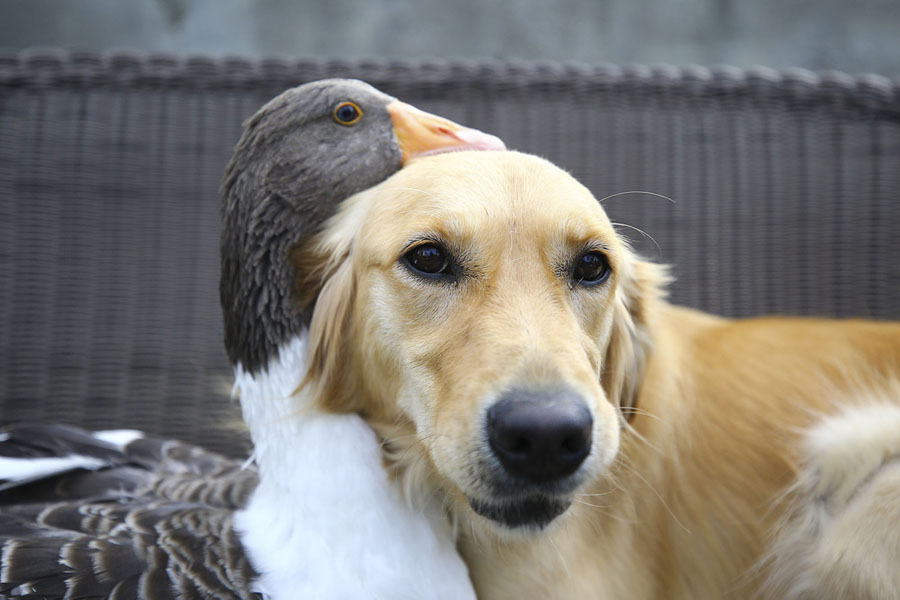 A dog named "Dost" (friend) and a goose named "Zincir" (chain), who grew up together, are photographed laying next to each other in Ankara, Turkey. Photo: Mustafa Kamaci / Anadolu Agency / Getty
We close as we always do with our closing video.
This dog was rescued from Chernobyl.
And here are a few videos we shared in 2018 that are worth a rerun.
In January…
Here's an old Barking Lot favorite, surf dog Ricochet!
RICOCHET GOES "BEYOND THE BOARD" TO HELP VETERANS WITH PTSD RECOVER MORE QUICKLY THROUGH HER EXTRAORDINARY HEALING POWER.
The connection she makes with people defies present-day scientific understanding. "Superman has x-ray vision, but Ricochet can see right into your soul", said retired Marine Staff Sergeant Persons B. Griffith IV (Griff), who suffers from combat related post-traumatic stress.
Ricochet is extremely sensitive, empathic and intuitive. She mirrors the emotions of those she works with through her subtle and not so subtle behaviors. "Somehow she knows their triggers," said Judy Fridono, Ricochet's guardian. "She assumes responsibility for their well-being and alerts them to potential triggers in the environment. She will stop and plant (refusing to move), or she'll redirect them to a less anxiety provoking area", said Fridono.
"The last time I worked with Ricochet, she alerted to a mall security guard by leading me away from the area we were in. She took it a step further by guiding me behind a bench where we were able to 'take cover' like I did when we took fire on the battlefield", Griff said.
Ricochet's behavior helps Griff (and others she works with) identify deep seated emotional trauma which can then be addressed with therapists. As a result, the healing process often advances more quickly.
Both Fridono and Griff's objective with these videos and IMAX film is that they can be a catalyst that gives hope to anyone with emotional trauma who is suffering in silence or contemplating suicide. The statistics are staggering… 22 veterans with PTSD die by suicide every day!
Fridono believes all dogs have these healing powers. Unfortunately, we often misinterpret their cues as bad behavior. In doing so, we miss the magic every dog is capable of. Her wish is that others will gain a better understanding of the sentience of dogs, and how they are always communicating with us… we just have to listen.
If you'd like to learn how to better interpret your dog's behavior, or if you'd like to unleash their healing power, please visit here.
If you have PTSD, please visit here to discover how a pet dog, emotional support dog or service dog can help you.
Note:  For more information, please contact Judy Fridono at 707-228-0679, or pawinspired@aol.com.
From a September blog…Master Sgt. Christopher Raguso, nicknamed "Goose," died just one day after celebrating his 39th birthday in Western Iraq. His plans to get a dog for his children came true thanks to a shelter rescue. CBS2's Clark Fouraker reports.
MORE
AND, watch the video in this story from KTLA-TV capturing the rescue of a mother and son and a dog after their vehicle was submerged in water in Long Beach, CA.
That's it for this week.
Thanks for stopping by.
Please consider passing this along to other dog lovers you know.
See ya, BARK, next Saturday morning!