The Barking Lot is a regular weekly feature of This Just In…Written by my lovely wife, Jennifer and me.  It opens with the weekend dog walking forecast followed by the main blog from dog lover, Jennifer. Then it's DOGS IN THE NEWS and our close. Enjoy!
THE WEEKEND DOG-WALKING FORECAST: We grade the weather outlook for taking your pet outdoors.
TODAY:  Mostly cloudy. High of 33. "D"

SUNDAY:  Mostly cloudy. High of 35. "D"
CHRISTMAS EVE MONDAY: Mostly sunny. High of 31. "C"
CHRISTMAS DAY TUESDAY: Morning snow showers. High of 35. "D"

My goodness, we have a  lot of stuff this week.
Here's my lovely wife, Jennifer, with this week's main blog.
This past Tuesday, December 18th, the Fischer family attended a Christmas reception hosted by Governor and First Lady Walker.  When we received the invitation, Kyla's immediate and enthusiastic response was, "I can give him a big hug, and ask him to come to OUR house for dinner too!"  It goes without saying that our little girl is a BIG fan of the Walkers.
We had a delightful evening, and enjoyed every moment of our conversations with Scott and Tonette.  Kyla soaked in all the details… the beauty of the Christmas trees, the exquisite decorations, the delicious hors d'oeuvres.  Her favorite moments of course included any spent with the Governor, especially when she was able to give him her handmade Christmas card.
Governor Scott Walker intently reads Kyla's Christmas card at the reception.
She summoned her courage (because she admitted to me she was a bit nervous to issue the invitation) and said, "Governor Walker, I would really like you and the First Lady to have dinner at our house."
Without missing a beat, he graciously informed her that he would forward all his new contact information to us so that we could get something on the calendar.  (Yes, we realize that he's still an incredibly busy man.)  If space would have permitted I think she would have done cartwheels.
The Fischer family (including American Girl Audrey) enjoying a happy moment with Gov. Walker.
Later in the evening, Kyla had an opportunity to chat with the First Lady.
Kyla and First Lady Tonette Walker sharing a Christmas smile.
Naturally Kyla issued the same invitation.  As gracious as ever, Tonette didn't hesitate to ask, "Do you have dogs?"  Kyla began the launch into how much she wants one but Tonette was quick to point out her husband's severe allergy.  I can guarantee you this was the one and only time Kyla was actually grateful NOT to have a family pet.
Governor Walker's allergy is nowhere near breaking news. When you're running for president just about every aspect of your private life is heavily scrutinized by the news media as was the case for Walker in 2015.
In July of that year Walker was out in front of all Republican presidential contenders in a Monmouth University poll surveying likely Iowa GOP caucus-goers. Guess who was in second? Yes, it was Donald Trump.
Four (4) months before that poll the Associated Press published a national story that the Walkers had planned to spend a recent evening at the Nashua home of Jennifer Horn, the New Hampshire Republican chairwoman.
Plans had to change. Governor Walker heard about Al, the Horns' Dalmatian-Catahoula Leopard mix. No more visit the Horns' residence. A nearby Bedford restaurant became Plan B.
"The governor's allergic to dogs," Ms. Horn said. "And we have a very hairy dog."
A spokeswoman for Walker at the time said his allergy was "unfortunate because he loves animals."
Knowing voters appreciate candidates who have an affinity for animals Walker went exotic.
"He did the bear encounter and giraffe encounter," said Judith A. Domaszek, who runs Wildwood Wildlife Park in Minocqua, Wis., which Walker visited in the summer of 2014. She said he petted and fed fruit juice to a kinkajou, a small mammal often called a honey bear.
"He had no problems there, and they have lots of dander," Ms. Domaszek said.

In 2010, during his initial run for governor of Wisconsin, Scott Walker greeted Lisa Bell, a Republican activist who had been tossing her Wire Fox terrier, Diva, in the air during his speech. Photo: Mark Hertzberg/Journal Times, via Associated Press
I understand. No dogs at the Governor's mansion. I'm allergic to horses. No thoroughbreds at the Fischer mansion.  Just one more reason for my husband to say, "See?  THIS is why we don't have a dog… our visitors' health & well-being comes first!"
Fine.  We'll host the Walkers at our home… once.  From then on we'll also have a restaurant Plan B.
—Jennifer Fischer
Thank you, Jennifer. That was an amazing night, one as a family we'll never forget.
Time now for DOGS IN THE NEWS, canines that made headlines the past week.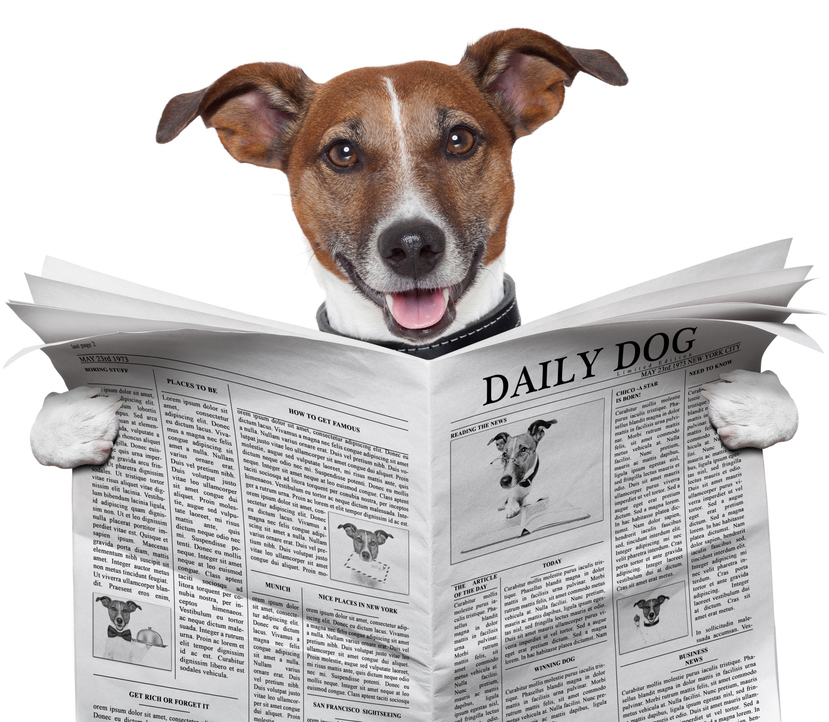 An Officer Placed a Retired Police Dog in a Shelter. Now He's Been Demoted.
'Service Dog Sally' abuses handlers after being told her daughter can't pat the animals in viral video.
President Trump signs the Farm Bill making dog and cat meat illegal in the United States.
Three Federal Protective Service inspectors — all so-called K-9 handlers — logged a lot of overtime in 2017.
A Noise-Cancelling Kennel – A safe place for man's best friend.
Why antler dog chews are best avoided.
Woman's pup-filled Christmas card spreads stray dog awareness in Houston.
How to Pick the Right Dog.
THAT'S IT FOR DOGS IN THE NEWS.
HERE'S OUR DOG PHOTO(s) OF THE WEEK.
The Osceola County Sheriff's Office in Florida posted a photo of Deputy Fiorelli comforting a dog that had just been hit by a car last Sunday. Animal Control arrived to care for the dog. Reports out of Orlando say the dog is expected to recover just fine.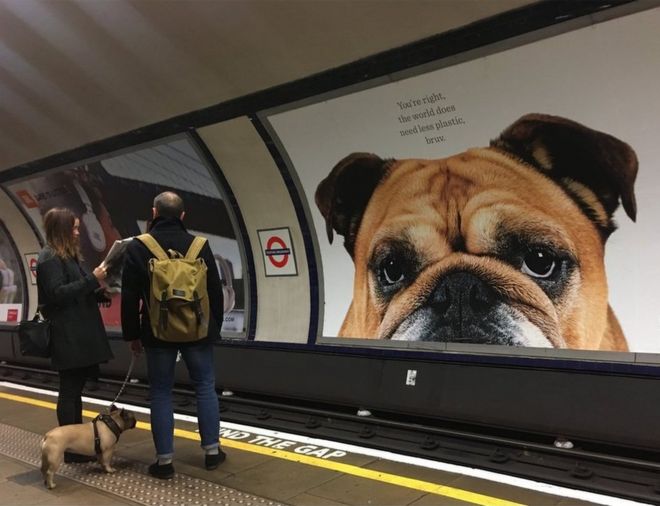 Each week, the BBC publishes a gallery of readers' pictures on a set theme. Last week it was "opposites". Simin Zeng photographed a dog who had spotted a supersize version of himself while his owner seems unfazed.
From our blog on December 16, 2017:
That's my longtime friend Dan Wildt, a fellow member of the Wisconsin Scorers and Timers Association with his grandpuppy, "Scout."
That's "Scout" with Dan's granddaughter, Kayla Kocovsky. They're at Kayla's
Waukesha home.
Now for an update.
Scout was awarded by Petco.
We close as we always do with our closing video. And we have a few.
Bush Service Dog 'Sully' Returns To Long Island:
Sully is a real service dog.
However…
Another video.
This company brings in $7 million a year testing dog poop DNA to catch non-scoopers.
Next…
How an infant and dog with wounded hearts are healing together.
And check out this Petco ad.
That's it for this week.
Thanks for stopping by.
Please consider passing this along to other dog lovers you know.
See ya, BARK, next Saturday morning!


From Dog Bless You. Photo by Christine Paliwoda Scherry.