The Barking Lot is a regular weekly feature of This Just In…Written by my lovely wife, Jennifer and me.  It opens with the weekend dog walking forecast followed by the main blog from dog lover, Jennifer. Then it's DOGS IN THE NEWS and our close. Enjoy!
THE WEEKEND DOG-WALKING FORECAST: We grade the weather outlook for taking your pet outdoors.
TODAY:  Sunny. High of 30. "D"

SUNDAY:  Sunny. High of 32. "D"
Now, here's my lovely wife, Jennifer, with this week's main blog.
Last week I was in complete Science Dog heaven when I wrote about what makes a dog tick. Well, I'm back there again this week.
I think it's a fair bet that dog owners would love to know how to communicate better with their pets. More than that, wouldn't it be great if we had some way of understanding what dogs meant when they were trying to communicate with us, to know exactly what they were attempting to say?
For example, let's suppose you could hook a dog up to a computer that's used to record the dog's sounds. Then the sounds are put into a simulator that essentially translated the sounds into words?
Fascinating? I sure think so. And does it, could it work?
Stanley Coren, PhD., DSc., FRSC, is Professor Emeritus in the Department of Psychology at the University of British Columbia. He writes about the details of using computers to interpret canine communication.
You can read all about it in human words here.
—Jennifer Fischer
Thank you, Jennifer.
Time now for DOGS IN THE NEWS, canines that made headlines the past week.
Army Ranger dog who died in Afghanistan saved soldiers' lives.
Dog waited weeks for owners to return to home burned by Camp Fire.
Dog sniffs out owner's cancer, not once, but three times.
During a tragedy a dog may be the only one to bring comfort.
Keeping your dog stylish — and safer from coyote attacks. MORE.
Ladybug-Like Beetles May Burrow into Your Dog's Mouth This Season, Experts Say.
Should you give your dog cannabis?
Is it OK to put your dog's poop in someone else's trash can?
Does lying down make a dog loyal?
Ohio shelter's 'Holiday Sleepover' program helps local dogs find forever homes.
Wis. teen qualifies for 2 national dog show competitions for a second year.
America's Top Police Dog…she's from Pennsylvania.
Dogstars … is it time canine actors had their own Academy Award?
Column: I Tried to Make My Dog an Instagram Celebrity. I Failed.
These are the Next Big Pet Clothing Trend this Holiday Season.
Most popular dog names for 2018.
THAT'S IT FOR DOGS IN THE NEWS.
HERE'S OUR DOG PHOTO(s) OF THE WEEK.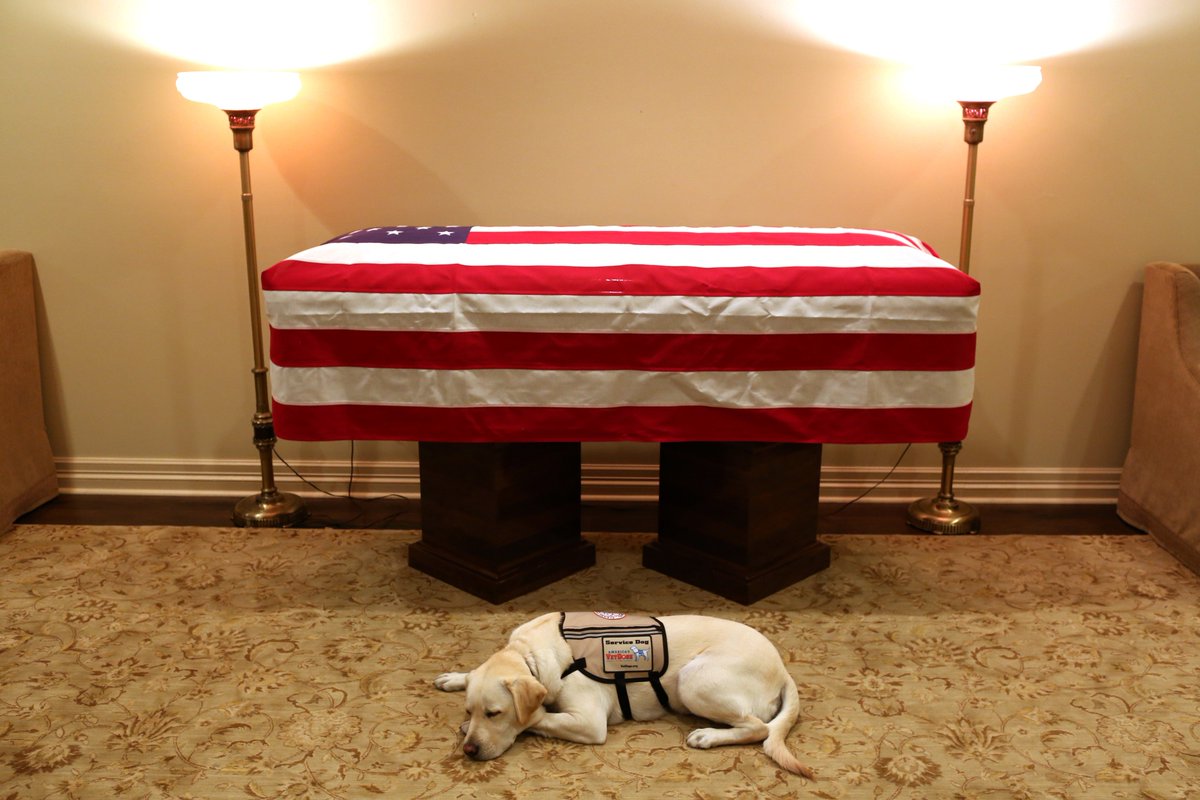 President George H.W. Bush's service dog, Sully, lays beside the casket containing the late president's remains at a Houston funeral home. Bush received Sully in June from America's VetDogs nonprofit organization. The president had a form of Parkinson's disease, and Sully could open doors, pick up items and summon help. Sully is named after former airline pilot Chesley B. "Sully" Sullenberger III, who became famous for landing a damaged passenger jet on the Hudson River and saving all 155 passengers and crew in 2009. KTRK-TV in Houston reports Sully will return to America's VetDogs in New York through the holiday season before joining the Walter Reed National Military Medical Center's Facility Dog Program. Photo: Jim McGrath on Twitter with the caption, "Mission complete. #Remembering41."
We close as we always do with our closing video.
You saw the photo. Here's more.
That's it for this week.
Thanks for stopping by.
Please consider passing this along to other dog lovers you know.
See ya, BARK, next Saturday morning!