The Barking Lot is a regular weekly feature of This Just In…Written by my lovely wife, Jennifer and me.  It opens with the weekend dog walking forecast followed by the main blog from dog lover, Jennifer. Then it's DOGS IN THE NEWS and our close. Enjoy!
THE WEEKEND DOG-WALKING FORECAST: We grade the weather outlook for taking your pet outdoors.
TODAY:  100% chance of rain. Half an inch possible. Becoming very windy in the after noon. High of 39. "F"

SUNDAY:  Rain early, then remaining cloudy with showers late in the day. 80% chance of rain. High of 36. "F"
Now, here's my lovely wife, Jennifer, with this week's main blog.
Regular readers know that I am very interested in and enjoy writing about research, studies and science related to dogs. Kevin ribs me about it. Not again! What can I say. I'm fascinated.
When he used to sub for talk radio hosts he always told me he picked topics he was into. If he wasn't interested in the discussion, how could his listeners be? Dull and boring would be the result.
So, it's no wonder that I often wonder about what makes a dog a dog. What does a dog think? What does a dog feel? How does a dog attempt to communicate. And what's it like being a dog.
Back in February our blog included a video about Gregory Berns who has spent his entire life around dogs. When his most beloved pet passed away, he began to wonder whether his dog reciprocated the same love and care he felt for him. As a neuroscientist at Emory University, he took his curiosity to the test. Now, he scans the brains of dogs using MRI machines, trying to decode canine behavior using brain activity.
Take a look.
That was February. Now we learn more about Berns and his work from a recent article, including he got started on his lifelong mission to discover "what makes a dog tick."
One scientific thought suggests Berns is wasting his time. Humans couldn't possibly the inner thoughts and workings of dogs or any other animals. Consider beautiful dolphins. We can't swim or leap like those incredible creatures. There are simply few similarities. Thus, Berns is on a path to failure.
Except Berns isn't buying it. Berns believes we have a lot more in common, and unlocking that mystery can help us  treat and understand animals better than we do now.
Berns says we better because the successors to humans on our planet could be far more advanced and actually behave towards  the remaining human species in the same manner we handle our pets and other animals.
I'm not so sure about that hypothesis. And I'm not sold on Berns' support for legal rights for animals. However his work is intriguing and could unveil wonderful details about the animal world.
Read more here.
Berns' book is now out in paperback.

—Jennifer Fischer
Thank you, Jennifer.
Time now for DOGS IN THE NEWS, canines that made headlines the past week.
Does Banning Specific Dog Breeds Improve Public Safety?
Here we go again. Media outlets are trying to catch up with what we told you weeks ago, so, here's another of those stories.
Dog's rescue story demonstrates Wisconsin Humane Society's value.
Study: Women get better sleep with a dog on the bed.
UPS Driver Adopts Shelter Dog Who Jumped Into His Truck: 'I Wanted Him to Have a Good Home.'
Are you a new dog owner? You are advised to read.
Burger King is going to the dogs and giving away free flame-grilled dog bones.
5 Instagram dog foodie accounts that are better than yours.
And speaking of Instagram…
THAT'S IT FOR DOGS IN THE NEWS.
HERE'S OUR DOG PHOTO(s) OF THE WEEK.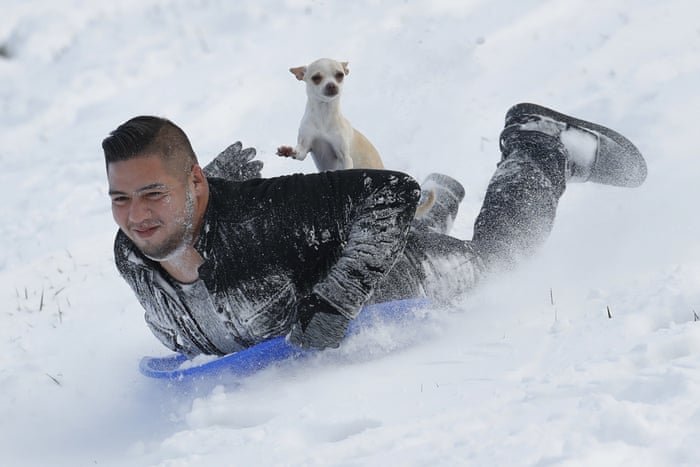 Jonny Mendoza and his dog Subi sled down a snowy hill in a park. A winter storm brought blizzard-like conditions dumping about 6 inches of snow on the the Kansas City area Sunday before moving east Monday, grounding hundreds of flights and causing some road traffic chaos. Photograph: Charlie Riedel/AP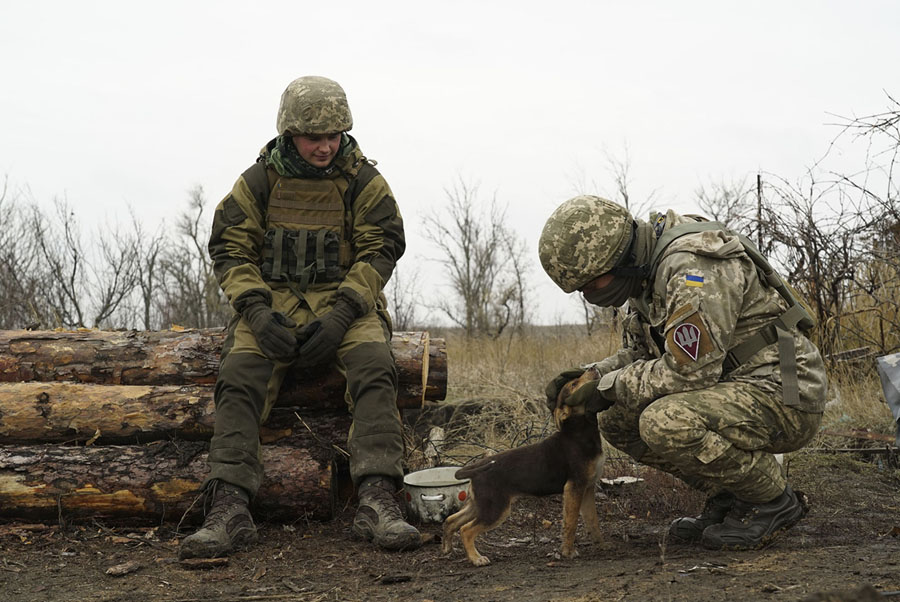 Ukrainian soldiers pet a puppy as they control an area near the front line with Russia-backed separatists in Shyrokyne, eastern Ukraine, on November 28, 2018. Russia and Ukraine are still reeling from their first overt military confrontation since the 1991 collapse of the Soviet Union, a clash Sunday in the Kerch Strait near Russia-occupied Crimea in which Russian border guards fired on three Ukrainian ships, seizing them and their 24 crew members. Photo: Evgeniy Maloletka / AP
ALSO:
This Photographer Pairs Humans with Their Dog Doppelgängers
We close as we always do with our closing video.
An Ohio man and his 92-year-old grandmother want to help people with Alzheimer's and dementia this holiday season. Ross Smith and his comedy sidekick – his own grandmother, who goes by "Granny" — visited four different senior living facilities around Ohio last week and they brought with them a very special gift: puppies.
This year, they decided to use their comedy talents — and puppies — to brighten the holiday for people living with Alzheimer's and dementia.
"We partnered with a pillow manufacturer in Chicago and we said we're going to take an exact picture of each puppy and we're going to make a custom cut-out pillow," Smith said. "And we're going to go give these pillows to people when we leave so they have something to hold on to."
Smith said the puppy pillows were a hit, and his video shows that. Each person was handed a pillow that looked exactly like the dog they were just cuddling.
He said the duo plans on doing this again throughout the holiday season and then continuing throughout the year. Smith said anyone who wants to help can purchase their own pillow from The Custom Pillow. The company teamed up with Smith so that for every pillow sold, a free one will be given to Smith and Granny's cause.
CBS video…
That's it for this week.
Thanks for stopping by.
Please consider passing this along to other dog lovers you know.
See ya, BARK, next Saturday morning!