Every Friday night we smooth our way into the weekend with music, the universal language. These selections demonstrate that despite what is being passed off as art today, there is plenty of really good music available. Come along and enjoy.
The Presidential Medal of Freedom is the Nation's highest civilian honor, presented to individuals who have made especially meritorious contributions to the security or national interests of the United States, to world peace, or to cultural or other significant public or private endeavors. The medal was established by President Truman in 1945 to recognize notable service in the war. In 1963, President John F. Kennedy reintroduced it as an honor for distinguished civilian service in peacetime.
Earlier today President Trump awarded medals to doctor and philanthropist Miriam Adelson; Sen. Orrin Hatch, R-Utah; Pro Football Hall of Famer, philanthropist and Minnesota Supreme Court Judge Alan Page; Baseball Hall of Fame legend Babe Ruth; Supreme Court Justice Antonin Scalia; Dallas Cowboys Hall-of-Fame quarterback Roger Staubach; and rock and roll legend Elvis Presley.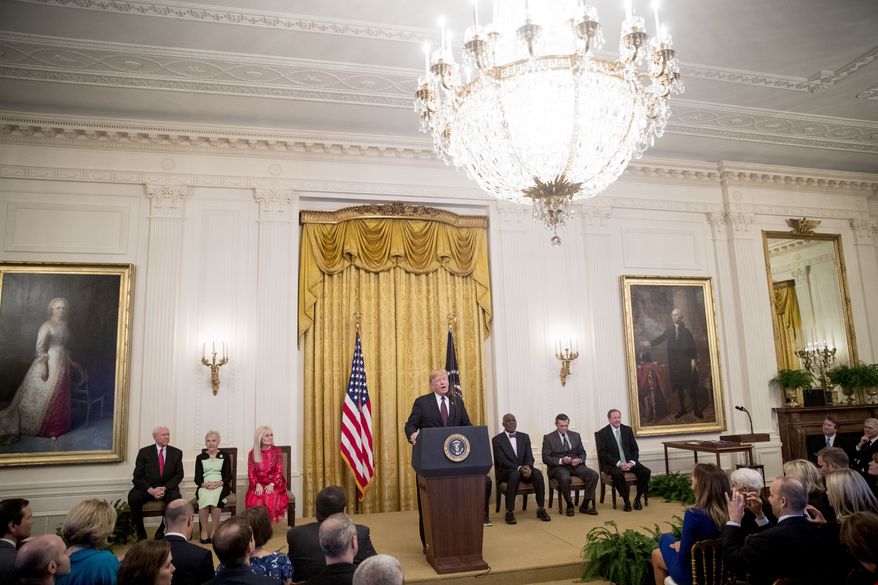 President Donald Trump speaks during a Medal of Freedom ceremony in the East Room of the White House in Washington, Friday, Nov. 16, 2018. AP Photo: Andrew Harnik
Now that you've heard the news, let's get started with this week's feature.
Elvis Presley defined American culture to billions of adoring fans around the world. Elvis fused gospel, country, and rhythm and blues to create a sound all his own, selling more than a billion records. Elvis also served nearly 2 years in the United States Army, humbly accepting the call to serve despite his fame. He later starred in 31 films, drew record-breaking audiences to his shows, sent television ratings soaring, and earned 14 GRAMMY Award nominations. He ultimately won 3 GRAMMY Awards for his gospel music. Elvis Presley remains an enduring American icon 4 decades after his death.
Elvis also served nearly 2 years in the United States Army, humbly accepting the call to serve despite his fame.
Elvis' fifth film was his first after serving two years of active duty in the U.S. Army. In "G.I. Blues" Elvis stars as Tulsa MacLean, an Army sergeant stationed in West Germany. Tulsa and his buddies hope to make enough money to open a small nightclub upon their return to civilian life.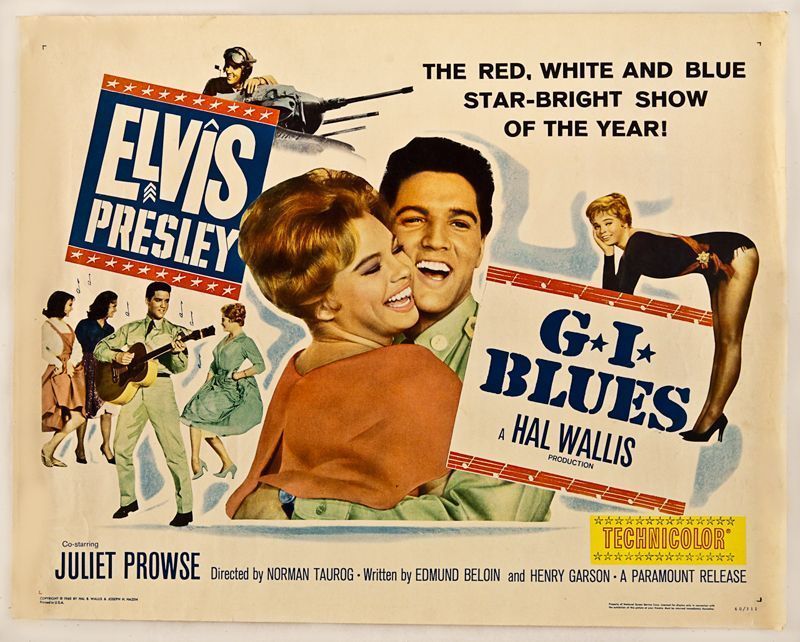 Elvis was a great American hero. Here's a perfect example.
In the late 1950's Congress gave its approval to the construction of a memorial in Pearl Harbor to honor the crewmembers entombed when the USS Arizona was sunk during an attack by the Japanese that sent the United States into World War II. It was the job of The Pacific War Memorial Commission to raise $500,000 to build the USS Arizona Memorial.
By the end of 1958 more than $95,000 was raised. However fundraising began to lag and at the start of 1960, only $155,000 had been collected.
Elvis' manager, Colonel Tom Parker, read about the slow progress in the Los Angeles Examiner. Elvis was already in Hawaii to film his next picture and agreed to do a benefit concert for the memorial.
On March 25, 1961, the 26-year-old Presley went onstage before a packed, screaming crowd of 4,000 fans at the Bloch Arena who paid anywhere from $3 to $100 a ticket.
Admirals and generals who hit Parker up for complimentary tickets were rejected. Parker insisted everyone pay, including the performers. Elvis bought a $100 ticket for himself and then bought dozens more to give to staff and patients at a military hospital.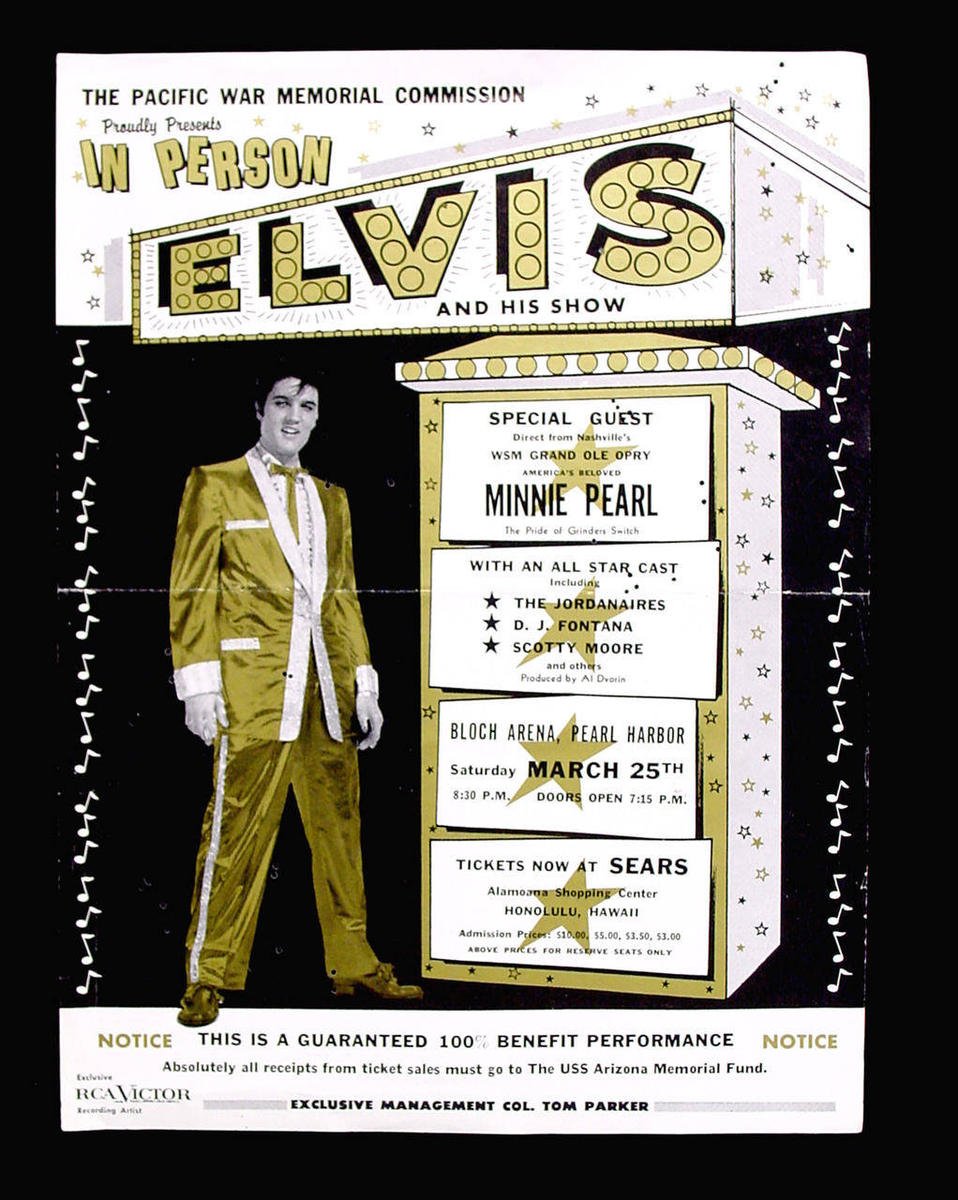 The concert raised $60,000, well short of the goal. But the show created a new excitement about the construction project and donations started to pour in.  The $500,000 goal was reached by September, 1961, just 5 months after the concert. Construction on the memorial was completed by the end of the year. Elvis saved the USS Arizona Memorial.
Enjoy two songs from the concert. After some pictures the audio will kick in.
"He served his country for two years, I saw him in the field, I ran across him in the woods while he was doing what every other GI does and he was thought of well enough by his commanders that he was promoted from private to sergeant before he left.
"He was drafted like any other young man about his age. He stepped forward when his number came up and was willing to give up a career without any objection. Frankly it was in his best interests to do that because it showed he was a patriot and willing to serve as a soldier and he went back after serving in the army to a career that became even bigger.
"At that time in the late Fifties when there a was a cold war, when there was an iron curtain and there was a Soviet army stacked up on the other side, those were serious times. Back in those days we had people who stepped forward as volunteers and we also had conscription and when his name came up, this country boy took off his blue suede shoes and whatever else he was wearing and put on army green."
Former US Secretary of State General Colin Powell in a BBC radio interview
That's it for this week.
Goodnight.
Sleep well.
Have a great weekend.
We close with a performance in Greensboro on April 14th 1972. Elvis wore the Owl Fireworks suit. The clip is from "Elvis on Tour," a Golden Globe Award-winning American musical documentary film released by MGM in 1972.