The Barking Lot is a regular weekly feature of This Just In…Written by my lovely wife, Jennifer and me.  It opens with the weekend dog walking forecast followed by the main blog from dog lover, Jennifer. Then it's DOGS IN THE NEWS and our close. Enjoy!
THE WEEKEND DOG-WALKING FORECAST: We grade the weather outlook for taking your pet outdoors.
TODAY:  Mostly sunny. High of 31. "D"

SUNDAY:  Partly cloudy. High of 38. "D"
Now, here's my lovely wife, Jennifer, with this week's main blog.
Kevin's workplace is in the final weeks of its annual year-end fundraiser for charities with options to give to from all around the world. It's an amazing endeavor that is extremely successful.
My husband looks over the corresponding booklet each year to see the various choices. But in the end his mind doesn't change. The check's been made out for many years in a row to a special place.
Our annual contribution is a tribute to Kevin's mom who donated regularly to St. Jude's.
Oh, and by the way (BTW) this guy donated to St. Jude's, too.
OK, I digress.
Want to join us and make a charitable donation before the end of 2018, but you have dogs in mind?
Here are some worthwhile charities pertaining to dogs you might wish to consider:
Guide Dog Foundation for the Blind
For 70 years, the Guide Dog Foundation has trained and placed guide and service dogs to provide increased independence and enhanced mobility to people who are blind, have low vision or have other disabilities.
It costs over $50,000 to breed, raise, train, and place one assistance dog; however, all of the Foundations' services are provided at no charge to the individual.  Funding comes from the generosity of individuals, corporations, foundations, businesses, and service and fraternal clubs.
Their mission is to provide guide dogs and instruction in their use, free of charge, to blind and visually impaired men and women from the United States and Canada.  There's no government funding, so they must depend on donations and fundraising to provide guide dogs and instruction in their use.
Dogs for Deaf and Disabled Americans
Trains and places shelter rescue dogs for assistance to disabled veterans, autistic children, and people who are physically disabled so they can live independently.
Professionally trains dogs rescued from shelters to assist people with deafness, hearing loss, and other challenges. Dogs provide safety, companionship, self-confidence, and independence.
Rescues dogs facing imminent execution if they do not get interim financial sponsors, foster parents, or medical treatment required to become adoptable.
They provide service dogs to wounded warriors with physical and psychological disabilities. Your gift gives love, friendship, and independence to those who have sacrificed so much.
Canines for Disabled Kids, Inc.
Provides canine companions for disabled children. Your support helps through scholarships to offset the cost of the dogs for the children they help, counseling services for families looking for information about service dogs, or education offered around the country to interested businesses and schools. CDK relies solely on private donations and grants.
Fido and many others thank you!
—Jennifer Fischer
Thanks, Jennifer.
Time now for DOGS IN THE NEWS, canines that made headlines the past week.
Vietnam veteran dies before being reunited with stolen service dog.
COLUMN: The worst part of being poor: watching your dog die when you can't afford to help.
Passenger Says Delta Made Him Sit In Dog Poop Or Miss Flight.
Mayor takes terminally ill dog on trip of a lifetime.
Talk to your baby like you talk to your dog.
COLUMN: My Dog Didn't Forget Me When I Went to Prison.
COLUMN: We might not want to admit it, but our pets often call the shots at home.
How to make your dog Instagram-famous, according to a manager for "pet influencers."
Janesville Fire Dept. to Receive Life-Saving Pet Oxygen Masks for Holiday Preparedness
The holiday season sees a rise in the number of residential fires with more time spent cooking, decorating and heating, also claiming the top three days for home candle fires (Christmas, New Year's Eve and New Year's Day), according to the National Fire Protection Association. While fire departments are equipped to battle these blazes and rescue victims, not every unit has the equipment needed to assist pets affected by smoke inhalation. To reduce the number of resulting pet fatalities this winter, Invisible Fence® Brand is donating 15 life-saving pet oxygen masks on Monday, Nov. 12, 2018 to the Janesville Fire Department in Janesville, Wisc. The donation is being made by Invisible Fence of Southern Wisconsin in support of the company's Project Breathe™ Program.
Each year, it's estimated more than 40,000 pets die in fires, most succumbing to smoke inhalation. The reality in most cases is that first responders lack the equipment to resuscitate and save these animals. Programs like Project Breathe are addressing this issue. Since Project Breathe's inception in 2006, 24,000 masks have been donated to first responders.
When:   Monday, Nov. 12, 2018, 11:00-11:30 a.m.
Where:  Janesville Fire Dept. Fire Station #1, 303 Milton Ave., Janesville, WI
THAT'S IT FOR DOGS IN THE NEWS.
HERE'S OUR DOG PHOTO(s) OF THE WEEK.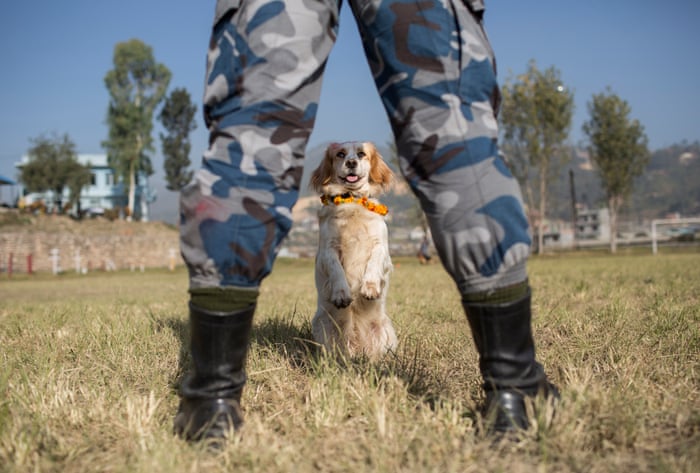 In Kathmandu, Nepal, armed police officers work with dogs, as part of Diwali. During the festival people worship crows, cows, and dogs. Photograph: Narendra Shrestha/EPA

Steve Payne of Stone Bank and his dog Geordi finished up their morning walk Friday at the dog run in Nashotah Park near Nashotah in Waukesha County. Photo: Michael Sears / Milwaukee Journal Sentinel
Were it not for the red sweater, 2 year-old Teddy would blend in with the newly fallen snow while taking his daily walk with owner, Jim Pingitore along Menomonee Parkway in Wauwatosa Friday. Photo: Angela Peterson/Milwaukee Journal Sentinel
We close as we always do with our closing video.
First, it's a miracle in St. Louis.
And here's an old Barking Lot favorite, surf dog Ricochet!
RICOCHET GOES "BEYOND THE BOARD" TO HELP VETERANS WITH PTSD RECOVER MORE QUICKLY THROUGH HER EXTRAORDINARY HEALING POWER.
The connection she makes with people defies present-day scientific understanding. "Superman has x-ray vision, but Ricochet can see right into your soul", said retired Marine Staff Sergeant Persons B. Griffith IV (Griff), who suffers from combat related post-traumatic stress.
Ricochet is extremely sensitive, empathic and intuitive. She mirrors the emotions of those she works with through her subtle and not so subtle behaviors. "Somehow she knows their triggers," said Judy Fridono, Ricochet's guardian. "She assumes responsibility for their well-being and alerts them to potential triggers in the environment. She will stop and plant (refusing to move), or she'll redirect them to a less anxiety provoking area", said Fridono.
"The last time I worked with Ricochet, she alerted to a mall security guard by leading me away from the area we were in. She took it a step further by guiding me behind a bench where we were able to 'take cover' like I did when we took fire on the battlefield", Griff said.
Ricochet's behavior helps Griff (and others she works with) identify deep seated emotional trauma which can then be addressed with therapists. As a result, the healing process often advances more quickly.
Both Fridono and Griff's objective with these videos and IMAX film is that they can be a catalyst that gives hope to anyone with emotional trauma who is suffering in silence or contemplating suicide. The statistics are staggering… 22 veterans with PTSD die by suicide every day!
Fridono believes all dogs have these healing powers. Unfortunately, we often misinterpret their cues as bad behavior. In doing so, we miss the magic every dog is capable of. Her wish is that others will gain a better understanding of the sentience of dogs, and how they are always communicating with us… we just have to listen.
If you'd like to learn how to better interpret your dog's behavior, or if you'd like to unleash their healing power, please visit here.
If you have PTSD, please visit here to discover how a pet dog, emotional support dog or service dog can help you.
Note:  For more information, please contact Judy Fridono at 707-228-0679, or pawinspired@aol.com.
PLEASE NOTE:
The behaviors in the video are NOT what you want a service dog to do. A service dog should make it easier for you to go into social situations. Ricochet fulfills a very specific niche with her healing power. She's most effective at the beginning of a service member's treatment, when they are still uncovering their issues. She helps them go very deep into their soul, which can provide additional insights during the discovery and recognition phases of recovery.
That's it for this week.
Thanks for stopping by.
Please consider passing this along to other dog lovers you know.
See ya, BARK, next Saturday morning!