Every Friday night we smooth our way into the weekend with music, the universal language. These selections demonstrate that despite what is being passed off as art today, there is plenty of really good music available. Come along and enjoy.
This week's installment is dazzling and lots of fun.
See the young woman pictured above on the far left?
She's in this next picture, second from the left.
That's Nina Di Gregorio. Occupation: Rock violinist.
The Chicago Tribune reports that when she was a student she wanted to play the saxophone, but a teacher persuaded her to try the violin and bypass the larger, heavier, sax.
"I tried plugging my violin into my father's amplifier. I got the violin to sound like an electric guitar," she told the paper.
Di Gregorio is the founder of Bella Electric Strings, described by the Tribune as "a group of about 30 classically trained string instrumentalists including violinists, violists and cellists — who perform classical, electric rock and other styles of music for weddings, corporate events and rock concerts."
The most successful of the Bella Electric Strings are the Femmes of Rock, led by Di Gregorio.
"String players are always in the pit orchestra," she said. "They're never the stars of the show. We really believed we could front our show ourselves."
And do they ever.
Femmes of Rock performs tonight at the South Milwaukee Performing Arts Center.
This week, the exciting music of electric string groups. Let's get started.
"I hate having to follow a bunch of hot girls in short dresses playing Nirvana on violins."
Comedian Dana Carvey
Our next group is Escala. In 2008 they entered Britain's Got Talent where they reached the final. The ladies have become ambassadors for "Help For Heroes," an organization that supports those with injuries and illnesses attributable to their service in the British Armed Forces.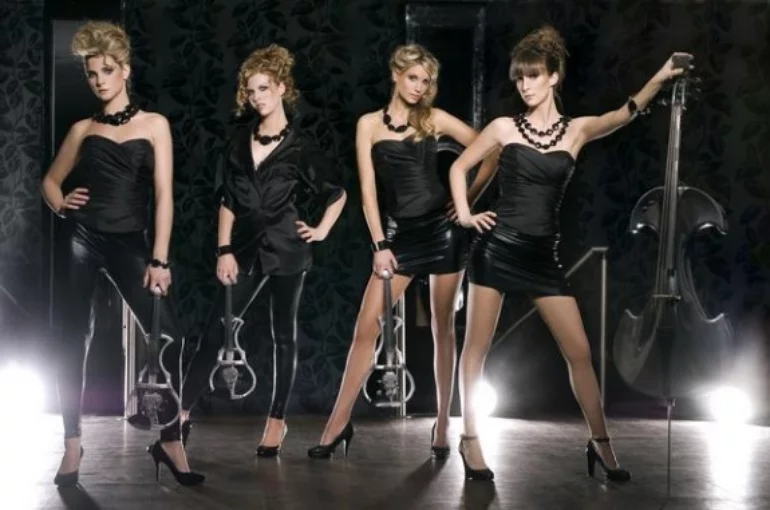 From Facebook, describing our next act:
Perhaps Bach would be furious. Four women who dare to make a cocktail out of thrilling rhythms and the divine sounds arising out of the electric versions of his favorite instruments. Bass, volume, movement, exoticism, color, and beautiful people having fun … It is true, things are far from the dogmatic environment in which Bach's talent has taken shape; enough to intrigue him, unless it is downright angry.
But W. Amadeus Mozart would have appreciated. He preferred to explore more amazing than to strictly observe. And that's what Amadeus Electric Quartet is doing – exploring a new direction with an overdose of energy reloading masterpieces of music from that time until today. Vibrant rhythms of Cha Cha or the euphoria of Bolero, strings and keyboards electrifying the clubbing beats … an unusual mix that manages to put the music scene in a surprising perspective.
Here's their take on an aria from one of the greatest operas of all-time, Bizet's Carmen (1875).
That's it for this week.
Goodnight.
Sleep well.
Have a great weekend.
We close with Andre Rieu and his Orchestra, performing in Vienna with BOND, the original electric string quartet, the best-selling string quartet of all time, having sold in excess of 4 million records worldwide.
BOND has been referred to in the press as "The Spice Girls of Classical Music.