The Barking Lot is a regular weekly feature of This Just In…Written by my lovely wife, Jennifer and me.  It opens with the weekend dog walking forecast followed by the main blog from dog lover, Jennifer. Then it's DOGS IN THE NEWS and our close. Enjoy!
THE WEEKEND DOG-WALKING FORECAST: We grade the weather outlook for taking your pet outdoors.
TODAY:  UPDATED: Cloudy. High of 61.  "C"

SUNDAY:  Cloudy with occasional rain showers. High of 57. "D"
Now, here's my lovely wife, Jennifer, with this week's main blog.
So, you know how so many times a study has come out shouting, "Coffee (or wine, or chocolate, or deep-fried Twinkies) is GOOD for you!  It will help you live longer, get skinny, find an awesome mate and might just help you win the lottery!"  You start to binge-consume said miracle food and then about a year later another study comes along and says, "OOPS!  We goofed!  Don't eat it!  It will KILL you!!!!!"
Hmph.  It seems the same is now being reported about canine intelligence.  For so long now I've been enjoying research and blogging about how incredibly smart & perceptive dogs are.  That's been shot down in recent findings in the United Kingdom.
Eh, what do the Brits know?  They can brew a pot of tea, produce Stilton cheese, and host some nice tennis championships.  But I for one am NOT going back on my word that dogs are incredibly smart, amazingly perceptive, and quite frankly the best kind of pet you can own.  Ever.
In my opinion, the researchers of this latest study are the equivalent of the person who brings tofu & a veggie platter to a Super Bowl party.  Sure, someone might eat that stuff.  Just like someone might believe that dogs aren't incredibly bright in so many ways.  But I won't hang out with them at a get-together.
Besides, I personally know of three dogs who recently graduated from puppy school.  (Congrats to Finn, Knox, and Jax!)  Their certificates actually prove more to me than some dog-doubting overseas "researchers."  I mean, just look at this face, brimming with intelligence:

Finn, recent graduate of PetSmart Pet Training Program
—Jennifer Fischer
Thanks Jennifer!
Time now for DOGS IN THE NEWS, canines that made headlines the past week.
Man determined to walk again after blood infection from dog.
Therapy dogs can Spread Superbugs to Kids, hospital finds.
Cancer patient's final act was to find home for beloved dog.
Chi Chi gets national award.
Wisconsin dog a winner.
15 Weird Dog Laws you didn't know existed in America.
THAT'S IT FOR DOGS IN THE NEWS.
HERE'S OUR DOG PHOTO(s) OF THE WEEK.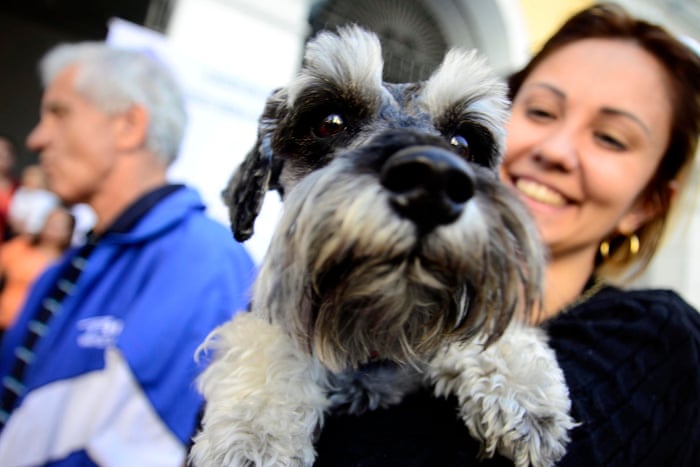 Parishioners and their pets attend a mass on St Francis of Assisi Day in São Paulo, Brazil. Photograph: Cris Faga/Rex/Shutterstock

A woman holds her dogs as a priest blesses them outside Sao Francisco de Assis (Saint Francis of Assisi) Church in Sao Paulo, Brazil. Pet owners bring their animals to be blessed every year on the day of Sao Francisco de Assis, Brazil's patron saint of animals. Photo: REUTERS/Nacho Doce
We close as we always do with our closing video.

ALSO…
That's it for this week.