THERE ARE THOUSANDS AND THOUSANDS OF FOOD BLOGS, BUT ONLY ONE CULINARY NO-NO!
On this final weekend of the summer we blog about the unofficial state of Wisconsin sandwich.
We've featured the brat in the past. For example, here's a portion of Culinary no-no #422 that dealt with parboiling:
Let's head to…
>
>
>
>
>
>
>
>
>
>
>
>
>
>
>
>
>
>
>
>
>
>
>
>
>
>
>
>
In 2002, the NY Times wrote:
This is the capital of the kingdom of bratwurst. A brat — the name rhymes with pot, not with pat — is a pork or pork-and-beef sausage, spicier and stubbier than a hot dog. In Sheboygan, at least, it is also an object of veneration, taken as seriously as a lock of some medieval saint's hair.
No self-respecting restaurant here, whether humble hole in the wall or soigné supper club, can make do without a proper charcoal grill, because the bratwurst catechism specifies that the stout little sausage must be grilled over charcoal, not boiled or fried or sizzled on a stove top griddle.
Once cooked, a Sheboygan brat must be served on a split hard roll called a semmel, which is rugged enough to hang together under attack from the torrents of savory juice released when you bite into it.
Since this is Wisconsin, the dairy state par excellence, the cut sides of the rolls are slathered with plenty of butter before the sausage is inserted. And since the German-Americans who dominate the local population are big eaters, two bratwursts are usually squeezed into one roll, side by side.

So it looks like this.
Those babies are genuine Sheboygan Johnsonville brats.
And another point from the NY Times:
True sons of Sheboygan view parboiling as foolishness. They acknowledge the danger of exploding brats, certainly, but they insist that the way to guard against it is to cook the sausages slowly, for 20 minutes or more, a respectful distance from coals that have subsided from red to gray-white.

Remember, brats are serious business in Sheboygan.
Alright, let's return to…
>
>
>
>
>
>
>
>
>
>
>
>
>
>
>
>
>
>
>
>
>
>
>
>
>
>
>
>
That's Fritz Usinger, a fourth-generation sausage-maker pictured today in the Milwaukee Journal Sentinel (Photo: Michael Sears)
You saw Guy Fieri in the opening video dunk his brats in a beer bath and then move them to a grill. A gazillion grillers cook brats that way. But here's what Usinger told the newspaper:
I never precook sausages. Some people swear by parboiling, nah. When parboiling, you're cooking them twice, in the pan, then grill. I don't parboil them.
I'm a lager kind of guy. And I never cook my sausage in beer. The sausage-maker creates a spice recipe and flavor he wants to give his customer. He's creating it and he likes that flavor. He wants you to like it, and if you like it and buy it, then you're on the same page. When you cook it in beer, it tastes like beer.
That's consistent with what Usinger told OnMilwaukee.com in 2013:
If you're going to grill your sausage, if you parboil it, you're cooking it twice. You're overcooking it and losing flavors. I never do it. Parboiling makes the sausages rubbery.
Beer is for drinking. I don't want my brat tasting like a beer. I like to keep my beer and my brats separate. Usinger's does not make a beer brat.
I rarely simmer my brats in beer, but not for the reasons Usinger states. I simply prefer less time and hassle.
But I do believe Usinger has me convinced. Nothing wrong at all with a brat getting as TV chef Emeril would put it, "all happy" from swimming in a Pilsner. My #1 choice would be package to grill to bun.
—-April 26, 2015
We also ripped Burger King that dared to sell brats for a short time…with yellow mustard.
So lets's talk toppings.
Great potential here. That naked brat is in desperate need of jazzing up.
Have you heard what they're doing at…
To commemorate the 100th season of the Green Bay Packers, Delaware North, which runs the food operations for the Packers, came up with some new concessions.
One of them is the Brat-in-a-Blanket, topped with melted cheese curds and served with a beer mustard.
The result…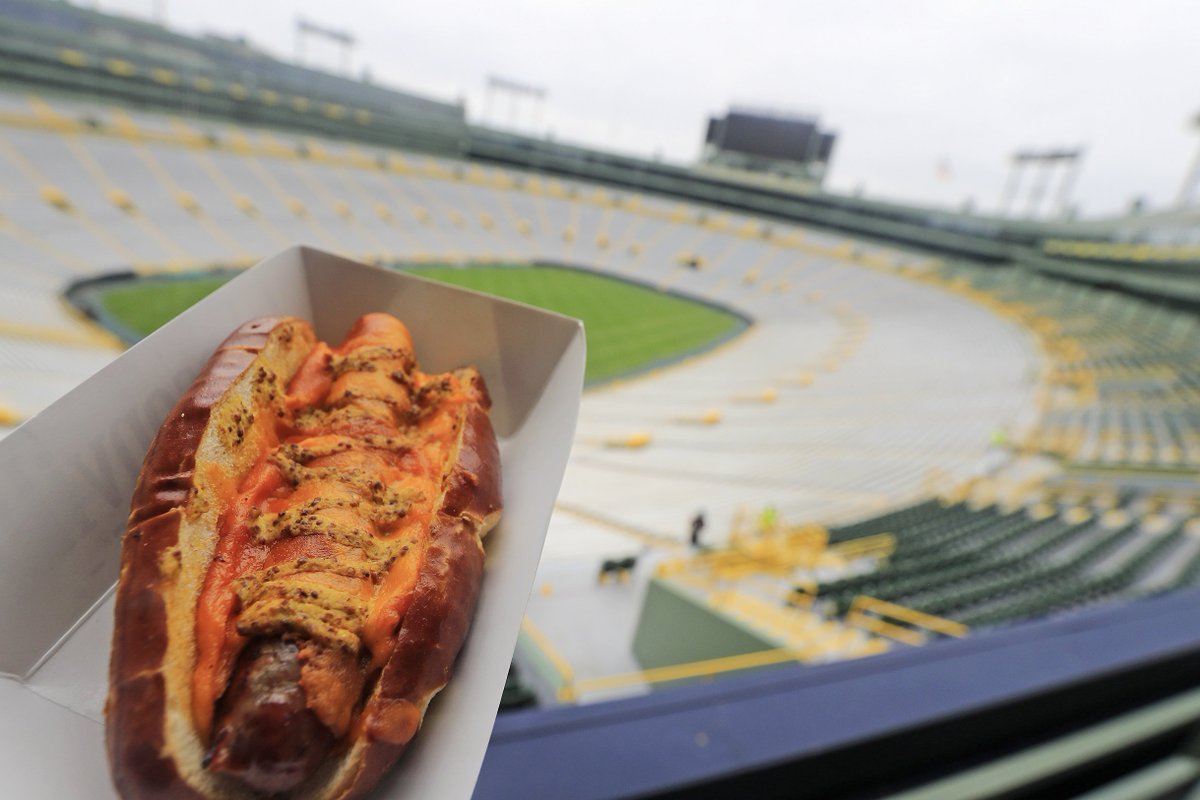 It goes for $12.
That wouldn't deter me.
As we've done so many times in the past, we defer to that great philosopher Arthur Fonzarelli. In an episode of his classic TV series "Happy Days" the Fonz conveys some valuable advice using ketchup and ice cream to illustrate his point.
Separate they're two thumbs up. But put them together? Disaster-amundo.
The above creation might not be all that bad. But I've been on this planet a long time, all of my years right here in God's country, the Badger State. I have never known anyone to slather melted cheese on their brat.
Here's the deal. Brat perfection doesn't look like this.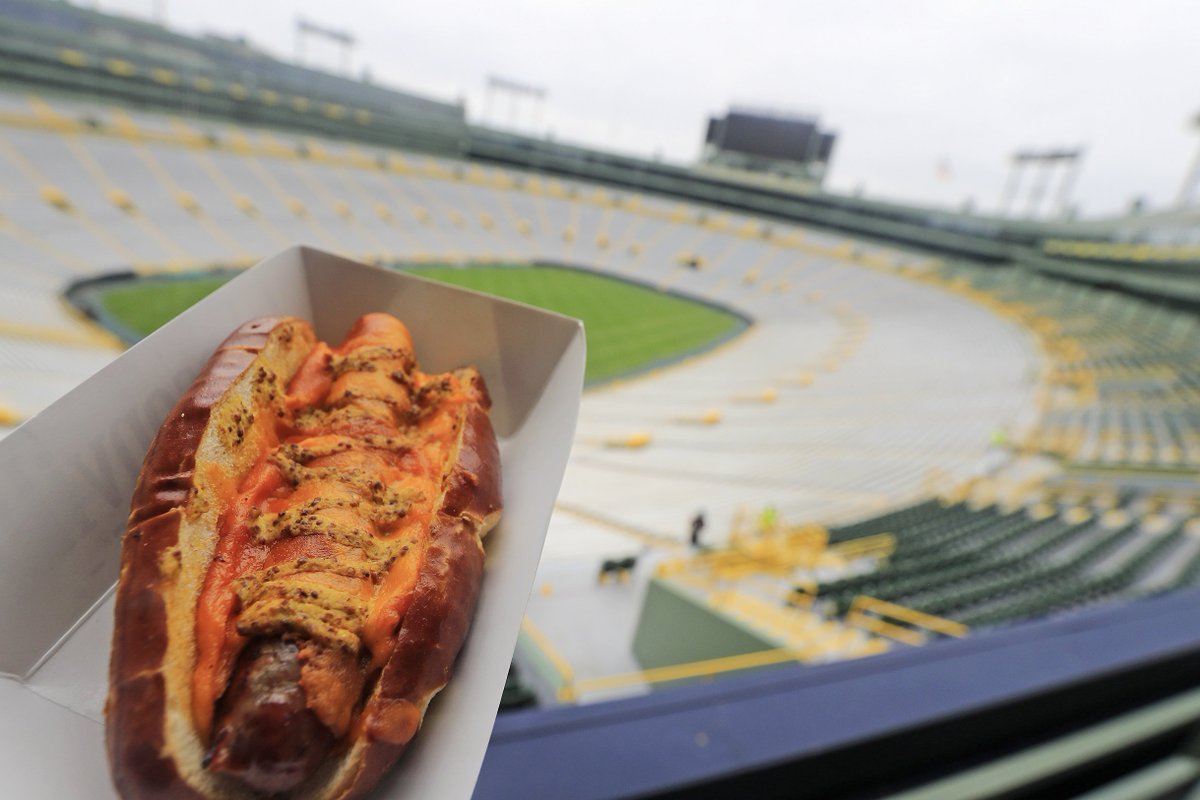 Here ya go.