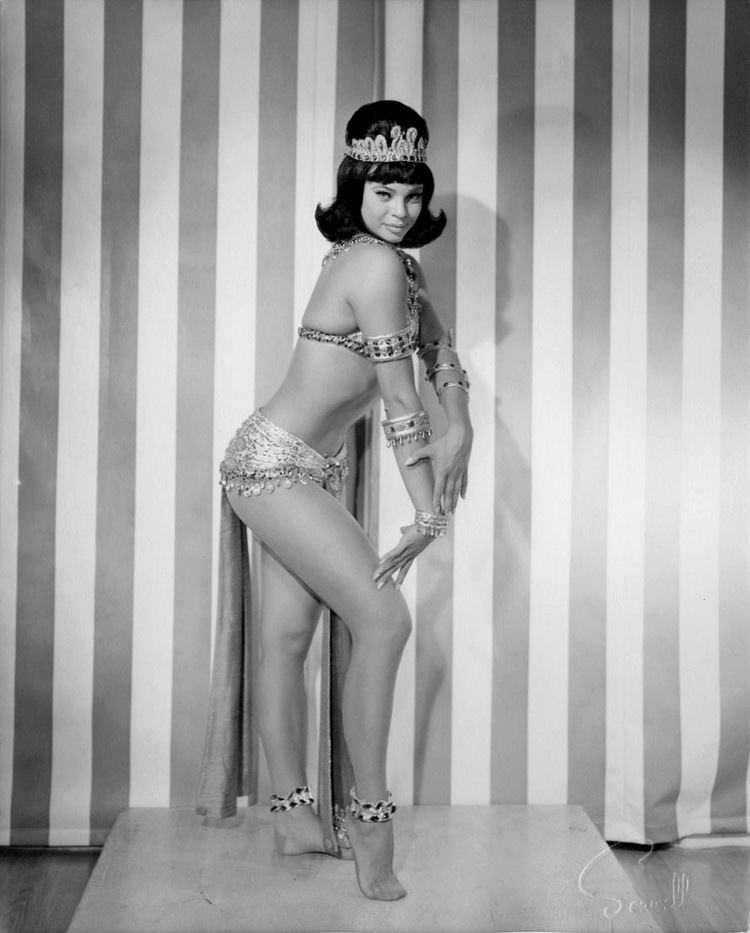 That's Juliet Prowse.
I certainly remember her.
Born in India to South African parents, Prowse studied to be a dancer from the age of 4. Attending the Royal Academy of Dance, by the time Prowse was 14, she was deemed too tall at just under six feet to enter the world of ballet.
"When I got on my toes," she said, "some of those male partners were way down there."
Did she give up? Would I blog that she did?
Thank goodness Prowse switched to modern dance.
She signed as a chorus dancer with the London Palladium and then pursued a career as a dancer in European nightclubs.
So she's dancing away in Paris and a star is born.
Prowse is spotted (Gee, I wonder how and why) by a Hollywood choreographer and he signs her to a role in a new 1960 movie.
Soviet Premier Khrushchev was invited to watch Prowse and others rehearsing their steps for the movie and he trashes Prowse in public, calling her steps immoral.
"I thought he was enjoying the dance," Prowse said. "He was very kind through his interpreter to me afterwards. I did notice that his wife said nothing. Let's face it. The can-can  is a pretty raucous number. It's not exactly 'Swan Lake."'
No one in the world knew about Prowse up until that point. Then she went, as they say today, viral.
Tabloids wrote about Prowse and a huge celebrity.
When Frank Sinatra proposed marriage with the condition that Prowse give up her career, she refused. "I am ambitious and have possibilities to be great," she said.
At the same time Prowse was also seeing the King of Rock and Roll.
"Frank and I are mature people. We don't go for this teenage bit about going steady and all that jazz."
While she was dating the two superstars Prowse was starring with Elvis in the film "GI Blues."
In case you didn't quite catch those drumsticks…
Smart move by the film producers. They gave Prowse a solo spotlight.
On this day in 1996 Prowse died of pancreatic cancer, just short of her 60th birthday.