The Barking Lot is a regular weekly feature of This Just In…Written by my lovely wife, Jennifer and me.  It opens with the weekend dog walking forecast followed by the main blog from dog lover, Jennifer. Then it's DOGS IN THE NEWS and our close. Enjoy!
THE WEEKEND DOG-WALKING FORECAST: We grade the weather outlook for taking your pet outdoors.
TODAY:  Partly cloudy. High of 67.   "A"

SUNDAY:   Sunny. High of 67.  "A"
Now, here's my lovely wife, Jennifer, with this week's main blog.
When Kevin and I planned our home purchase a few months before we got married, we considered many factors.  What city did we want to live in?  Where might our future children go to school?  What would our commute mileage be?  How close did we want to be to family?  Would we build, or buy?  How much could we afford?  What would the taxes be in our decided city?
Try not to double over from laughter because despite answering that last question honestly we STILL decided on Franklin as our city of choice.  Of course THAT topic is probably best left to other blogs on This Just In From Franklin, WI.  I don't want my head to explode while I'm writing my portion of The Barking Lot.
Ultimately we decided to build, so we searched for a lot (sticker shock!) and a builder (double sticker shock!) and did our best to stick to our budget.  That too, is another story.
Since we built, there were additional decisions to make.  What wood tone did we want for our millwork?  What color(s) did we want our walls?  Would the trim be pained or stained?  What kind of lighting fixtures did we want?  Carpet?  Laminate?  Tile?  Wood?  Some combo thereof?  The questions were endless from the sub-contractors and in all honesty I didn't have a clue.  Kevin, being the trusting soul that he is, left those selections up to me.  Hindsight is indeed 20/20 when making important home choices and yes I admit I'd change a few things if I had an opportunity for a "do over."  All in all though, I'm extremely happy with our home.
Neither one of us owned so much as a goldfish when we were figuring out our humble abode.  So in all honesty the last thing we thought about was if our future pet would be appropriately accommodated in our new home.  It literally wasn't even CLOSE to a question in our decision-making process.  That's probably because it was over a decade ago and we're not millennials.
Today's home buyers question things much differently.  And the biggest difference is whether or not their precious pet will have the perfect perch.  Who would have thought that man's best friend might be a stronger influence than interest rates, taxes, square footage or commutes?  Very interesting.
—Jennifer Fischer
Thanks Jennifer!
Time now for DOGS IN THE NEWS, canines that made headlines the past week.
Dog and cock fighting suspected at western Wisconsin property; 1,300 animals removed, authorities say.
Apartment complex requires tenants to be dog owners.
'It's a pretty cool story': Draper firefighter brings home dog rescued from blaze that claimed chief.
House of Corrections in Franklin adding two K-9s with help of Waukesha veterinary hospital.
Public art auction to feature Racine County K-9s.
THAT'S IT FOR DOGS IN THE NEWS.
HERE'S OUR DOG PHOTO(s) OF THE WEEK.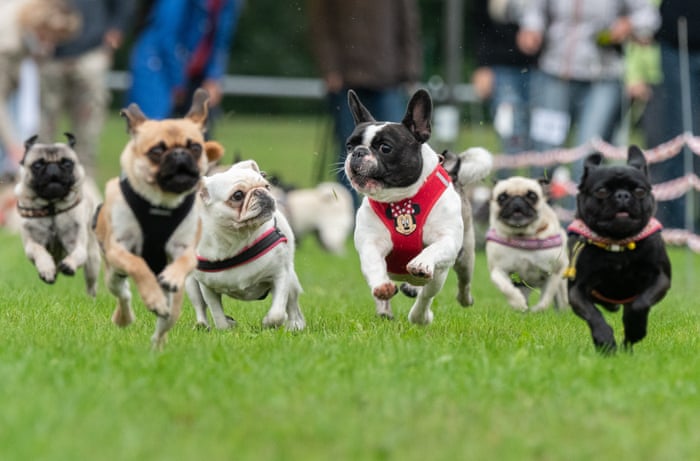 In Wernau, Germany, participants in the eighth south German pug and bulldog race. Photograph: Daniel Maurer/EPA
That's it for this week.