The Barking Lot is a regular weekly feature of This Just In…Written by my lovely wife, Jennifer and me.  It opens with the weekend dog walking forecast followed by the main blog from dog lover, Jennifer. Then it's DOGS IN THE NEWS and our close. Enjoy!
THE WEEKEND DOG-WALKING FORECAST: We grade the weather outlook for taking your pet outdoors.
TODAY:  Morning clouds, then afternoon sun around 1:00.  High of 83.   "A"

SUNDAY:   Partly cloudy in the morning. Scattered thunderstorms beginning around 4:00. High of  85.  Most of the day looks like an "A"
Now, here's my lovely wife, Jennifer, with this week's main blog.
"Can't you write about anything other than scientific research studies showing how amazing dogs are?"
Yes, but it's MY blog.
"Don't you get tired of writing about another researcher telling us how smart dogs are?"
No, because it's MY blog.
"Is this week's edition of The Barking Lot another edition of 'Science Shows Dogs Are The Best?'"
Yes, because it's MY blog.
"Do I have to read about another study of why I should own a dog?"
You do what you want, but it's STILL MY BLOG.
Actually this week's blog is a little different.  This week I'm telling you about a website that talks about scientific research to prove dogs are spectacular.
A recently published article provides a collection of links and anecdotes regarding human health and pet ownership.  It discusses everything from mood to assistance animals and what research says about these things.  Because I have blogged so frequently about science & pet ownership I found that portion particularly interesting.  Here's an excerpt:
The exact mechanism of the benefit of human-animal interaction may be foggy because the study of it is faulty, according to Hal Herzog, professor of psychology at Western Carolina University. He became concerned about the state of animal-assisted therapy research when writing his book, Some We Love, Some We Hate, Some We Eat: Why It's So Hard to Think Straight About Animals. "Ninety-five percent of publications showed a positive result and that was just too good to be true," Herzog says…
***
He admits that there is some challenge in applying the usual scientific rigor to animal-assisted therapy. "How do you come up with a placebo for a dog?" he asks. "I don't know that."
The problem, Herzog says, is that there is a mismatch between what we know and what people think we know. "People want to think that animals are miracle workers," he says, adding that comparisons between animal interaction and more tested medical treatments—like drugs or physical therapies—are not apt. There just isn't the same kind of scientific scrutiny applied…
***
HABRI has a scientific advisory board that approves the research projects it funds and ensures the efforts it supports are driven by scientific interest and validated by standards, Feldman says. "We are most interested in studying the scientific benefit," he says but "the research will lead where it leads."
He adds that HABRI's scientific leadership is aware of "some of the gaps" in animal-assisted therapy research and one of the organization's purposes to is to help fill them. As for the videos, he notes that some prescription drugs that had been widely used have later been shown to be ineffective. "Veterinarians really like to show the videos," he says.
The above-referenced video collection is, in my opinion, very funny & creative.  I can certainly understand how vets enjoy showing them to their patients' owners.  You might never watch a prescription drug commercial the same way!
There's a ton more to the article This Is What Your Brain and Body Do When You Hang Out With Animals and you can read all of it here.
—Jennifer Fischer
Thanks Jennifer!
Time now for DOGS IN THE NEWS, canines that made headlines the past week.
Police dog dies after being left in hot car for more than 6 hours.
Former Model Suffers Injuries, Requires Eye Surgery After Dog Bites Her in Face at Restaurant.
Are we loving shelter dogs to death?
Robot dogs are coming, but they may be destined for the unemployment line.
Company offers "fur-ternity" benefits to pet owners.
A dog's life: fitness trackers help put fat pets on a diet.
Chicago Radio DJ Moonlights as Animal Rescue Pilot, Brings Family Their Second Special Needs Dog.
Dog-shaped ice cream treats from Taiwan are freaking out the Internet.
Meet Nicolas Cage, the (unwitting) face of Roanoke's covert anti-poop crusade.
National Dog Day is Sunday. Gotta have your gadgets.
THAT'S IT FOR DOGS IN THE NEWS.
HERE'S OUR DOG PHOTO(s) OF THE WEEK.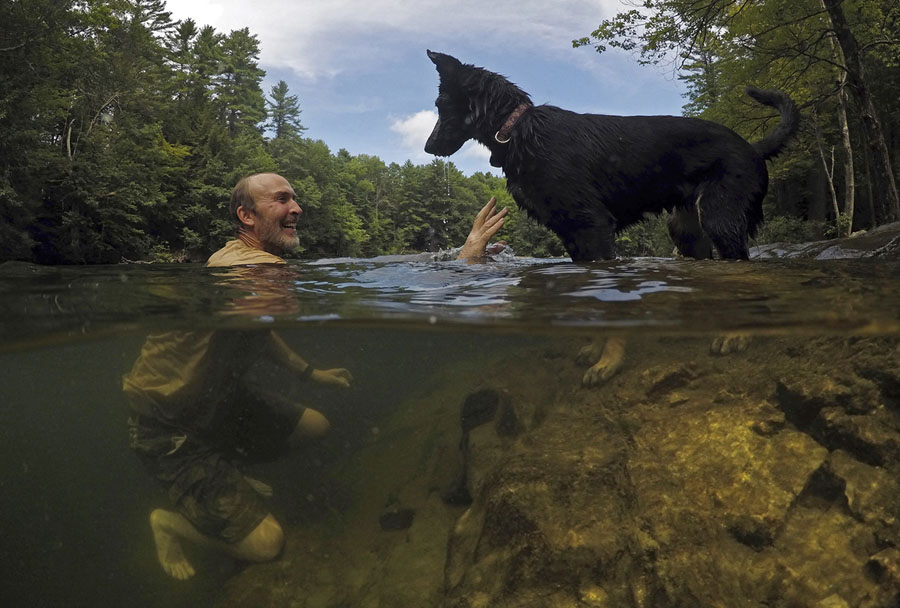 Tim Delaney steadies his dog Midnight before tossing a ball while working on retrieving training in the Presumpscot River on August 15, 2018, in Windham, Maine. Photo: Robert F. Bukaty / AP
AND, watch the video in this story from KTLA-TV capturing the rescue of a mother and son and a dog after their vehicle was submerged in water in Long Beach, CA.
That's it for this week.
Thanks for stopping by.
We kindly ask that you please share with other dog lovers you know.
See ya, BARK, next Saturday morning!