The Barking Lot is a regular weekly feature of This Just In…Written by my lovely wife, Jennifer and me.  It opens with the weekend dog walking forecast followed by the main blog from dog lover, Jennifer. Then it's DOGS IN THE NEWS and our close. Enjoy!
THE WEEKEND DOG-WALKING FORECAST: We grade the weather outlook for taking your pet outdoors.
TODAY:  Mostly sunny.  High of 92.   "B"

SUNDAY:  Partly cloudy.  High of  91.  "B"
Now, here's my lovely wife, Jennifer, with this week's main blog.
Wisconsin Governor Scott Walker has designated August 5-11 as Assistance Dog Week to recognize service dogs.
One of my favorite stories of an amazing service dog is that of Michael Hingson & Roselle.  I challenge you to read their biographies and not tear up at their bond and love for one another.
Clearly that is just ONE account of ONE special relationship between an owner and their service animal.  There are so many wonderful, heart-warming stories that it's impossible to capture them all.  Michael Hingson & Roselle became famous due to the tragedies of 9/11.  Who knows how many other equally remarkable yet unrecognized connections similar to theirs exist?
Over the years on The Barking Lot, we've shared stories of false claims by owners.  Owners who misrepresent their dog, cat (and yes that crazy peacock!) as necessities for their daily life.  It's unfortunate that people would take advantage of the legal structure of classifying & regulating animals just so they can bring them into restaurants, stores and on airplanes.  These stories should NEVER diminish the beautiful and beneficial results of a well-trained, legitimate service animal.  Knowing that people's lives are forever enhanced and enriched by a canine partner must be one of the most rewarding results of training these incredibly special dogs.
So, thank you, Governor Walker, for bringing even more recognition to these wonderful animals that go far beyond being a basic pet.
—Jennifer Fischer
Thanks Jennifer!
Time now for DOGS IN THE NEWS, canines that made headlines the past week.
Wisconsin Man Has Legs and Hands Amputated After a Lick From a Dog Causes Severe Infection.
She stabbed a police dog in both eyes — but the K-9 was back at work the same day, Texas cops say.
Ohio Man Cited for Criminal Damaging After Breaking Into a 'Hot Car' to Save 2 Dogs.
Hound dog with terminal cancer has a bucket list. No. 1: Find a home.
Take a sniff of your dog's paws. Smell like corn chips? Here's why.
Hiker Fights Snow, Rain and Rough Terrain to Carry Injured Lost Dog Down Mountain to Safety.
Looking for a volunteer job in retirement? Your dog can help.
THAT'S IT FOR DOGS IN THE NEWS.
HERE'S OUR DOG PHOTO(s) OF THE WEEK.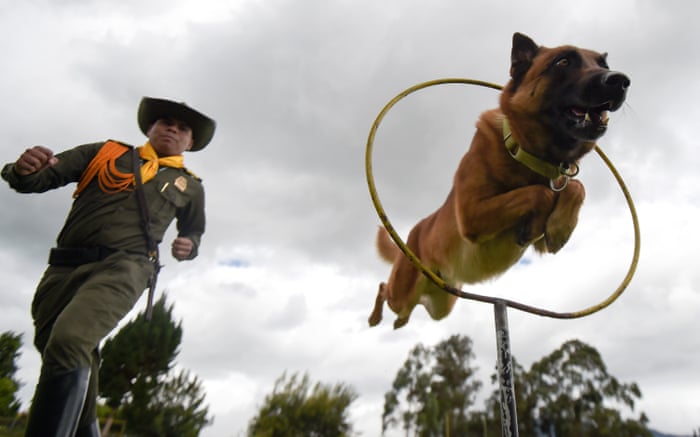 A sniffer dog jumps through hoops at the School of Guides and Canine Training (ESGAC) in Facatativá, Columbia. Dog trainers from all over the world travel to the country to learn the ESGAC's methods. Photograph: Raul Arboleda/AFP/Getty Images
AND…
Last Sunday at German Fest in Milwaukee we got to meet MPD officers and one of the K9 unit members. 
We close as we always do with our closing video.
An experiment involving 34 dogs of various breeds tested whether they would push through a magnetically sealed door to "save" their owners. From the NY Times:
One more.

WATCH: Ringo the Three-Legged Dachshund Triumphantly Wins Wiener Dog Race.

That's it for this week.

Thanks for stopping by.

We kindly ask that you please share with other dog lovers you know.

See ya, BARK, next Saturday morning!