Culinary no-no began on Father's Day 2007, a beautiful summer day, when I wrote about grilling brats. And eating brats. And topping those brats. I was inspired by my wife, Jennifer who, in my admittedly unscientific opinion, ruins brats by squirting ketchup on them. Other dining taboos quickly came to mind. The original idea was to take this concept only a few months, till the end of summer and then pull the plug. Then the unexpected happened. People started reading Culinary no-no. Lots of folks. So we keep doing the no-no.
We've written on several occasions about Walt Disney World where there are countless food options. Want something sweet? Again, the possibilities are endless.
Let's step inside just one of the many scrumptious spots.
We'll get back to the Mouse House in just a bit.
But first, this news generated some heat this past week. WREG-TV in Memphis reported.
Are these sweltering snacks dangerous?
In 2012 Dr. Yvonne Juarez, a pediatrician in Fresno, California, said "I've had patients go to the ER because of it. It's insane, absolutely insane."
High levels of salt, fat and artificial colors with little nutrition or fiber led some school districts back then to actually ban Flamin' Hot Cheetos. Never mind that just about every other shares the same characteristics. Educrats confiscated the Cheetos that kids were even eating for breakfast.
When news broke this week about stomach issues, Buchanan Public Relations that represents Takis did what it was supposed to do: Defend the product with a positive spin.
"We assure you that Takis are safe to eat, but should be enjoyed in moderation as part of a well-balanced diet. Takis ingredients fully comply with U.S. Food and Drug Administration regulations and all of the ingredients in each flavor are listed in detail on the label. Always check the serving size before snacking."
Not to diminish any surgery, but the gall bladder is certainly not a survival requirement. Removal of the organ is pretty common.
I've had the Cheetos and they definitely have a kick, unlike boring Fritos. Fortunately I have a cast iron stomach, so Cheetos will never send me to the emergency room. But the snack isn't for everybody. Parents, not units of government, need to ensure kids aren't devouring more of these sizzling snacks than they should.
We now return to Orlando, Florida.
What did the Disney rep say in the above video?
"They (the cast members) work very closely with our product development teams in order to create these delicious treats. They are the ones that a lot of times are coming up with the ideas."
And they've come up with some beauties.

But who in the world thought of this and who agreed that yes, let's do it.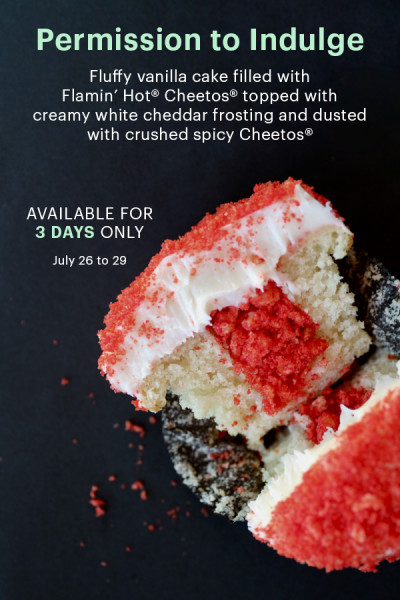 Yes, I have an invulnerable belly, but this is yucky.
This crazy concoction is being sold at Sprinkles in Disney Springs, a massive shopping and dining district in Disney World.
The price: $5.25.
Today (Sunday) is the last of four days the cupcake was available. That's four days too many.
CULINARY NO-NO BONUSES
Chemicals in food may harm children
Texas waiter faked "we don't tip terrorist" note on receipt, restaurant says
The 'Fresh' Quarter Pounder Shows That McDonald's Still Doesn't Get It
Yelp will roll out restaurant hygiene scores in the US
15 annoying things you're doing at restaurants, according to servers
AND FINALLY…