Every Friday night we smooth our way into the weekend with music, the universal language. These selections demonstrate that despite what is being passed off as art today, there is plenty of really good music available. Come along and enjoy!
There are two different versions about how Father's Day started.
One has the origin dating back to 1909 in Washington state where Sonora Smart Dodd came up with the idea while listening to a Mother's Day sermon at church. Her thought was mothers were getting all the attention. What about a day for dads, like William Smart, her father and a veteran of the Civil War.
The celebration was to be held in Spokane, Washington on June 5th, the anniversary of his death, but was delayed until the 3rd Sunday in June.
The second story occurred in Fairmont, West Virginia on July 5, 1908. Grace Golden Clayton suggested to the minister of the local Methodist church that they hold services to celebrate fathers after a deadly mine explosion killed 361 men.
In 1924, President Calvin Coolidge recommended that Father's Day become a national holiday. But no official action was taken.
In 1966, Lyndon B. Johnson, through an executive order, designated the third Sunday in June as the official day to celebrate Father's Day. However, it wasn't until 1972, during the Nixon administration, that Father's Day was officially recognized as a national holiday.
In previous years I've dug into my father's record collection for this music blog. Something a bit different this time: Records Dad didn't have, but I'm sure would have loved. It'll be fun.
Let's get started.
From 1962 to 1971 singer Andy Williams hosted his own weekly TV variety show. Our family watched it all the time (Of course today there are no TV variety shows. That would require finding enough talent to fill an hour-long program. Ain't happening).
Reviewer Greg Adams wrote the original version of our first selection "exemplified the groovy state of instrumental music at that time."
Williams supplies the lyrics.
Vintage 60's.
If this was today Williams might find himself in court over that song.
Williams' version did make the top 40 on the Billboard chart, peaking at #34 on April 29, 1967.
And to quote my father, "The day I stop looking is the day they bury me."
Next…
Dad really enjoyed organ music.
A key player in the bossa nova movement, Walter Wanderley recorded 46 solo albums in the United States and Brazil.
He began playing piano at the age of 5. After moving to São Paulo in 1958 Wanderley often performed in nightclubs. While on a Brazilian tour Tony Bennett caught Wanderley's act and was impressed. He even urged Wanderley to move to America and personally talked to Verve Records producer Creed Taylor who eventually sent contracts for Wanderley and his trio to record a single, "Summer Samba" that was an instant smash in 1966.
The trio accompanied young singer Astrud Gilberto on her "A Certain Smile, a Certain Sadness" album the same year.
"Summer Samba" was a definite favorite of Dad's. One of Wanderley's bios says "his sound on the organ, generated by a crisp, lightweight, staccato attack, can be mistaken for no one else's."
Someone to hold me tight
That would be very nice
Someone to love me right
That would be very nice
Someone to understand
Each little dream in me
Someone to take my hand
To be a team with me
So nice, life would be so nice
If one day I'd find
Someone who would take my hand
And samba through life with me
Someone to cling to me
Stay with me right or wrong
Someone to sing to me
Some little samba song
Someone to take my heart
And give his heart to me
Someone who's ready to
Give love a start with me
Oh yes, that would be so nice
Should it be you and me?
I can see it would be nice
If Gilberto's voice sounded familiar it's because she sang on the original "The Girl from Ipanema."
Wanderley died of cancer in 1986, long after his career boomed in the 60's. The lounge movement re-discovered him in the 90's and the value of his out-of-print albums went through the roof.
I don't recall how Dad felt about this next act or if he knew anything about them. Before we get to them here's an LP that Dad owned.
Billy Vaughn was a singer, multi-instrumentalist, orchestra leader, and A&R man for Dot Records. Vaughn was responsible for most of Dot's biggest hits of the '50s as he rearranged popular rock & roll and R&B songs for white, mainstream acts, including Pat Boone.
On the Billboard charts Vaughn had a total of 42 singles and 36 albums.
His sound was distinctive that normally centered around two saxophones.
That brings us to Agnetha Fältskog, Björn Ulvaeus, Benny Andersson, and Anni-Frid Lyngstad. Take the first letters from each of their first names and you have…
Billy Vaughn's style along with "schlager" music popular in Europe inspired the foursome from Sweden to record this 1975 hit. They lip-synch on "American Bandstand."
I think Dad would have been singing along. I do.
Nice outfits.
And they could sing, too.
ABBA broke up after a final performance in December of 1982.
Björn Ulvaeus said, "We will never appear on stage again. There is simply no motivation to re-group. Money is not a factor and we would like people to remember us as we were. Young, exuberant, full of energy and ambition."
If I mention Frank Sinatra what song comes to mind?
Very good.
"My Way."
What else?
Bingo!
"Strangers in the Night."
News flash.
Sinatra hated "Strangers in the Night." Even dropped an F-bomb once onstage to describe the song.
"Yes, he said it many times, he was not a fan of the song, but this is that innate ability of Frank of knowing what the audience wanted," said Charles Pignone, Senior Vice President of Frank Sinatra Enterprises.
"He would do that again in concert, it would come in and out of his repertoire and a lot of times he would joke with the lyrics. He would say, 'I hate this song, I detest this song,' but he would do it because the people wanted to hear it."
Buenos Aires, Argentina, August 10th, 1981…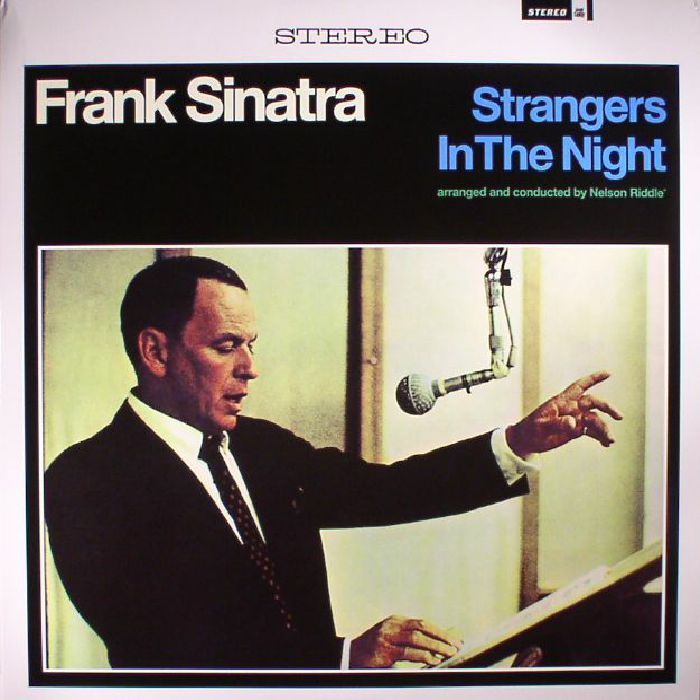 OK. That was a real heavyweight.
Dad also liked Elvis and the Beatles. I vividly recall Dad in a friendly discussion with a neighbor who didn't care for the Fab Four.  Dad defended the group, saying they were responsible for many young folks playing guitar and getting into or starting their own bands.
Yes indeed, Dad was a fan but he also enjoyed orchestral versions of Beatle hits. Didn't have this album but he would have given thumbs up since it contained a version of one of the tracks from the "A Hard Day's Night" soundtrack Dad really appreciated.
Before you listen to the track, check this out from 1965.
Now enjoy.
One more.
I had many jobs in my high school and college days. The best was an usher at what was then called The Performing Arts Center in downtown Milwaukee.
Liberace performed for an entire week there in the early 1980's so I saw him I believe for all of his nine shows.
I was able to get four good tickets for my parents and my Uncle Claude and Aunt Rose.
Many years prior to Liberace's rise to stardom my aunt and uncle used to go see "Mr. Showmanship" at the Green Room in the Pfister Hotel. No sequined jackets or fur capes in those days.
As part of his shows at the PAC, West Allis native Liberace included a Latin medley (including "Cumana," a favorite of Dad's)
I must share a story about "Cumana."
For many years beginning in the 60's Dad took tickets at high school football games at South Stadium on Becher Street in Milwaukee. I helped Dad take the tickets and count them  and eventually in the mid 70's became the public address announcer at the stadium at games.
Before that happened, when I helped Dad take tickets, we would wrap up our duties at the end of the 3rd quarter and then take positions on the track in front of the stands on the Becher Street side of South Stadium as part of a security measure.
Dad would position himself directly in front of the absolute eastern end of what was the band shell section on the visitors side of the stadium.
99% of the time the band in the band shell was that of Bay View High School. Back then the Bay View High School marching band was several hundred strong. They even marched in the Macy's Thanksgiving Day Parade.
Dad was onto that band. He knew that during the break at the end of the 3rd quarter the Bay View band would play "Cumana." So it was imperative we count our tickets and get out to the sidelines before the Bay View band launched into "Cumana."
It might be difficult for anyone who knew my father to picture him standing all alone in front of the band section in front of 400 high school musicians swaying his hips and tapping his feet. If I'm not mistaken on occasion when they were done playing they cheered him.
Back to those Liberace shows my parents, aunt and uncle attended at the PAC. There was as mentioned a Latin medley with guest artists. The "Cumana" segment begins about 4:29 in, and the entire Latin segment at the PAC in the 80's sounded and looked like this.
That's it for this week.
Goodnight.
Sleep well.
Have a great Father's Day weekend.
Growing up, every Saturday night the television was tuned to ABC and there was  a period when that program ended ended the same way every week. Dad never dreamed of leaving the room, even if the  credits were rolling.