Let's all get up and dance to a song
That was a hit before your mother was born
Though she was born a long, long time ago
Your mother should know (Your mother should…)
Your mother should know
The Beatles
This, of course, is Mother's Day weekend. Do your recollections of Mom include musical memories? Mine sure do.
So tonight, taking a cue from the Beatles, I share music my Mom did know and really did love.
Confession time. I like Barry Manilow. Seriously. If you listen to his finely-arranged tribute albums to the big bands and Frank Sinatra, I believe you'd be not only pleasantly surprised but impressed.
My mother liked Barry Manilow, too.
I told Mom and my dear wife, Jennifer (much bigger Manilow fans than me) that the singer is more appealing to me if I don't have to see him in action. Mom and Jennifer would just roll their eyes.
Did I neglect to mention that Mom loved Sinatra? So we begin by killing two birds with one stone. This is a nice arrangement of two classics and a great opening for tonight. Grab a partner!
During his second network TV special in 1978 and a segment dedicated to the 1940's, Manilow said, "I swear I am a freak for that kind of music," and "I swear I was born about 30 years too late."
Maybe if he could have Manilow would have danced with my mother at some dance hall on Milwaukee's south side, like "Bonk's Hall" where she turned a few heads including the future Mr. Fischer.
Mom would sometimes be forced to hunt around the neighborhood for empty soda bottles to turn in for enough coins to go to the Saturday night dance.
Mom preferred the sweeter, softer dance bands as opposed to the full force blast of say a Woody Herman. Let's hear an example from Les Elgart and his Orchestra and just the right medley for Mom.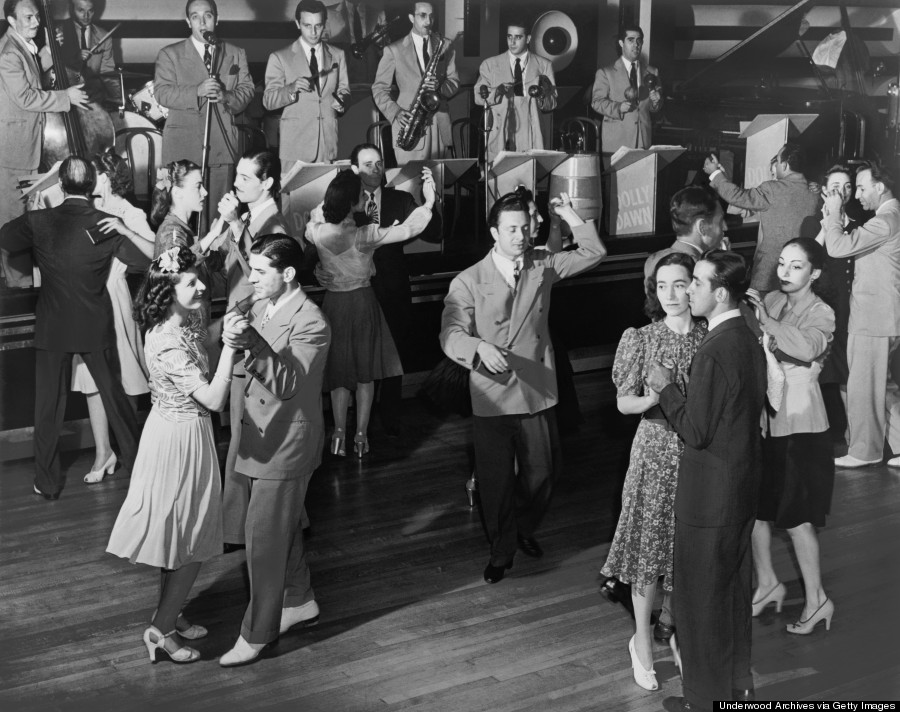 Of all the big bands that were famous, Mom's favorite was clear. My wife, Jennifer and I took her to see the contemporary version of this orchestra at the Riverside. We had front row center seats and the bandleader, Larry O'Brien would often look down at Mom and smile. Mom wasn't the gregarious type but thought the "flirting," however innocent, was nice. Tears of joy and sweet memories seemed to emerge with every number that night.
In 1997 the wonderful vocal troupe the Manhattan Transfer did an entire album of swing music that included a great Glenn Miller tune from 1941 and the film "Sun Valley Serenade." Miller was definitely my mom's favorite. Listen to a lovely rendition complete with pedal steel guitar. And pay close attention to the lyrics. Are they not the greatest?
Here's a song I knew Mom was crazy about because whenever Dad played it on the record player, she would belt out the words. Remember, this woman was sort of introverted.
George Gershwin composed the music and Ira Gershwin wrote the wonderful lyrics for this 1927 standard that was sung in the Broadway Musical "Funny Face."
Canadian pianist and torch singer Diana Krall lends her husky voice in a lovely performance.
That's it for this week.
Goodnight.
Sleep well.
Have a great weekend.
Here's part of a special prayer I found on the Internet:
Dear Lord,
Bless every mother and every grandmother with the finest of your spiritual blessings today. Confirm in her heart and spirit the work of her hands and the love that she has so freely given to those children under Your care. Validate her worth daily so she has no reason to doubt whether she is loved, valued, and cherished in the eyes of her Heavenly Father.
Create in her a deep sense of your protection and trust, so that worry and fear will disappear as she places her loved ones into Your care. Let her know that every prayer she has prayed and every encouraging word she has spoken on behalf of her children/grandchildren has been transformed into sweet, fragrant offerings before Your throne.
Let her joy be contagious; let her passion be pure; and let her life overflow with all the blessings she deserves—on special days, and on every day of her life.
We close with a Franz Schubert composition from 1825. Three years later Schubert died at the age of 31.
This famous song is a prayer, and our parish was reminded last Sunday that we are still in the Easter season.
Eumir Deodato is at the electric piano with full orchestra performing in Lugano, Switzerland in 2010 (Following "Ave Maria" the embedded concert video continues through its conclusion).