The Barking Lot is a regular weekly feature of This Just In…Written by my lovely wife, Jennifer and me.  It opens with the weekend dog walking forecast followed by the main blog from dog lover, Jennifer. Then it's DOGS IN THE NEWS and our close. Enjoy!
THE WEEKEND DOG-WALKING FORECAST: We grade the weather outlook for taking your pet outdoors.
TODAY:   Mostly sunny.  High of 79.  "A"

SUNDAY:  A morning shower. Then partly cloudy in the afternoon with gusty winds from the NNE.  High of 56.  "C"

Now, here's my lovely wife, Jennifer, with this week's main blog.
Here in Franklin we are blessed to have an absolute gem.
The award-winning Kayla's Playground is an all-accessible and all-inclusive playground that is inspiring and truly all-inclusive for all children and families of any age and ability. Our city's pride and joy, the playground is immensely popular, attracting families from near and far.
More than 1,500 volunteers built Kayla's Playground in about a week in September of 2015, covering 38 acres at Franklin Woods Nature Center.
Dogs are allowed, but not inside the playground equipment area. With warmer weather finally here Kayla's is sure to get a lot busier, and hopefully that won't result in an issue that was talked about on social media  about two weeks ago.
The original post:
PSA: if you bring your dog to visit Kayla's Playground/Franklin Woods, CLEAN UP AFTER THEM! I counted no fewer than 5 piles of business along the asphalt trail this afternoon. The pet waste stations were well stocked with bags. NO EXCUSES!
Followed by some of the comments:
Ugh. No reason for that. Lazy.
That's so sad particularly there since it is one of the most dog friendly parks that I know of in that regard. There are literally THREE waste stations w bags and probably more general garbage cans.
As a dog owner who visits our parks all the time I completely agree. I was at Kayla's park yesterday. The big one is the oak leaf trail from Froemming Park to Rawson. The piles are absolutely horrible. I am embarrassed as a dog owner who brings bags just in case my dog does her job. I was behind a guy with two dogs as I witnessed him not clean up after his dog even after I offered him one of my bags. Needless to say I had a little dog owner shaming I lashed out at him. He just walked away.
As I am one who carries bags with me and uses them, it drives me absolutely nuts to see piles in the park, especially just feet from the doggy waste containers. Franklin is the only city I know of around here that has dog friendly parks and goes as far as to supply bags and receptacles free of charge for our park patrons. I love this about Franklin and really hope that we dont lose this privilege because people are too lazy to clean up after their pets.
Unfortunately every trail in the area has this issue
When you walk your dog anywhere, please clean up after them. It's not just by the walking trails or the parks that some neglect their responsibility!!
I'm being kind when I say they are pigs.
I've witnessed the very same ignorance at Franklin's Legend Park. We'd like to think our community is far better than this. There's little consolation in that we are not alone.
The Parks and Recreation Department in Omaha, Nebraska recently removed trash cans from the city's two dog parks.
No more cans. Dog owners saw the above sign informing them that dog waste now needed to be tossed into a dumpster in the parking lot.
A bit more inconvenient? Of course.
Arguably the city was asking for a stink to develop, and it did because we all know in this day and age it's so doggone (sorry) difficult to practice any responsibility.
"For me to have to walk back to the top of the hill, the steep hill, to dispose of the waste or kind of carry it around with you the whole time you're here, neither of those are really appealing options," dog owner Brian McCormack said.
Angering some owners is that while one park dumpster is relatively easy to get to, the dumpster at the other park requires people to walk away from the fenced in park area, and owners don't like to leave their dogs alone.
"I picked up my dog's poop, but it's 10 feet away until I have to leave the dog park and then I'll take it up to the trash can. It is an annoyance," dog owner Michaela Gabaldon said.
The city claims it made the change so that crews could dump the trash cans faster and more often. But dog owners aren't happy. Some protested by tying their poop bags to the fence. Now that's certainly the adult approach, don't you think?
The predictable reaction did, indeed, take place. There's been an increase of dog feces left on the ground.
Dog walkers in our neighborhood, and we have a lot of them, always pick up after their pets, then carry the bags all the way home. It's the proper thing to do. Apparently that's too much to ask in Omaha, even when trash receptacles are placed a short distance away.
Amidst fears of dirty parks that will keep folks away the city of Omaha that certainly messed up will now add a dumpster at each site.
That the city can do. It cannot legislate common sense and personal responsibility.
Finally, a village in England might have the answer about how to deal with these offenders.
—-Jennifer Fischer
Thanks Jennifer!
Time now for DOGS IN THE NEWS, canines that made headlines the past week.
Fido Survived the Research Lab. Now What?
Proposal to end Oconomowoc, WI ordinance requiring muzzles for pit bulls in public.
BARKING LOT update: Dogs win in Greenfield (WI). Pets to be allowed in city parks —​​​​​​​ with restrictions.
Is That Dog (or Pig) on Your Flight Really a Service Animal?
Dog's Eye View: See What It's Like to Be a Therapy Dog at a Children's Hospital.
Therapy Dogs Work Miracles. But … Do They Like Their Jobs?
A Competitive Team Sport. For Your Dog.
Officer Called For Report Of 'Vicious Dog' Greeted By….read on.
Dad brings son's dog home from PetSmart for grooming, except he didn't.
THAT'S IT FOR DOGS IN THE NEWS.
HERE'S OUR DOG PHOTO(s) OF THE WEEK.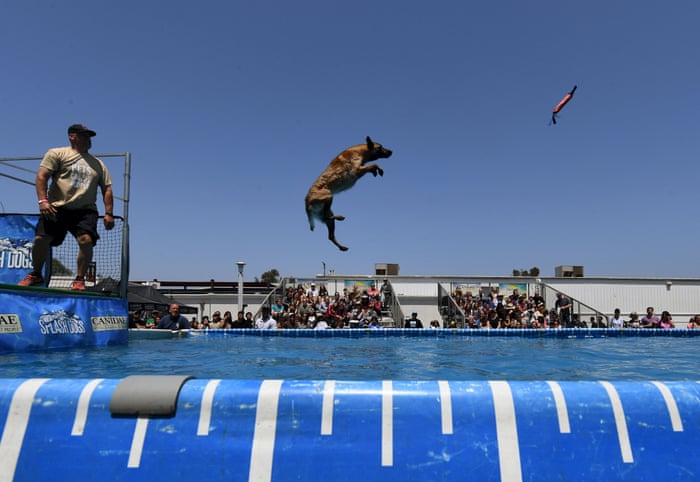 Zuma the dog leaps from the dock as he tries to catch a toy during the Splash Dogs competition at a pet expo in Costa Mesa, California. Photograph: Mark Ralston/AFP/Getty Images

We close as we always do with our closing video. We've got a few.
A nationwide scam targets pet lovers. Here's Part 1 of an investigation by KGO-TV in San Francisco.
Part Two…
And one more, from WCCO-TV in Minneapolis.
That's it for this week.
Thanks for stopping by.
We kindly ask that you please share with other dog lovers you know.
See ya, BARK, next Saturday morning!