The Barking Lot is a regular weekly feature of This Just In…Written by my lovely wife, Jennifer and me.  It opens with the weekend dog walking forecast followed by the main blog from dog lover, Jennifer. Then it's DOGS IN THE NEWS and our close. Enjoy!
THE WEEKEND DOG-WALKING FORECAST: We grade the weather outlook for taking your pet outdoors.
TODAY:   Mainly sunny.  High of 49.  "C"

SUNDAY:  Sunny. High of 60.  "A"
Now, here's my lovely wife, Jennifer, with this week's main blog.
I hate winter – every single thing about it.  I hate cold, snow, ice, having to wear five layers to be comfortable, high electric bills, salt stains on my dark clothes, and when it's dark by 4:30 in the "afternoon."  There is but one small redeeming characteristic of winter:  I have no allergies to deal with.
The 2017-2018 winter season has been odd.  We did have an actual shut-the-city-down Snow Day in February, then some mild days and then pummeled again in APRIL!  It's been frustrating to be teased with a decent day or two and then Mother Nature laughs at us.  Despite this, I must admit I'd rather take a daily OTC antihistamine and decongestant than don boots, gloves, earmuffs and a scarf just to run to the mailbox.  (It seems like our area of Wisconsin will be lucky for the rest of our spring.)
Kevin and Kyla are fortunate that they don't have to battle sneezing, itchy & watery eyes, and congestion.  With any luck, our future dog will be as lucky as they are.  "Wait… what?  You're saying DOGS can have allergies too?"  Oh yes they can.  And they can be just as annoying for them as they are for their human counterparts.
If you have noticed the family pooch scratching more, or sneezing uncontrollably then chances are he/she is suffering from seasonal allergies.   Fortunately there are ways to cope just like there are for humans.  Antihistamines are a possible source of relief with the guidance of your veterinarian.
It might seem hard to believe that a warm spring & summer truly are just around the corner.  But before you know it, those little tree buds will show and bits of daffodils will peek their heads out of the ground.  Quickly following will be the first symptoms of the Sneezin' Season.
This year if you are itching & scratching, rubbing your eyes, sneezing and dealing with a raspy voice and scratchy throat; please don't dismiss your dog may be suffering the same ways you are.  Get Fido some help so that your entire family can enjoy the great outdoors this all-too-short spring and summer season!
—-Jennifer Fischer
Thanks Jennifer!
Time now for DOGS IN THE NEWS, canines that made headlines the past week.
Congress doesn't want you to eat your dog or cat.
Bomb-sniffing dog show: TSA demos talented K9s at BWI.
Losing a dog can be harder than losing a relative or friend.
Can my dog get me sick?
Abandoned dog with one eye undergoes incredible transformation.
A blind dachshund and his seeing-eye dog were adopted in Virginia, but their journey might not be over.
Dog who 'doesn't know he's deformed' finds true love after years of neglect.
This Dog Camera Watches Your Pup When You're Not Home And Even Dispenses Treats.
THAT'S IT FOR DOGS IN THE NEWS.
HERE'S OUR DOG PHOTO(s) OF THE WEEK.
Last Saturday Lt. Gordon Shank of the Minnesota State patrol responded to a call of a loose goat & dog walking together on Hwy. 61 near Hastings. Passing motorists had contained the duo to keep them safe. Lt. Shank kept the two pals company until the Humane Society showed up.
The State Patrol handed over the animals to Kathi Pelnar, an animal control officer for several Washington County municipalities.
Pelnar put the docile duo in her back seat. The goat didn't need a leash, Pelnar said, because it followed the dog willingly into the car.
Pelnar said she's picked up plenty of dogs before, along with sheep, goats and pigs, but never an interspecies bonded pair.
She dropped them off at the Woodbury Animal Humane Society, where they spent the night. She was hopeful for an outcome that would keep the pals together, she said.
Luckily, the dog was familiar to shelter staff, Pelnar said, and the animals' owner picked them up Sunday.
"They just wanted to go for a walkabout," Pelnar said. "It was nice weather."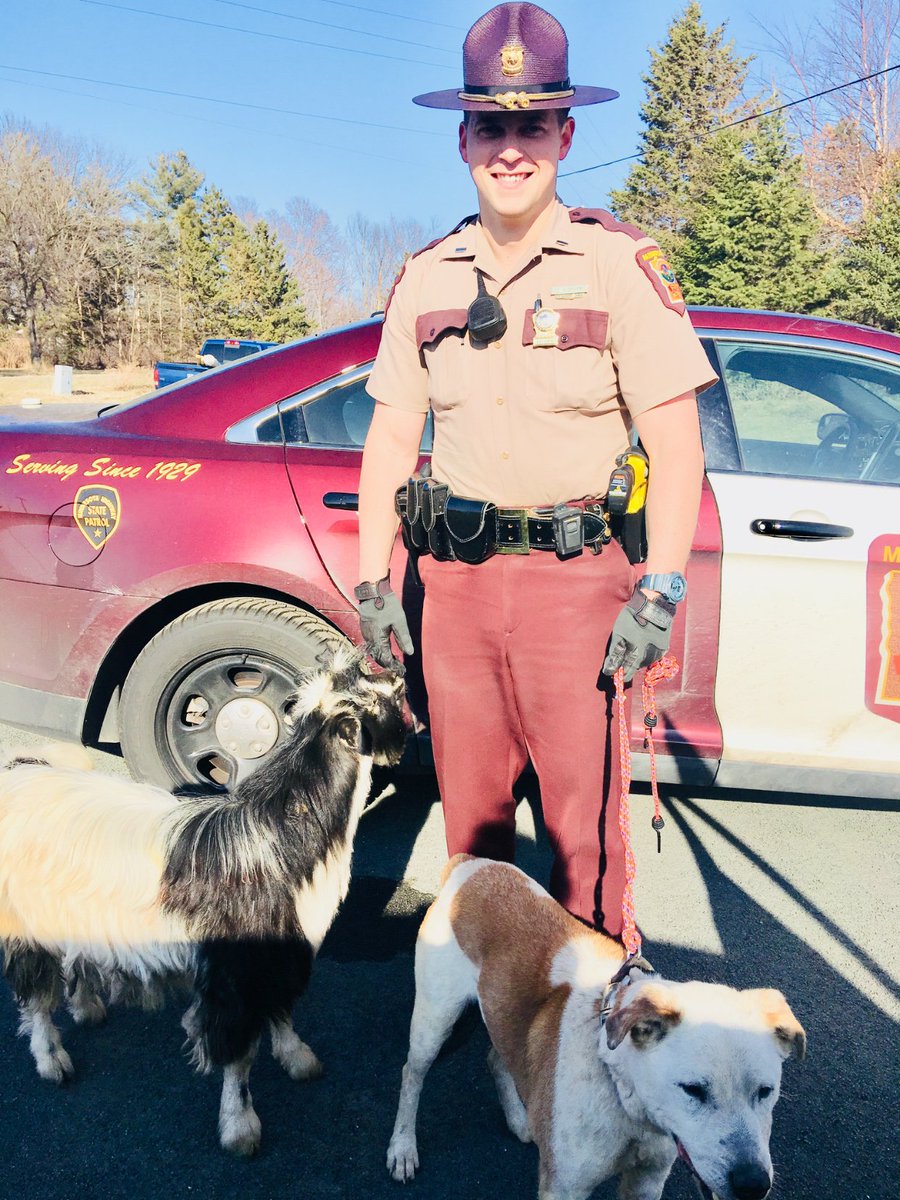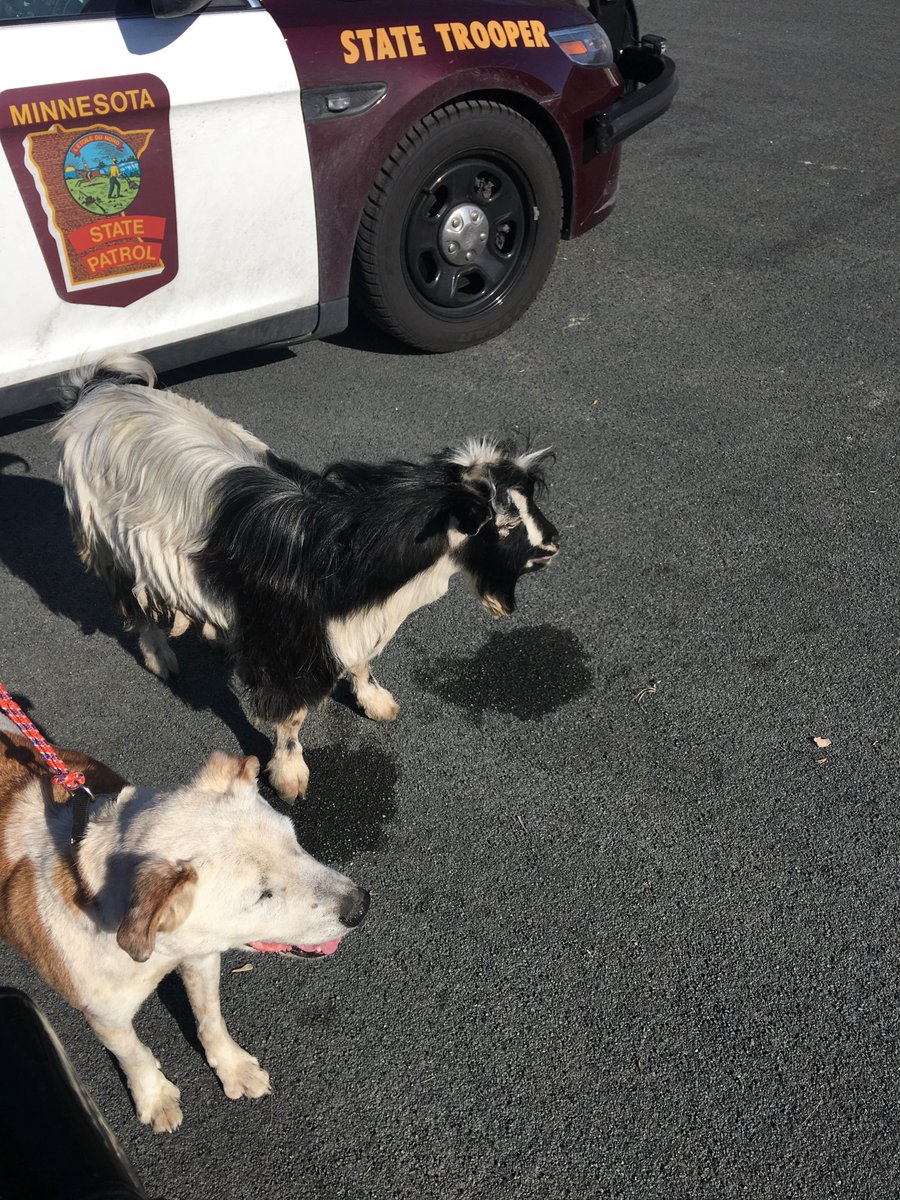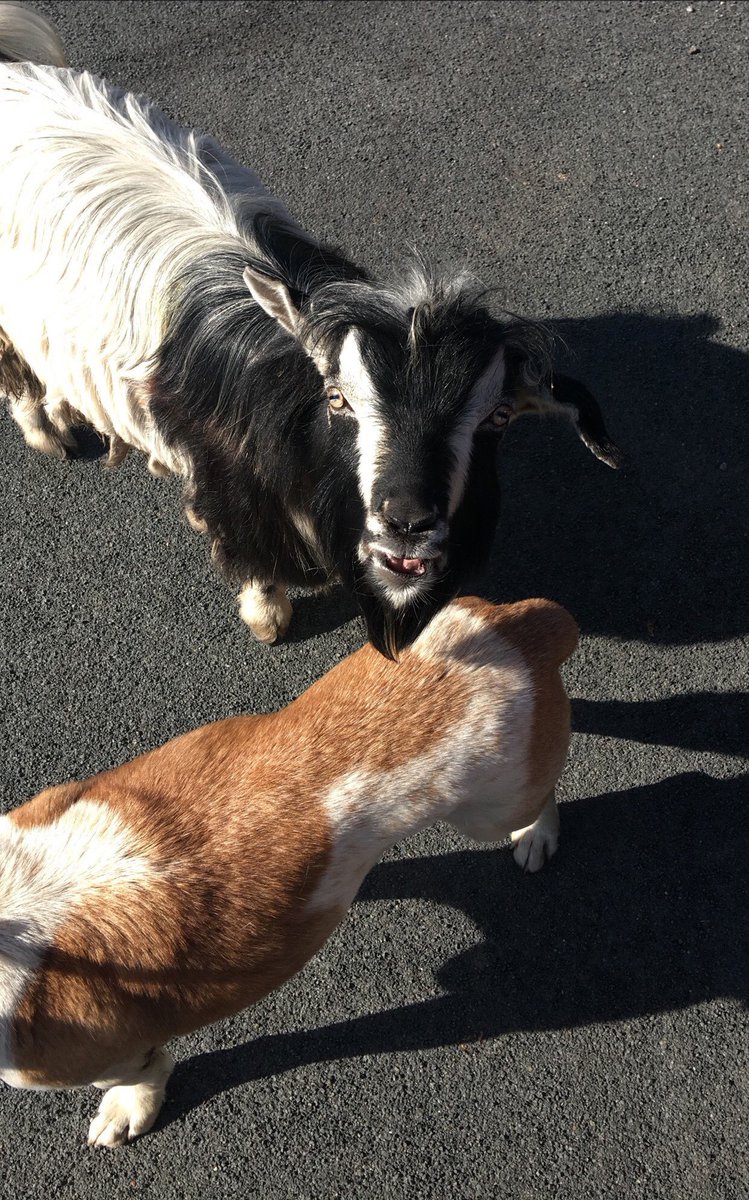 Photos: Minnesota State Patrol
We close as we always do with our closing video.
Have you ever wondered how your dog would respond if that road takes a dangerous turn? Would your dog defend you tooth and nail from a home intruder? Or turn tail and fly out the door?
A news crew recently tested that very idea. For the experiment,  "Inside Edition" used an actor to stage a violent home invasion. In each case, a human is alone with their dog — and suddenly a man in black rushes inside, appearing to attack the homeowner.
And one more video from Rocky Kanaka.
Kanaka is an Emmy Nominated TV host, entrepreneur and Pet Rescue Advocate. Rocky started working with pets over a decade ago when his passion for healthy foods carried over to his pets. As a pet chef Rocky's business The Dog Bakery ships healthy fresh baked dog cakes and treats nationwide. When Rocky is not traveling the nation helping homeless pets you can often find him in one of his Los Angeles bakeries working on new recipes your dog is sure to love.
Rocky spends a large amount of his time focusing on philanthropy. Rocky can currently be seen on The CW's Hidden Heroes and on his new YouTube series DOGS DAY OUT.
That's it for this week.
Thanks for stopping by.
We kindly ask that you please share with other dog lovers you know.
See ya, BARK, next Saturday morning!