Culinary no-no #562 last Sunday included a link to an article about restaurant noise and how to fight back (scroll down to the extras at the end of the main blog).
Apparently this is a major issue for some folks.
I wrote about it back in 2012.
This Just in…
Sept. 30, 2012
THERE ARE THOUSANDS AND THOUSANDS OF  FOOD BLOGS, BUT ONLY ONE CULINARY NO-NO!
This week, what does a Franklin restaurant have in common with a restaurant at one of the nation's top tourist destinations?
Here in God's country, aka Franklin, WI, USA, we do have some nice restaurants. The common lament is that there just aren't enough of them.
One of the good spots is …
That would be the outdoor patio at Mulligan's in Franklin.
When I purchased this year's discount card to support Franklin Sabers football, it included multiple savings at Mulligan's.
Yes, they have a great fish fry.
Personally, I recommend the walleye pike. And this sure looks great…
We move from Mulligan's in a southerly direction to one of the happiest places on Earth!
It's one of the best known and most popular vacation getaways in America.
I'm old enough to remember when Walt Disney World restaurants featured your roast beef, turkey, chicken, or ham dinners with some trimmings. Hamburgers and hot dogs for the little ones. That was about it.
Not anymore.
Walt Disney World visitors didn't request, they demanded vastly impooved, high quality dining and they got it.
In my view, California Grill, nestled high atop the Contemporary Resort a short walk away from the Magic Kingdom is the second best restaurant in WDW just behind the elegant mega-star Victoria & Albert's. See the very top of the resort…
Inside is the restaurant.
As you can imagine, the views are amazing.
The signature dish is pork tenderloin with polenta.
The California Grill enjoys immense popularity meaning it generates huge crowd.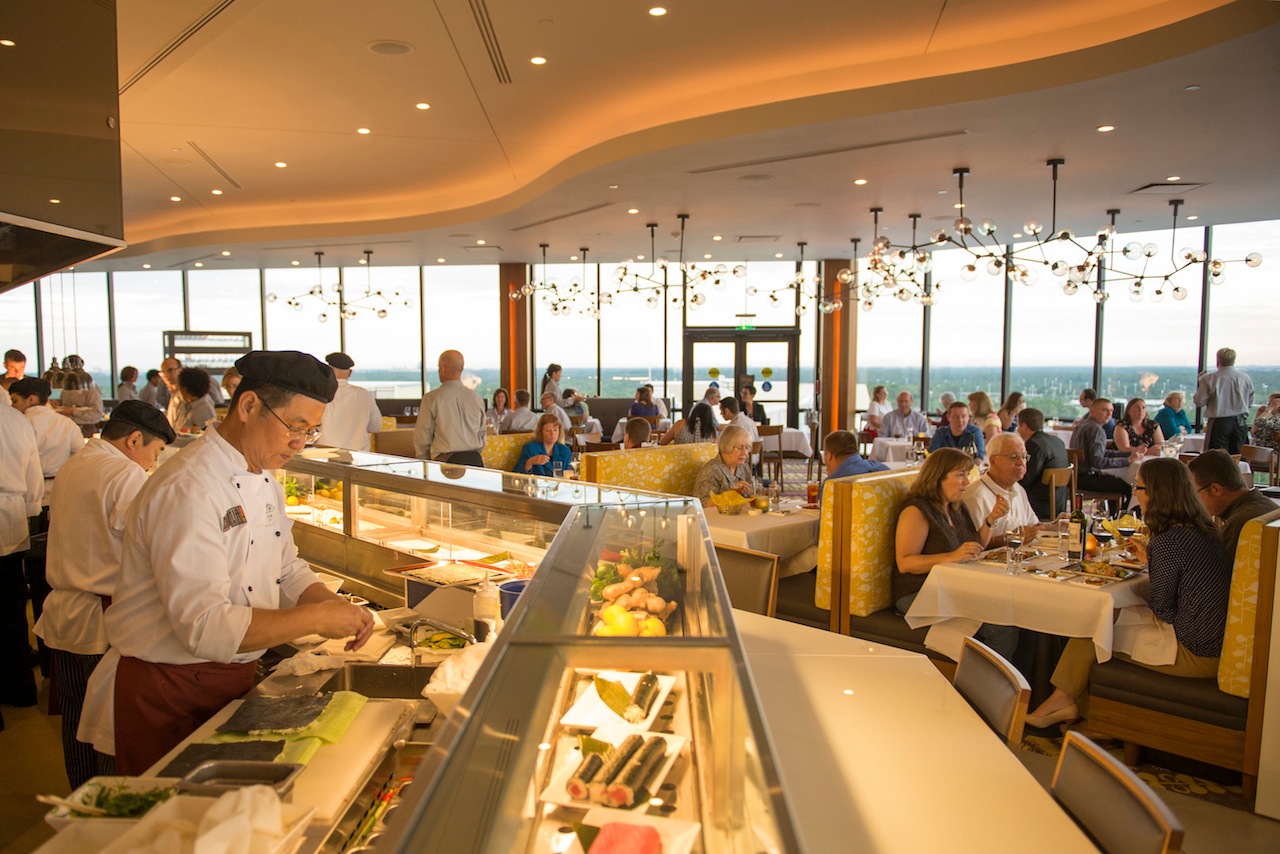 OK, so you've got an Irish pub in tiny Franklin, WI, and one of the top grossing restaurants in America. They share…what?
Great food.
Great service.
Popularity.
Loyal customers.
Lots of noise.
Noisy?
Yes, noisy.
Is that good?
Or bad?
Noise.
People talking. People talking loudly. People talking loudly on cellphones. Yack, yack, yack, yack, yack.
The ever-increasing din created by mouthy patrons has become the latest factor considered by discerning diners when choosing a culinary destination.
At the California Grill, even regulars who love the place are critical of the loud, constant banter. Posters on the chat site disboards.com consistently blast the noisy atmosphere.
We went in January during a very slow time in order to see the fireworks with dinner and it was incredibly loud in the main room, I would not have enjoyed dining there as much with it being so loud.
We found it loud! We were worried about taking our 10 month old baby, and almost 5 yr old, who are very well-behaved, but we didn't want to ruin any quiet/romantic moments for people. None of that was happening, I can assure you! It was very loud, noisy and busy… We felt badly for the young couple behind us who was trying to have a romantic dinner – they looked very frustrated and confused by all of the noise in there.
CG used to be a nice, rather upscale restaurant with beautiful views and a romantic place for a couple to have dinner. Those days are gone. Now it's more like eating at a coffee shop
loud neighbors, noisy kids (ala, Marching Band)
Yep, it's loud. So much so that I won't return there. If I'm going to eat food of that caliber, I don't want to do so surrounded by kids yelling, crying, and running around, as well as waiters trying to DODGE those kids, and yelling to each other, to the kitchen staff, etc. The place is a zoo.
Do not go there for a romantic meal unless your idea of romance is asking what the other person said every two seconds.
Having dined at both Mulligan's and CG, the noise doesn't bother me.
Mulligan's is a low-ceiling, at times raucous place. It's an Irish pub.
CG is forever hustling and bustling. Its view is the best in Walt Disney World. They boast an open kitchen. You're in WDW so there will be children. But adults can also raise quite the chatter. There's a natural buzz surrounding the signature dining spot so, of course, people are going to be festive, excited.
Patrons upset by the levels at Mulligan's and the CG would probably be shockingly blown away at the ambience in other restaurants where owners actually prefer lots of noise because that conveys a happenin', popular place. Sensing they're having a terrific time, patrons tend to eat and drink more.
Food author Thomas McNamee favors a quieter tone. He writes:
"If Craig Claiborne (the first food editor of the NY Times) were alive today, and he walked into The Slanted Door in San Francisco, I believe he would turn around and walk back out without tasting the food. He'd find the noise unbearable.
"The San Francisco Chronicle's restaurant reviews do their readers a favor by bestowing not just the usual star ratings for food, but also noise ratings: one bell for 'pleasantly quiet,' four bells for 'can talk only in raised voices,' and finally a bomb icon indicating 'too noisy.' It's not unusual for the Chronicle to give a restaurant three stars and a bomb. Why so many people willingly go to a restaurant in the full knowledge that they will have to shout throughout the meal and still may not be heard would be a mystery to Craig Claiborne."
The Dallas Morning News calls noisy restaurants a "national epidemic."
To determine just how noisy it can get, the Los Angeles Times investigated:
"…all it took was a sound meter app (deciBel Pro) and visits to a dozen restaurants and bars across Los Angeles to find out. In many cases, we're all dining with the noise equivalent of a lawn mower running next to us: That's 90 decibels. Normal conversation is 60 to 65 decibels. (And the decibel scale, like the Richter scale, is logarithmic: The higher up the decibel scale, the more noise it takes to move the needle.)|
"Sound meters read sound intensity — the pressure of sound waves traveling through the air from a noise source — not loudness, which is more subjective. A restaurant's sound intensity level will vary significantly on different days and at different times. But restaurants consistently clocked in at 80 to 90 decibels during peak hours. (Long-term exposure to noise at 80 to 85 decibels can cause hearing damage, experts say."
"The New York Times measured noise levels at 37 restaurants, bars, stores and gyms across the city and found levels that experts said bordered on dangerous at one-third of them."
So what's a frustrated customer whose ears are splitting supposed to do? The website noisyplanet writes, "If you have to raise your voice to be heard by the people at your table, it's probably too loud. If your favorite restaurant is loud, but you just love the food or fun, there are some things you can do to avoid the noise. Go early before the restaurant gets too busy. Sit in an area off to the side or away from any overhead speakers or game centers. If the music is too loud, have an adult ask the manager to turn down the sound."
Finally, even if you like the lively noise, it might be in your best interest to tone it down. A Cornell University study found that when music and lighting in a fast food restaurant were turned down, diners consumed 18% fewer calories.