Culinary no-no began on Father's Day 2007, a beautiful summer day, when I wrote about grilling brats. And eating brats. And topping those brats. I was inspired by my wife, Jennifer who, in my admittedly unscientific opinion, ruins brats by squirting ketchup on them. Other dining taboos quickly came to mind. The original idea was to take this concept only a few months, till the end of summer and then pull the plug. Then the unexpected happened. People started reading Culinary no-no. Lots of folks. So we keep doing the no-no.
This week, no ketchup on a brat, no green peppers on pizza, no avocado on a hamburger.
In this installment we're talking, if I may borrow the term, "social justice."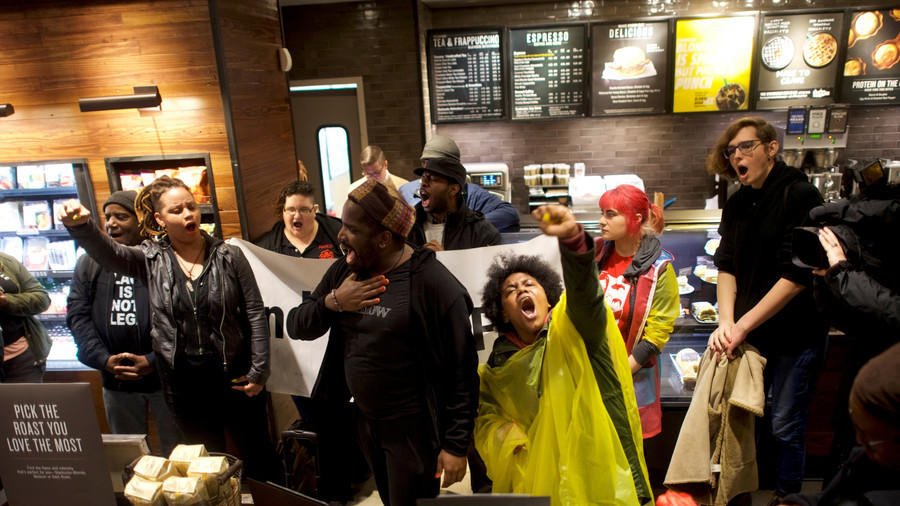 I don't mind telling you I'm loving watching the aftermath of the controversy surrounding what happened inside a Philadelphia Starbucks.
That's right. Loving it.
I'll clarify and explain later. This is Culinary no-no. We'll get to it.
First, you needed to be a hermit in a cave somewhere not to hear about what occurred in one of Starbucks' liberal coffee temples in the City of Brotherly Love (love that).
But we'll go through the backstory via a timeline so as to provide the proper perspective. It all began on…
Thursday, April 12
Twitter user Melissa DePino posted a video of two men being taken away in handcuffs by police.
"@Starbucks The police were called because these men hadn't ordered anything," she wrote. "They were waiting for a friend to show up, who did as they were taken out in handcuffs for doing nothing. All the other white ppl are wondering why it's never happened to us when we do the same thing.""
The white man seen questioning the police in the viral video is Andrew Yaffe, a real estate developer who said the two arrested men were there to meet him.
Friday, April 13 – Saturday, April 14
Now the latte hits he fan. DePino's video goes viral and America is up in arms with the obligatory charges of racism.
Adding to the inflammatory aspects of the story: Police Commissioner Richard Ross,  said the officers "did absolutely nothing wrong" and were professional in their conduct toward the individuals but "got the opposite back. As an African American male, I am very aware of implicit bias; we are committed to fair and unbiased policing," Ross said. But he added "If a business calls and they say that 'Someone is here that I no longer wish to be in my business' (officers) now have a legal obligation to carry out their duties and they did just that."
Later the same day Starbucks CEO Kevin Johnson wrote a letter that read in part:
Dear Starbucks Partners and Customers:
By now, you may be aware of a disheartening situation in one of our Philadelphia-area stores this past Thursday, that led to a reprehensible outcome.
I'm writing this evening to convey three things:
First, to once again express our deepest apologies to the two men who were arrested with a goal of doing whatever we can to make things right. Second, to let you know of our plans to investigate the pertinent facts and make any necessary changes to our practices that would help prevent such an occurrence from ever happening again. And third, to reassure you that Starbucks stands firmly against discrimination or racial profiling.
Philly Mayor Jim Kenney chimed in:
"I am heartbroken to see Philadelphia in the headlines for an incident that — at least based on what we know at this point — appears to exemplify what racial discrimination looks like in 2018. For many, Starbucks is not just a place to buy a cup of coffee, but a place to meet up with friends or family members, or to get some work done. Like all retail establishments in our city, Starbucks should be a place where everyone is treated the same, no matter the color of their skin."
Sunday, April 15
Black Lives Matter protester Asa Khalif led a protest at the Starbucks where many demanded the firing of the employee who called police. A photo of Khalif armed with a bullhorn inside of the store also went viral.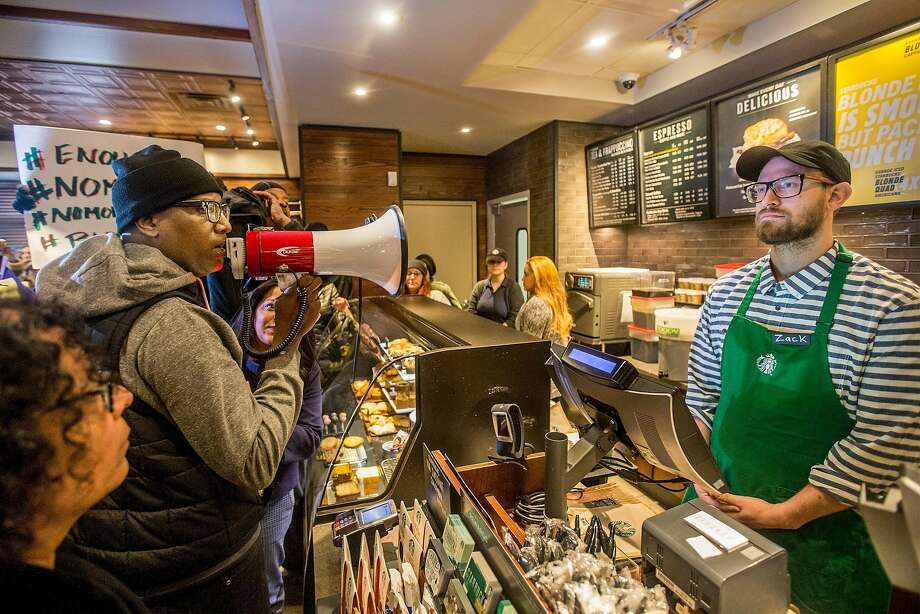 Monday, April 16
The protests continued.

Meanwhile Starbucks CEO Kevin Johnson appeared on ABC's Good Morning America to issue a public apology. Johnson also flew to Philadelphia meet with the two men as well as government officials and community leaders.
Mayor Kenney and Philadelphia's Police Advisory Commission still maintained the officers who responded  followed procedures.
Tuesday, April 17
Starbucks announced it would close all of its U.S. locations on the afternoon of May 29 so workers can undergo "racial-bias education."
The Philadelphia Police Department released recordings of the 911 call from Starbucks and radio traffic between officers who responded and dispatchers. In the 911 call, a woman said there were "two gentlemen" in the "cafe who are refusing to make a purchase or leave." In the subsequent radio traffic, a man reported a "group of males" was "causing a disturbance" before calling for backup and a supervisor.
The police incident report notes that the two men cursed at the store manager and refused to leave even though officers asked "multiple times." It also accused the men of insulting police by saying, "Cops don't know the laws," and "Y'all make 45G a year."
Wednesday, April 18
Starbucks Executive Chairman Howard Schultz appeared on CBS This Morning, saying he was both "ashamed" and "embarrassed.
Thursday, April 19

Philadelphia Police Commissioner Richard Ross said he made the situation surrounding the arrests worse, by saying his officers did nothing wrong. He said he would have used different words had he known Starbucks allowed people to stay in its cafes for hours without making a purchase. The officers also did not know that, he said, but asserted that they acted within the scope of the law and were respectful to the two men.
The two men spoke publicly. Rashon Nelson and Donte Robinson, friends since elementary school, are hoping it won't happen again.
The Philadelphia District Attorney's office declined to have the men arraigned because of lack of evidence. Commissioner Ross said the men were released because after the paperwork was processed, PPD "discovered" Starbucks no longer wanted to press charges.
That's what we know up to date.
How liberal is Starbucks?
For further context and perspective, let's understand Starbucks is a liberal corporation, real liberal.
Let's examine.
Former CEO Howard Schultz a few years ago said at their annual meeting "If you support traditional marriage, we don't want your business."
After Schultz announced that Starbucks would hire 10,000 refugees, the General Counsel for the group of Starbucks' stockholders Justin Danhof asked Schultz "How much will Starbucks investors have to spend so that the company can properly vet refugees that the federal government admits it can't afford to vet?"
He also asked Schultz why he condemned President Donald Trump's immigration order but "lacked the courage to speak out against the Obama-Clinton travel ban?"
Schultz endorsed Hillary Clinton and was a potential pick for Secretary of Labor.
Remember when Starbucks launched and almost immediately scrapped an initiative to have baristas talk to customers about race?
Baristas were once told  to write 'Trump" on their cups after a white man claimed he was racially discriminated  against at a Starbucks.
This is why I derive pleasure at what's happened at that Starbucks in Philly.
It's so sweet to see liberals all in an uncomfortable tizzy, flailing away hypocritically condemning their fellow leftists for stuff they are so quick to accuse so many others.
Harvard-educated Eugene Scott writes about identity politics for the Washington Post and posted some scornful tweets:
This is much fun to watch. Bend, Starbucks. Prostrate yourself before the liberal rage mob you helped create. Let them spit on you.
This Starbucks controversy is evidence that even if you bend over backwards to champion trendy liberal causes for decades, all it takes is one of your 200,000 employees to act poorly for the visceral outrage machine to turn on you anyway
Partisanship aside, the incident does draw attention to an issue that some on the left are not often vocal about: Companies that champion liberal values are not free of the racial bias and insensitivity. Even companies headquartered in deeply blue Seattle with tuition assistance programs and headed with leaders who speak out against entry bans from Muslim countries are capable of harboring racism.
…the training is just a start in Starbucks's effort to deal with potential racism within the company. But the incident also provides an opportunity for the left to open the door to see how well they do at policing bigotry within their own tribe.
And Christine Flowers, a lawyer and columnist for the Philadelphia Daily News sums up my feelings perfectly:
I'm kind of thrilled that a company that touts its liberal cred from the mountaintops has gotten a comeuppance. This is a place that waves the rainbow flag, that strongly supports Planned Parenthood and its mission to make America safe for "choice," and that has been fairly clear about its position on the Trump administration. To be exposed for its lack of sensitivity to minorities is delightfully ironic
CULINARY NO-NO BONUSES
Americans waste an astounding amount of food — and healthy eaters are the worst