The Barking Lot is a regular weekly feature of This Just In…Written by my lovely wife, Jennifer and me.  It opens with the weekend dog walking forecast followed by the main blog from dog lover, Jennifer. Then it's DOGS IN THE NEWS and our close. Enjoy!
THE WEEKEND DOG-WALKING FORECAST: We grade the weather outlook for taking your pet outdoors.
TODAY:   Cloudy. High of 55.   "B"

SUNDAY:  Partly cloudy. High of 56.  "A"
Now, here's my lovely wife, Jennifer, with this week's main blog.
At times it is unbelievable to me how much pet ownership has changed since my youth and own pet experiences.  My dogs (and cats) were spoiled of course but it was in the middle-class, 1980's sort of way.
Obviously they were taken to the vet regularly and were always up to date on vaccinations.  But if they were dirty or smelly, we washed them in the bathtub using baby shampoo.  We didn't brush their teeth.  Their treats were basic rawhide bones or similar.  They didn't do doggy yoga.  We didn't have a subscription to DogTV so that they could watch their favorite programs when we were gone.  If we had to leave the house for a long day-trip we simply made sure they had enough food & water and hoped for the best…  they did NOT attend doggy day care.
Their food was common and off-the-shelf; we fed them both wet and dry types.  And they regularly received table scraps.  Additionally we kept their dry food out all day and let them "graze."  We weren't a feed-once-a-day type of family.  Admittedly they were a bit overweight but they certainly were happy and overall quite healthy.  They all lived to satisfyingly old ages with our "primitive" care.
Fast-forward to today's pampered pooches.  More is spent on them than children in the same house in some cases.  It is a bazillion-dollar business in every arena from food to fashion and the end is nowhere in sight.
I mentioned our very basic feeding routine for our own dogs.  Most owners these days wouldn't DREAM of grabbing any old bag of kibble from Walmart and giving it to their best fur baby.  But how much is hype and how much is help?  It certainly pays to be educated and you don't have to fall for every gimmick out there to insure your pup is well-fed.
Here are some things VETERINARIANS want you to know about your dog's food, not what the MARKETING COMPANIES want you to know.  Do your homework and you can feel confident your dog will be healthy and happy.
—-Jennifer Fischer
Thanks Jennifer!
Time now for DOGS IN THE NEWS, canines that made headlines the past week.
Here's why everyone in Wichita is getting a postcard about dogs in the mail.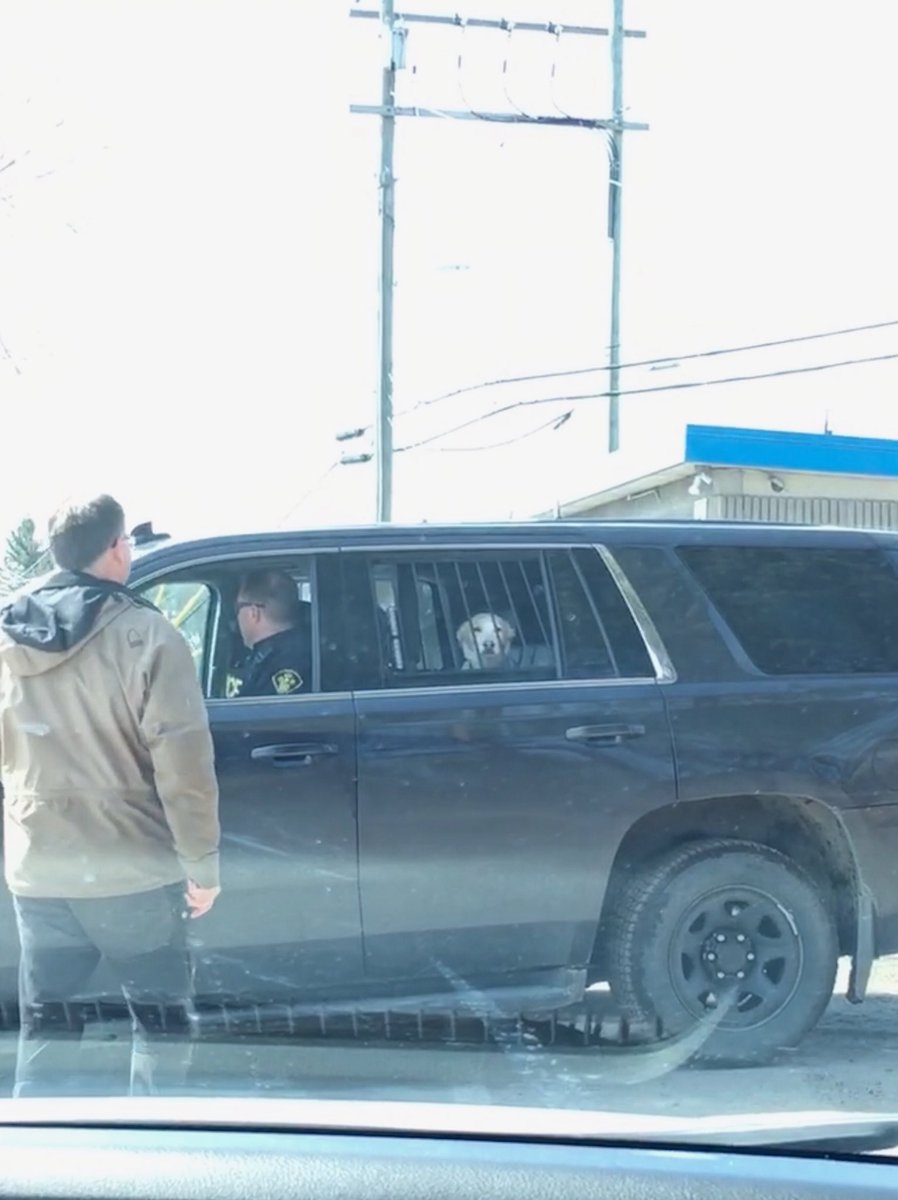 A bad dog in Canada who ran away from his owners to chase a deer was "arrested" and detained in the back of a cop car.
Reid Thompson and his girlfriend were walking on a trail with the pup, Finn, in Kenora, Ontario, when they decided to let him off his leash. But instead of sticking around, Finn caught the scent of something interesting and took off after it, Thompson told Fox News.
Finn, meanwhile, was sitting in the back seat of the cop car behind barred windows, looking guilty.
Thompson's daughter, Emme, shared the above photo of the pup on Twitter. The tweet has since gone viral.
Next…
We close as we always do with our closing video. And we have a few.
In Florida a dog is at the center of a legal custody battle.
Next, Jessica Kensky and her husband Patrick Downes were both injured during the 2013 Boston Marathon bombing. The couple released a children's book featuring Rescue, Kensky's service dog, who helped her navigate life after the attack.
At the Amazon headquarters in Seattle, people share their work space with thousands of pooches.
And finally, during a visit to Jimmy Fallon's Tonight Show to help promote the upcoming Tribeca Film Festival, which De Niro founded in 2002 with film producer Jane Rosenthalof  and is celebrating its 17th year this spring,the cameras followed Fallon and actor Robert DeNiro as they chatted and strolled down the back hallways of Rockefeller Center, where the show is filmed. Everything seems to be going fine, up until they walk by a few people hanging out with a puppy.
That's it for this week.
Thanks for stopping by.
We kindly ask that you please share with other dog lovers you know.
See ya, BARK, next Saturday morning!