Every Friday night we smooth our way into the weekend with music, the universal language. These selections demonstrate that despite what is being passed off as art today, there is plenty of really good music available. Come along and enjoy!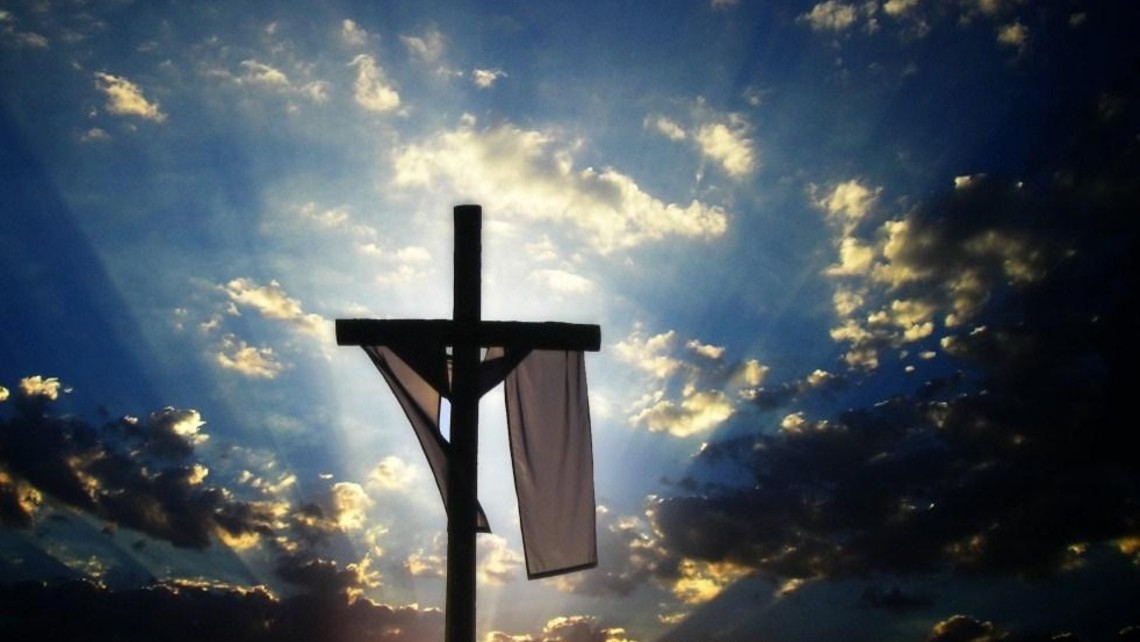 This Sunday marks the most important festival in the Christian calendar. Easter celebrates the resurrection of Jesus from, three days after he was crucified.
On what is now known as Good Friday, Jesus' body was taken down from the cross, and buried in a cave tomb. The tomb was guarded by Roman Soldiers and an enormous stone was put over the entrance, so that no-one could steal the body.
On the following Sunday, Mary Magdalene, followed later by some of Jesus' disciples visited the tomb to find that the stone had been moved, and that Jesus' body was gone. His followers knew that God had raised Jesus from the dead.
This week, sounds of the season.
Let's get started.
In the late 1960's Edwin Hawkins was studying interior design in Oakland, California. At the same time he and a friend were working with a youth choir that released a local album. The group had hopes of selling enough copies to fund a trip to Southern California to participate in a Gospel competition.
The album was anything but state of the art, recorded on a friend's small two-track machine according to Hawkins. There were no thoughts of going commercial.
One of the tracks caught the attention of a disc jockey at the Bay Area FM station KSAN, Abe Kesh.
As Kesh continued to play "Oh Happy Day" on the air it became more and more popular. The single sold seven million copies and won a Grammy for best soul gospel performance.
Legendary jazz pianist Ramsey Lewis covered "Oh Happy Day" in a 2005 album, "With One Voice."
The live album was recorded at the J.W. James Memorial A.M.E. Church in Maywood, Illinois, where the Rev. Lucille L. Jackson, Ramsey Lewis' sister was the the co-pastor. She passed away in 2013.
More than 50 members of the J.W. James Memorial A.M.E. Church Combined Choir are featured on the album, including "Oh Happy Day."
"That's one of my favorites," said Lewis. "When that record came out, the Edwin Hawkins Singers, I probably wore out–it was on an LP, of course, so I probably wore out two or three of those, and I always wanted to play it, even in person, but I couldn't come up with a way to do it without the voices. And so now we have this version, of course, with my church choir, that is the church I belong to."
We've posted this a few times in the past and it's especially perfect this time of year…
There's actual thought and planning that goes into this weekly feature. We just don't come on here and say, "Hey, it's Friday. Here's some Led Zepellin."
And I never know when, where, or how a theme or a particular piece of music will hit me.
For example, the other night the family was sitting at the dinner table. Kyla was getting excited about her upcoming spring concert at school where she and  some other students would be singing  several songs. That prompted the obvious question from Daddy.
"Like what?"
Without hesitation she replied.
"Well, Wade in the Water."
Completely surprised I almost dropped my fork.
"Wade in the Water?"
Uh huh.
"You mean like this?"
I started to hum it and Kyla jumped right in with the words.
"Wade in the Water" is a Negro spiritual that refers to the Christian tradition of baptism. The religious rite can be performed by sprinkling water onto a person's forehead or immersing a person's body in water. Baptism symbolizes purification and choosing to live life in the Christian faith.
Watch Damien Sneed & Friends at Jazz for Young People, the Rose Theater, Jazz at Lincoln Center in New York.
Wade in the water
Wade in the water
Children wade, in the water
God's gonna trouble the water

Who's that young girl dressed in red
Wade in the water
Must be the children that Moses led
God's gonna trouble the water

Wade in the water, wade in the water children
Wade in the water,
God's gonna trouble the water
Who's that young girl dressed in white
Wade in the water
Must be the children of the Israelite
Oh, God's gonna trouble the water
Wade in the water, wade in the water children
Wade in the water,
God's gonna trouble the water
Who's that young girl dressed in blue
Wade in the water
Must be the children that's coming through,
God's gonna trouble the water, yeah
John the Baptist lived in the early first century AD. A Preacher, prophet and second cousin of Jesus, John used baptism  in his ministry. He even baptized Jesus.
John always emphasized that the Messiah was coming, and the Messiah was Jesus. To prepare for God's judgment, John urged people to repent and be baptized.
One of my favorite groups, "Blood, Sweat and Tears" had a gigantic self-titled album released in late 1968. It went multi-platinum four times.
There's no way they could get any bigger and they never did, even though they've been successful ever since.
This is from their gold album, "B S & T 4."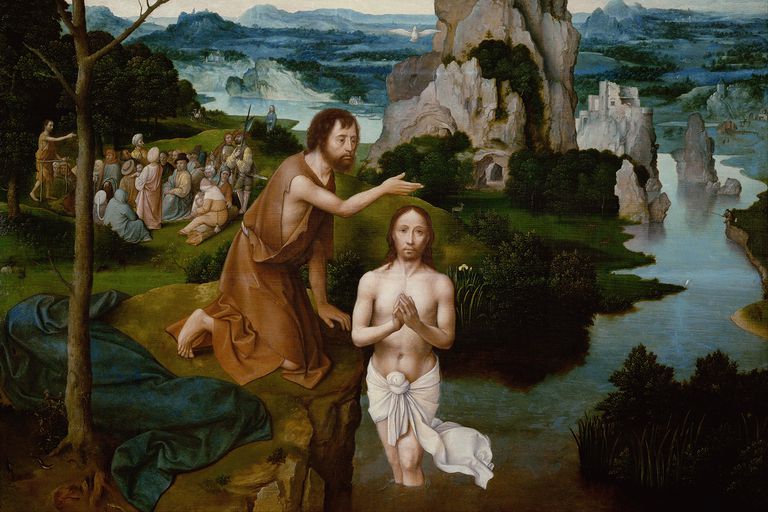 Back in 2014 while recovering  and recuperating from hip surgery I  had the chance to read Bill O'Reilly's fascinating book, "Killing Jesus." There's a great line that ends one of the chapters. Jesus has been placed in the tomb, and a nervous Pilate agrees to a precautionary move to prevent anyone from stealing the body. O'Reilly writes, "And so it is that a Roman guard is placed at the tomb of Jesus, just in case the dead man tries to escape."
Mark wrote in a gospel that on the Sabbath, Mary Magdalene, Mary the mother of James, and Salome bought spices to apply to Jesus' body. When they arrived at the tomb they saw the stone placed in front had been rolled away. They became alarmed when they entered and saw a young man dressed in a white robe.
"You are looking for Jesus the Nazarene, who was crucified," he said "But he has risen! He is not here! See the place where they had put him."
Again from O'Reilly's book, "To this day, the body of Jesus of Nazareth has never been found."
Headed to church Sunday?
Long before I ever understood Christ's atoning sacrifice or appreciated his glorious resurrection, I formed strong associations with Easter. Sure, the candy and family gatherings created fond, joyous memories. But it was the music—the same songs every year in my Methodist church—that blossomed with new meaning after my teenage conversion.
Chief among these tunes is one most will surely recognize—"Hymn for Easter Day," written in 1739 for the inaugural service at the Foundry Meeting House, London's first Wesleyan chapel. You know the hymn as "Christ the Lord Is Risen Today," composed by the most famous hymn writer of all, Charles Wesley, one year after his conversion.
As with many of the most popular hymns, "Christ the Lord Is Risen Today" has survived the centuries thanks to a successful marriage of lyrics and music. 
In the years immediately following Christ's resurrection, alleluia particularly connoted praise for Jesus' victory over death. Early Christians began greeting each other on Easter with the now-familiar call and response: "Alleluia! He is risen!" "Alleluia! He is risen indeed!" Alleluia is meant to convey emphatic joy, thanksgiving, and triumph.
Still today, Roman Catholics and Anglicans refrain from speaking or singing alleluia during Lent, but they reintroduce the word into their liturgies to express their thanksgiving on Easter morning.
That's it for this week.
Goodnight.
Sleep well.
Have a great weekend and Happy Easter.
We close with singer/songwriter Paul Anka.
Yes, that Paul Anka.
Who knew in the late 1950's that teen idol Anka from a talent perspective was actually eons beyond putting her head on his shoulder.
A creative genius was Anka (Can we say "My Way" for Sinatra?).
He wrote the following rock-gospel song in the early 1970's and performed it in concert years and years later.