The Barking Lot is a regular weekly feature of This Just In…Written by my lovely wife, Jennifer and me.  It opens with the weekend dog walking forecast followed by the main blog from dog lover, Jennifer. Then it's DOGS IN THE NEWS and our close. Enjoy!
THE WEEKEND DOG-WALKING FORECAST: We grade the weather outlook for taking your pet outdoors.
TODAY:  Mostly cloudy. High of 38, below the normal. "D"
SUNDAY:  Mostly sunny. High of 39.  "D"
Now, here's my lovely wife, Jennifer, with this week's main blog.
Kyla has always been an extremely social, extroverted young lady.  She truly enjoys meeting new people and very soon after a new introduction, the recently-introduced person quickly becomes her friend.  I am grateful for her outgoing personality; social situations have never been stressful.  A new school year brings only excitement, never dread.  If there is a gathering where she doesn't know everyone, it is a golden opportunity for her to expand her social circle.
This is ESPECIALLY the case if we have a get-together at our house that includes guests she hasn't met before.  Whether another kid or an adult, she is quick to welcome them to our home.  She wants them to feel comfortable and relaxed and enjoys being the hostess.  For example, this past Christmas I invited my coworkers for a Cocoa & Cookies party.  One of them brought her two kids and Kyla instantly "clicked" with them.  It was a delightful afternoon.
If by chance we are at a soiree at a new location, Kyla will remain by my side for a few minutes until introductions are made.  She likes to assess the layout & guests.  She chats with me until she has a grasp of the room and then – truly – I won't see her again until it is time to leave the event.
Interestingly, the same social patterns appear to happen with our dogs.  Who knew?  Apparently a dog just MIGHT choose a stranger over you for belly rubs and ear scratches.  It all depends on your location.  Don't feel slighted – it's more because they are so comfortable with their surroundings than it is they want a new owner!
Read the interesting research, and leave a comment if you've experienced something familiar.
—-Jennifer Fischer
Thanks Jennifer!
Time now for DOGS IN THE NEWS, canines that made headlines the past week.
United suspends pet-shipping service after dog's death.
Public support for animal rights goes beyond keeping dogs out of overhead bins.
What clues does your dog's drool hold for human mental health?
Wyoming inmates train rescue dogs, readying dogs for adoption.
Guess who opposes plan to make Labrador retriever Ohio's official state dog? PETA.
Smiley the blind therapy dog may be gone, but here's how his legacy lives on.
The Price French Bulldogs Pay for Being So Cute.
Kyla hasn't done this…yet.
Theater holds a sneak preview of Wes Anderson's new film, "Isle of Dogs," with a particularly appropriate twist — the screening was B.Y.O.D., or Bring Your Own Dog.
THAT'S IT FOR DOGS IN THE NEWS.
HERE'S OUR DOG PHOTO(s) OF THE WEEK.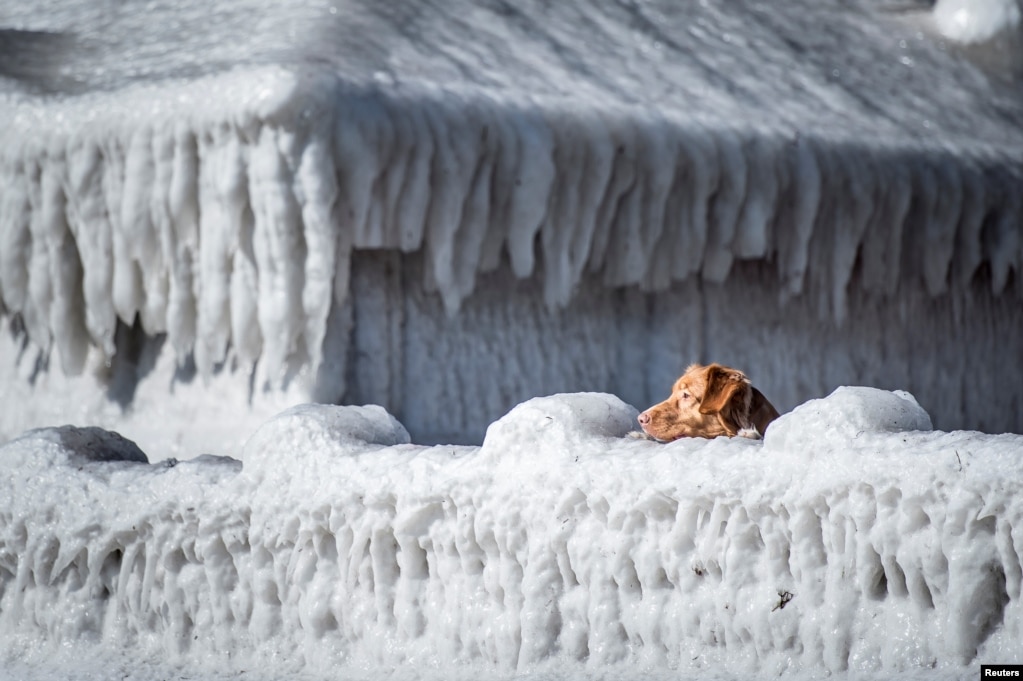 In Copenhagen, Denmark, a dog looks over a house covered in ice at Faxe Bay. Photograph: Mads Claus Rasmussen/Ritzau Scanpix/Reuter
We close as we always do with our closing video.
First…
Next…why do so many golden retrievers get cancer?
And as mentioned above, the animated film "Isle of Dogs" opens this weekend. Set in a fantasy Japan, villains of the future work to eradicate dogs.
That's it for this week.
Thanks for stopping by.
We kindly ask that you please share with other dog lovers you know.
See ya, BARK, next Saturday morning!