Previously on This Just In…five years ago.

THERE ARE THOUSANDS AND THOUSANDS OF FOOD BLOGS, BUT ONLY ONE CULINARY NO-NO!
As a devout Catholic, I'm not a big fan of…

Lent.
At today's Mass, our phenomenal church organist Lee Erickson played something during the recessional that resembled a funeral dirge. I understand. Tis the season. The uplifting stuff returns on that glorious Sunday.
Lent.
Then there's this…
Not true. Not true at all.
I swear I wake up Friday mornings during Lent craving Big Macs. Prime rib. KFC. Bacon (Wait, that's every morning). Hell, even liver and onions.
Granted, it's a small price to pay, but it is, as a former pastor at my church once said, "annoying."  I would add " frustrating," "difficult," and on some Fridays, a "pain in the ass."
Easing the burden substantially is that we live in Wisconsin. There are as many places to get a good fish fry as there are dollars in our national debt.
We discussed fish fries last week. For this week's installment, the focus is on fish sandwiches. To be specific, no one, I mean no one that I'm aware of makes a great fish sandwich. Good to very good, maybe. But great? The kind you finish and want to tell twelve of your best friends, "Now that's a great fish sandwich!" I don't believe it exists. Not in these parts anyway. Some oceanside restaurant might be able to deliver. Nowhere here. Remember, I'm talking great, awesome, stupendous, quintessential, off the charts, blow your socks off.
I suppose we could start with…
Had one this past Friday.
The steamed bun is OK
The fish filet is OK.
The slice of cheese is nice.
And the tartar sauce, an anti-dry repellant isn't bad.
The sandwich isn't all that big. It does satisfy a lunchtime hunger, but that's about it.
Average.
Even when McDonald's doubles their filet-o-fish…
Follow along with me. Average X 2 = just more average.
Of course I eat 'em. But only for convenience, and usually only during this annoying period we call  Lent.
On Ash Wednesday, armed with coupon, I hit Wendy's for lunch. Their website brags "It's hard to resist our Premium Cod Fillet. That's because we use only 100% cod straight from the North Pacific. Battered in light, crispy Panko breading and topped with tartar sauce and fresh lettuce — all on a warm, toasted bun. It's quite a catch, but only for a limited time. Hurry in to Wendy's today!"
When I opened the door to Wendy's I was almost knocked on my feet. An employee had obviously just mopped the floor. Since I worked part-time maintenance at an elementary grade school, I can tell you when a mop has been used too many times in dirty, sour water. This was one of those times. Say what you will about McDonald's, I've never smelled that smell in 45 years at the Golden Arches.
But I had a coupon, so I marched on to the counter where in typical fast food fashion, I was treated with the least amount of interest.
Needless to say, the premium cod filet didn't look like or measure up to anything in the pictorial ads.
Crunchier than the McDonald's Filet o' Fish, this one had the obligatory sauce, no cheese, and some lettuce.
Satisfied my lunch desire, but that's all. Average? You better believe it. Wouldn't order it again without a coupon.
Over at Arby's:
"Arby's Reel Big Fillet. A meaty cut of Alaskan white fish, caught-wild, and served hot. With tangy tartar sauce and iceberg lettuce on a delicious, toasted sesame bun."
Is it just me, or does the Arby's Reel Big Filet…
Look incredibly like the Wendy's whatever you call it…
Yep.
Average.
Besides, if I walk into Arby's, it's for roast beef and plenty of Horsey Sauce, not cod on a soggy bun.
We could go on and on but we would never come to complete satisfaction.
For me, the tuna melt at Meyer's Restaurant and Bar rates exceptional, but that's not a fish sandwich.
My wife swears by this item on the menu at Erv's Mug in nearby Oak Creek:
"Yellow Fin Tuna – Our favorite, grilled & served on a gourmet bun with our honey-lime aioli… good & good for you in one tasty treat."
My reaction: Yawn.
Culver's has a pretty good fish sandwich.
And their walleye pike sandwich a few years ago was noteworthy.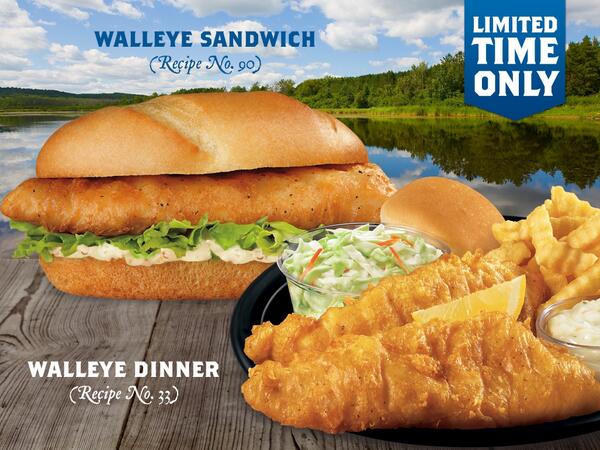 It should have been for over $7.
I'm still searching for great.
Carol Deptolla, where are you when I need you?
Culinary no-no #317, This Just In…February 24, 2013
Now for the update.  Reviews from an Indiana newspaper columnist.