Culinary no-no began on Father's Day 2007, a beautiful summer day, when I wrote about grilling brats. And eating brats. And topping those brats. I was inspired by my wife, Jennifer who, in my admittedly unscientific opinion, ruins brats by squirting ketchup on them. Other dining taboos quickly came to mind. The original idea was to take this concept only a few months, till the end of summer and then pull the plug. Then the unexpected happened. People started reading Culinary no-no. Lots of folks. So we keep doing the no-no.

That's Katie McAvoy, Doctor of Chiropractic with an office at 7000 S 76th Street in Franklin.
Lying flat on my back in one of her treatment rooms this past week I was questioned by the good doctor.
"What are you doing on St. Patrick's Day?"
Should be an easy one to answer for this prouder than proud Irishman. My response was one I seldom offer.
I paused. A fairly lengthy pause before the clever reply.
"I don't know. I mean we'll do something. But I'm not sure what."
Deciding a St. Patrick's Day evening itinerary when you have an 8-year old daughter is kind of tough, especially when your options are limited.
Dr. McAvoy harped a bit on why the parades this year are scheduled on Saturday, March 10 instead of what would seem a perfect date of Saturday, March 17th.
But that would interfere with plans by folks who intend to be inside an establishment bright and early to pour Guinness over their corn flakes (I've seen it, on television, not in person).
That led to an even broader discussion.
Did America ruin St. Patrick's Day?
If I recall our conversation correctly Dr. McAvoy last year made a date on the big day to meet her husband after work at a well-known pub.
Not surprisingly the place was  beyond packed, elbow to elbow with revelers. Dr. McAvoy said "everyone was annihilated." And they had run out of corned beef.
In mere moments she said she was like a Brewers home run, outta there, gone. Her Plan B? She picked up Chinese, went home, and poured a Guinness from the safety of her own frig.
On March 17, 1992, I had the fortune of being in Dublin. The trip to Ireland was a Christmas present to my mother who had always wanted to travel there.
St. Patrick's Day is a religious holiday on the Emerald Isle. In the morning everything is closed; the banks, businesses. Schools are off for the day.
Crowds head to the streets for a massive parade. You can tell you're surrounded by Irish families what with the 4, 5, 6, maybe more kids.
When I say businesses are closed that includes the pubs. That is, until the last unit of the parade has completed the route. And even though the pub doors swing wide open at that point, all Hell does not erupt. Stupidity fails to take over an entire city.
Back at our hotel evening dinner was a splendid surprise. Quickly I had grown fond of a certain appetizer: A hard-boiled egg served on a plate with finely chopped onion along with some capers and a side of cream.
A main course choice, do I dare I thought (as Irish culinary apprehensions set in), was prime rib. Why not. Live dangerously I decided.
Potatoes? Are you kidding me?
The waiter, who bore a striking resemblance to Gopher on The Love Boat, brought fresh vegetable on a separate tray and served my green beans and carrots with a large tong until I requested he stop.
The entire meal, yes, even the prime rib, was great.
The hotel bar was crowded, but no one was on top of it. When I managed to wiggle my way to place an order I learned the young bartender was originally from Chicago. We exchanged pleasantries about the Midwest.
I couldn't immediately leave the bar because about a dozen natives had overheard our chat to find out I was an American. Suddenly I was bombarded with very civil and friendly questions.
This was March, 1992. The local gents wanted to know more about the status of the American economy and the US presidential race. No insults or punches were thrown.
The entire experience was fantastic, one that was so unique to that wonderful country.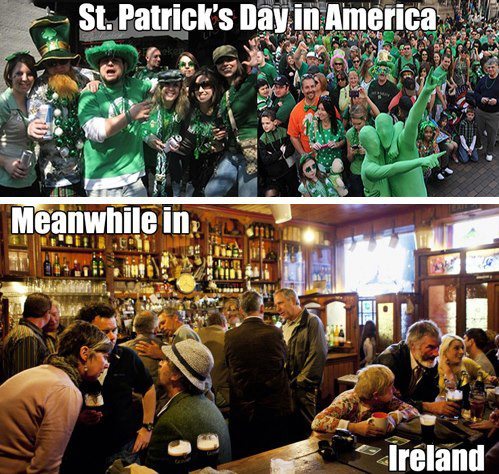 So, did America ruin St. Patrick's Day? At the risk of sounding a FOGEY ALERT, let's examine.
First, we turn to Jay Brooks, a beer writer living in Sonoma County in Northern California. He has two objections about St. Patrick's Day. One is the over-commercialization. The other is his contention that big breweries mass market imports and the wine and spirits industries use holidays to sell more products. To that second point Brooks writes:
"…what was once a solemn religious holiday celebrating the patron saint of Ireland on the date he was believed to have died, March 17, 461 C.E., has been perverted into a way to sell more Guinness and all manner of other Irish doo-dads. Several years ago, Guinness gave away an actual pub in Ireland to a winner in America. They did this for a few years running.  Then there was the yearly attempts to break the world's record — from the Guinness Book of World Records, naturally — for the largest number of people simultaneously toasting, which was accomplished with some elaborate coordination. Of course, the stuff available here is brewed in Canada. That's done so they can still put "imported" on the label. It's a common trick. Foster's does the same thing, as do a few other larger import beers. There are around 19 or 20 different Guinness beers worldwide, of course, and at least four different ones are sold here. The beer in the widget can, widget bottle (an abomination in my opinion), regular bottle and in kegs are not the same beer; I mean they're not even the same recipe. I'm not saying there's anything necessarily wrong with that. They're fairly up front about it though still, I doubt most people are actually aware of it. So when somebody says they like Guinness, I have to wonder which one? I think it says a lot about peoples' palates that so few realize they're drinking completely different beers when they order a can or bottle of Guinness."
Another blogger, Cafe Casey claims Americans stole the holiday from the Irish.
"For those who think St. Patrick is the patron saint of beer, he's not. He was born in Britain during turbulent times–the fall of Rome. The emperor ordered all available soldiers back to save Rome itself, leaving Patrick's area unprotected. Patrick was kidnapped, sold into slavery in Ireland, and after several years tending sheep, escaped, fleeing on a pirate ship.
"He converted and was ordained a Catholic priest, becoming the Roman Catholic missionary to Ireland.
"There is no historical record stating whether Patrick could cook a mean corned beef and cabbage, organize a parade, dye a river green, or conjure up a pint due to the grace of the Almighty. These may have been among the miracles that led to his canonization, but we cannot be sure."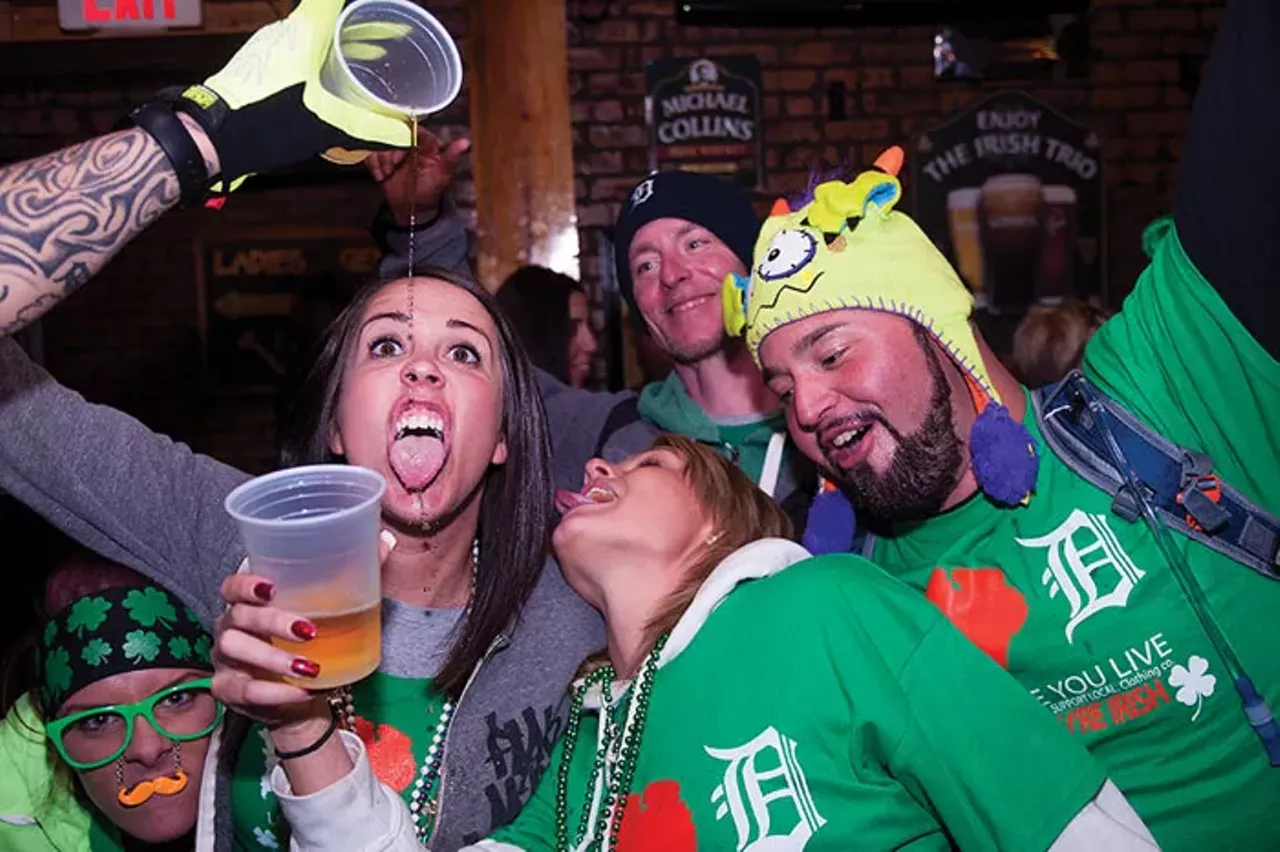 To repeat, did Americans ruin St. Patrick's Day? Ruin might be too strong a word. Americans assuredly dramatically transformed the holiday into a mega hearty party.
The Irish pride bones in my body take great delight in knowing so many people become so overjoyed on this day (albeit in countless cases too overjoyed). No other ethnicity has anything like it.
I close with this perspective from freelance writer Padraig Reidy.
"Emigrants and members of the diaspora are resented, let alone some poor English chap who's put on a silly hat and is telling people down his local that he's 'Irish for the day'."
"Perhaps we should learn to take the compliment. If someone from Sevenoaks wants to claim an affinity with Ireland because he thought Ballykissangel was quite good, why stop him? We should be pleased. No one goes round claiming to be fifth-generation Belgian, no matter how good their beer is.
"If there is a proper way to celebrate St Patrick's Day, it is this: out of the country, paying too much for badly poured Guinness in a crowded pub while a bad Pogues rip-off band play a 'punk' version of 'traditional' (written in the 1970s) anthem The Fields of Athenry with English or American accents.
"'Authentic'" cultural events are for fascists. Embrace your entirely made-up identity this St Patrick's Day."
CULINARY NO-NO BONUSES
Delivery: Do or Don't? Behind the wheel at Pizza Shuttle
So Long, Foods of My 1970s Childhood