Every Friday night we smooth our way into the weekend with music, the universal language. These selections demonstrate that despite what is being passed off as art today, there is plenty of really good music available. Come along and enjoy.
Fog. Rain. Freezing rain. Rain mixed with snow. Snow. Cold. Wind chills. Not enough sun.
Throw it all together since the last seemingly gazillion months and what have you got?
The winter blues.
They're real, folks. Not like that junk science referred to as global warming. Or when everything went cold the advocates changed the wording to climate change.
Cold weather blahs are the Real McCoy.
The official term is winter depression, or seasonal affective disorder. That would be SAD. those affected primarily need light.
People afflicted suffer from:
Less energy
Trouble concentrating
Fatigue
Greater appetite
Increased desire to be alone
Greater need for sleep
Weight gain
I think I have this, whatever you want to call it. For me it started around Labor Day.
I realized the summer's end was happening. That meant fall was next,  so winter was just around the corner. I hate winter so much the hate for me begins shortly after we flip the August calendar.
Tonight, music of the blues. But I believe these selections won't necessarily make you blue. You may enjoy so much you won't need a support group.
There's one way to find out.
Let's get started.
The blues was born in the Mississippi Delta area sometime in the late 1800s. The music is rooted in African American slave spiritual and work songs.
Bing Crosby, Frank Sinatra, Perry Como and many, many others sang about the origin of the blues and this song that was first recorded in 1926. And then in 1941, a movie.
Now Sammy Davis Jr. gets us rolling. He's in Vegas, performing on that famous telethon.
From a whippoorwill
Out on a hill
They took a new note
Pushed it through a horn
Til it was worn
Into a blue note
And then they nursed it, rehearsed it
And gave out the news
That the southland gave birth to the blues
Sammy was truly one of the best.
In 1995 the rock/horn group Chicago released an album paying tribute to big and swing bands.
One of the tracks was the band's rendition of the title song from a 1941 film.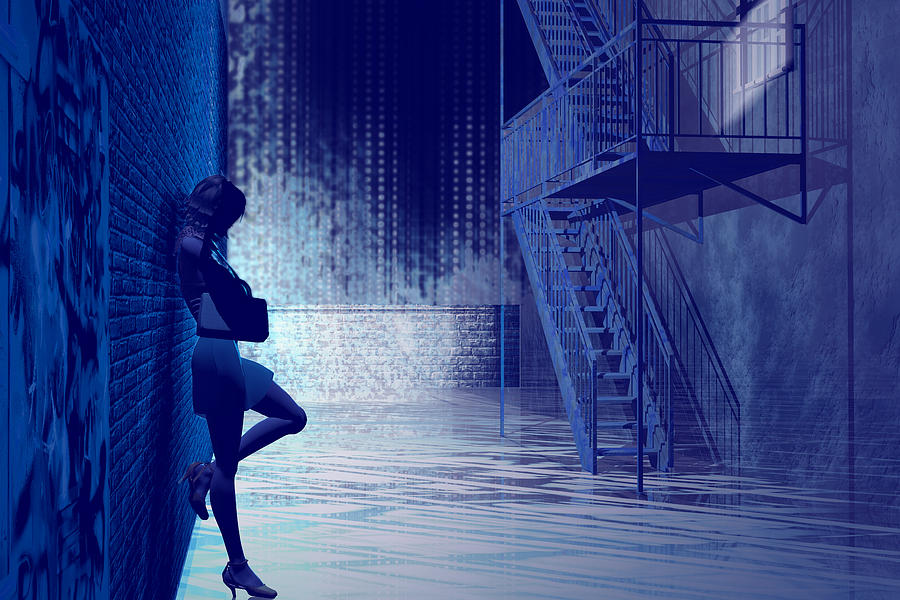 Blues in the Night, a digital art piece by Carol and Mike Werner in 2011
Next, a blues number that has become a standard, originally recorded in the late 1940's.  Lenny Welch, often compared to Johnny Mathis, had the biggest success with his top ten 1963 single.
In 1987 Milwaukee native Al Jarreau covered the tune.  Here Jarreau is backed by keyboardist Bob James  and saxophonist David Sanborn. the track was nominated for a Grammy.
Regular readers know I'm an Elvis fan.  The king could do it all. Rock. Country. Gospel. R & B. And yes, the blues.
Three years ago, Legacy Recordings, the catalog division of Sony Music Entertainment, announced the worldwide release of "If I Can Dream: Elvis Presley With The Royal Philharmonic Orchestra" that featured classic Elvis vocal performances with brand-new orchestral accompaniment.
Recorded at Abbey Road Studios in London, the 14-track album features Elvis' most dramatic original performances augmented with lush new arrangements by The Royal Philharmonic Orchestra.
"This would be a dream come true for Elvis," Priscilla Presley said of the project.
"He would have loved to play with such a prestigious symphony orchestra. The music…the force that you feel with his voice and the orchestra is exactly what he would have done," said Priscilla Presley.
Producer Don Reedman also commented, "Abbey Road Studios and the Royal Philharmonic Orchestra are as good as it gets and Elvis deserves as good as it gets."
Here's one of the tracks, a remix of a song Elvis did in his famous Aloha from Hawaii concert.
That's it for this week.
Goodnight.
Sleep well.
Have a great weekend.
Need some humor to temporarily do away with the blues? Check out these recommendations from young kids up in Canada.
It was the early part of the 20th century. Penniless songwriter and musician WC Handy was walking down a Memphis street one night when he came upon a sad-looking woman who cried out, "My man's got a heart like a rock cast in the sea."  Handy entered a Memphis bar called Pwee, sat down and wrote "The St. Louis Blues," one of the greatest songs in jazz history.
First published on September 11, 1914, "The St. Louis Blues" has been performed and recorded by countless others.
Here's Brazilian Eumir Deodato on the electric piano and synthesizer. He and his band were accompanied by the Saint Louis Symphony Orchestra conducted by Leonard Slatkin in the mid 70's.