Every Friday night we smooth our way into the weekend with music, the universal language. These selections demonstrate that despite what is being passed off as art today, there is plenty of really good music available. Come along and enjoy.
We're in the midst of Black History Month.
Truth is the commemoration hasn't been around all that long. The creator was African American historian, scholar, educator, and publisher Carter G. Woodson. His idea began in 1926 and was called "Negro History Week." It took another 50 years, 1976, before it became a month-long celebration.
Why February?  The month was chosen because it had the birthdays of Frederick Douglas and Abraham Lincoln.
This week, great music worth celebrating this, or any other month.
We get started in New York.
The Jazz at Lincoln Center Orchestra with Wynton Marsalis (JLCO) comprises some of the finest jazz soloists and ensemble players today. Led by Wynton Marsalis, Jazz at Lincoln Center Managing and Artistic Director, this remarkably versatile orchestra performs a vast repertoire ranging from original compositions and Jazz at Lincoln Center-commissioned works to rare historic compositions and masterworks. The JLCO has been the Jazz at Lincoln Center resident orchestra since 1988,  and has performed alongside symphony orchestras, ballet troupes, local students, and an ever-expanding roster of guest artists.
From the Jazz at Lincoln Center website:
"The mission of Jazz at Lincoln Center is to entertain, enrich and expand a global community for jazz through performance, education, and advocacy. We believe jazz is a metaphor for Democracy. Because jazz is improvisational, it celebrates personal freedom and encourages individual expression. Because jazz is swinging, it dedicates that freedom to finding and maintaining common ground with others. Because jazz is rooted in the blues, it inspires us to face adversity with persistent optimism."
Here's the orchestra in a clip from a 2017 concert that paid tribute to the music of big band leader Count Basie.
Did you catch Wynton in there on Trumpet? I sure did.
Count Basie sounded so nice we're going to do him twice.
Hey! What's he doing in here!
No, that photo is not a mistake.
Barry Manilow had a trio of backup singers from 1974-1979 called "Lady Flash." The group included Reparata Mazzola, Monica Pege and Debra Byrd (Pege replaced Monica Brooks in 1976.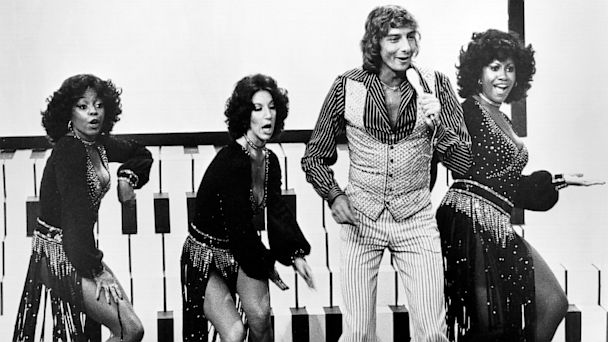 Manilow was a big band fan. In a 1976 solo album "Lady Flash" sang this tune that Basie recorded and released in 1938. The driving number was named for the hotel where Basie band was based and where it also rehearsed when it first hit New York City. Manilow and Lady Flash used to include this as part of a medley they did at concerts.
Frank Sinatra called our next performer "the only true genius in show business." His influences were Art Tatum, Nat King Cole, Louis Jordan, Charles Brown, and Louis Armstrong, and his music styles included jazz, blues, rhythm and blues and even country.

He began playing piano before he was 5 years old. At six he got glaucoma. It wasn't treated, and it left him blind.
Despite his blindness Ray Charles learned to play the alto saxophone, clarinet, trumpet, and organ while attending the St. Augustine School for the Deaf and the Blind from 1937 to 1945. His father died when he was 10, his mother five years later, and he left school to work in dance bands around Florida.
A recording career ensued, and in 1959 Charles scored his first million-seller.
There's absolutely no way of knowing how big Van McCoy would have been had he not died so early. For the short time he did entertain us he was a giant in the music industry.
Songwriter, record producer and performer, McCoy suffered a massive heart attack at his home in June of 1979 and remained in a coma until his death in July. He was 39.
McCoy gave the world "The Hustle" in 1975, a Grammy award winner. The record, which sold over 1 million copies is regarded as a landmark in the disco movement.
One year later McCoy told the Washington Post "I don't think any of us were aware at the time we went in to cut 'The Hustle' that it was going to be as big as it was. I suppose I thought it would be a good album to cut because the dance was just beginning in the discotheques just starting to catch on. It wasn't as big as The Bump, but it was something people were starting to get into to get involved in."
"The Hustle" was so huge McCoy could never match the magnitude of its popularity. But McCoy still had some aces up his sleeve.
In 1976 McCoy wrote and released "African Symphony," a truly wonderful piece despite the fact it was merely a blip on The Hustle's radar.
The same year, of all people, Henry Mancini decided to do a soul/disco album that included "African Symphony."
To be honest, if you just consider record sales an airplay, this beautiful arrangement went nowhere. But if you judge on the merit, well that's a different story. Lots of musicians picked up on this piece, including the Wind Orchestra Zaragoza, formed in 2011, some 35 years after McCoy's instrumental came out.
Wind Orchestra Zaragoza is a professional ensemble of highly qualified musicians of young people from the Aragon Region of NE Spain who are passionate about wind band music.
Their rendition of "African Symphony" is reverent to the original, truly amazing.

Van McCoy
That's it for this week.
Goodnight.
Sleep well.
Have a great weekend.
Last November Disney's "The Lion King" celebrated 20 years on Broadway,  the third longest running musical in Broadway history. It is the highest grossing show of all time. It is one of only two shows in theatre history to generate five productions worldwide running 15 or more years. The Broadway production has played through three Presidential administrations, four mayoral elections, eight New York City team championships and the opening and closing of 600+ Broadway shows. Julie Taymor, the show's director, is the first woman in theatrical history to win the Tony Award for Best Director of a Musical.
The show has played in over 100 cities in 19 countries on every continent except Antarctica to over 90 million people has been performed in 9 languages (English, Dutch, Japanese, French, German, Spanish, Korean, Portugese, Mandarin).
"The Lion King" has employed over 200 South African cast members and many other additional staff members of color over its 20 year history.
This clip is from a few years ago, another milestone.