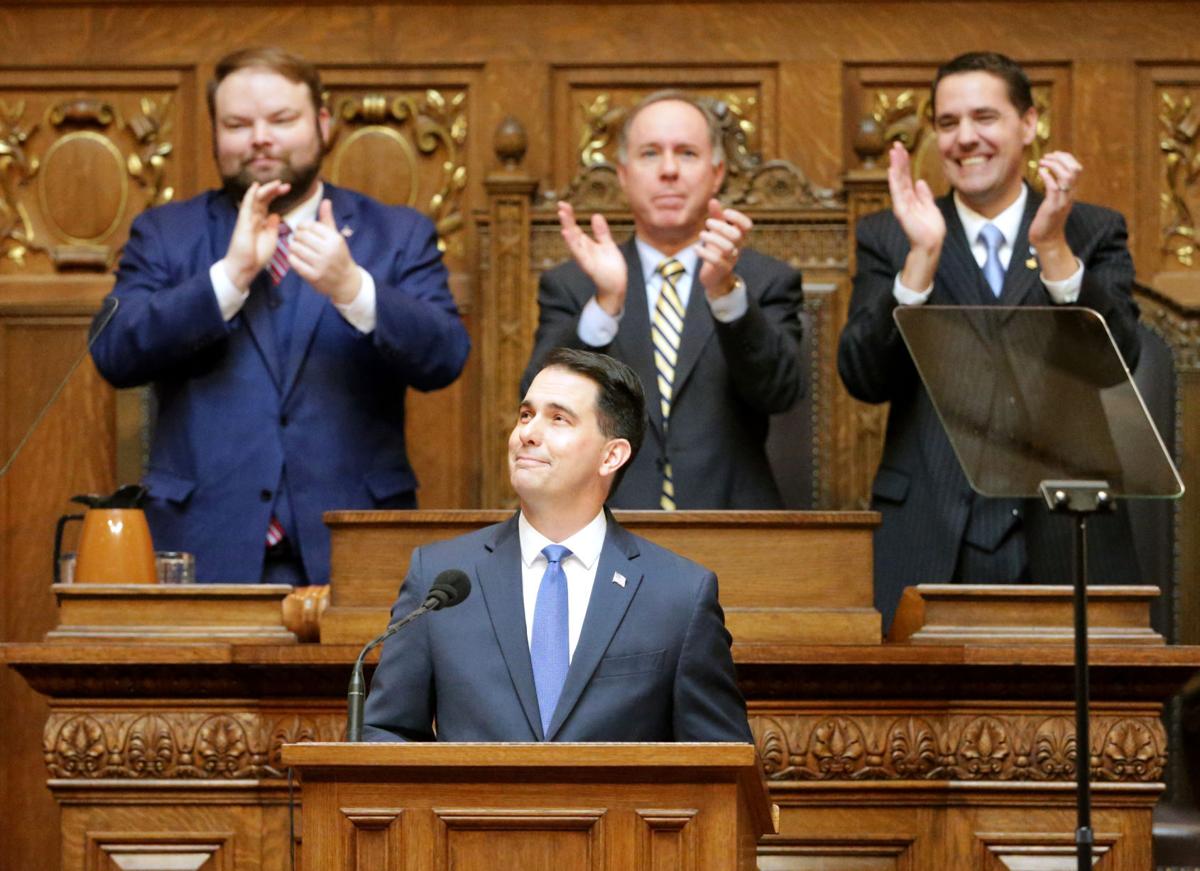 Photo: WI State Journal
It's very hard to find fault with any of this. But some will. Remember who they are.
There were plenty of major highlights in Gov. Walker's speech.
The Reader's Digest version:
In Wisconsin, employment is at historic highs and unemployment at historic lows. We invested more actual dollars into schools than ever before in our history. The state property tax is gone. Wisconsin received a bond rating upgrade from three national agencies. Our health care systems are ranked number one in the nation for quality. And we announced the largest economic development project in state history. It has been quite an amazing year! A historic year. We are getting positive things done for the people of Wisconsin.
More details.
As mentioned, more people are employed in Wisconsin than ever before in the history of our state. And just last week, the Department of Workforce Development announced that the unemployment rate had dropped to 3.0 percent. The only other time it was that low was in May, June and July of 1999 when Tommy Thompson was our Governor. Things were pretty good back then, they're pretty good now. And they're only getting better.
Students in our schools have some of the highest ACT scores and some of the best graduation rates in the country. And we just invested more actual dollars into K-12 education than ever before –an extra $200 for every student in every school in every part of the state this year and another $204 increase for every student on top of that next year. Our children deserve a great education that prepares them for college, careers, and real life.
To make college more affordable for students and working families, we froze University of Wisconsin tuition for all undergraduates from our state for six years in a row. We're partnering with financial institutions to help graduates refinance student loans. And financial assistance for students in need is at an all-time high, making higher education possible for thousands of students at colleges and universities across the state.
According to the nonpartisan Legislative Fiscal Bureau, both property and income taxes will be lower in 2018 than they were in 2010. And we eliminated the state property tax. That's right: 100 percent of the property taxpayers in our state saw a 100 percent reduction in their state property tax bills.
Wisconsin is number one in cheese, cranberries, and ginseng. We are one of the top states for milk, corn, soybeans, beef, apples, cherries, potatoes, and vegetables. Agriculture is a big part of our economy, and for our farm families, it's more than that… It's a way of life.
Eight years ago, the state government created a $3.6 billion budget deficit. The previous governor and legislature raided from the transportation fund, the patient compensation fund, heck, they even missed a payment to Minnesota for tax reciprocity. Today, the state ended the last fiscal year with a more than a half-a-billion-dollar surplus, and the nonpartisan Legislative Fiscal Bureau just predicted that we will end the current budget with an even larger surplus than first expected. Our pension is fully-funded, and the rainy-day fund is 168 times bigger than when we took office. Wisconsin's long-term outstanding debt is one of the lowest, meaning one of the best, in the nation, we are paying off our obligations faster than we take on debt, and three national agencies upgraded our bond rating last year. For Moody's, this is the first time since 1973. For Fitch and Kroll, it's the first time ever. That's historic. This is yet more proof that our financial management is working.
Eight years ago, there were people living in poverty who were on a waiting list for access to health coverage under BadgerCare. Today, for the first time in the history of the state, everyone living in poverty is covered under BadgerCare.
Eight years ago, taxes were going up. In fact, during the decade before we took office, property taxes alone went up 27 percent. People were telling me then how they felt they were being taxed out of their homes.
Today, both property and income taxes are actually lower than they were in 2010. Property taxes on a median-valued home are estimated to be more than $100 lower in 2018 than they were in 2010. If the previous trend had continued from before I took office, the estimated property tax bills on a typical home would be $612 higher than they are this year.
And, for the first time since 1931, there is no state property tax. In fact, property taxes as a percentage of personal income are the lowest they have been since the end of World War II.
Plus, we cut income taxes – so a typical family will have saved $1,400 since 2010. The overall state and local tax burden in Wisconsin, once one of the highest in the country, is now below the national average. Based on data from the U.S. Census Bureau, it's the lowest it's been in more than 50 years.
Through the end of this budget, the cumulative impact of our savings to the hard-working taxpayers will exceed $8 billion. Only 2 other states in America have reduced their tax burden more than we have since 2011.
Eight years ago, according to Chief Executive Magazine, Wisconsin ranked 41st for business. Sadly, the state was consistently in the bottom ten for places to do business.
Today, for the first time in the history of the survey, Wisconsin ranks in the top ten states for business. That's why global businesses like Haribo and Foxconn are coming to Wisconsin.
It is why Fleet Farm is expanding in Chippewa Falls, Generac is growing in Waukesha, U.S. Venture is expanding in Appleton, Kwik Trip is building in La Crosse, Great Lakes Cheese Company is adding jobs in Wausau, Ameriquip is growing in Kiel, IMark Molding is adding jobs in Woodville, and Oshkosh Corporation is expanding in (well, of course) Oshkosh.
As I promised, when we have a surplus, we will give it back to you, the hardworking taxpayers. This is your reform dividend. You deserve it. So, today, I propose that we create a child tax credit in Wisconsin. Families across the state will receive $100 for every child, under 18, living at home. A couple hundred dollars more in the family budget could really make a difference, particularly when getting ready for the next school year. It could be a new pair of shoes, a winter coat, activity fees at school, or a co-pay at the doctor or dentist. We know sometimes Wisconsin families face challenges when making ends meet, and this new child tax credit can help. Today, I am joined by families from all over Wisconsin who will benefit from our child tax credit. Today, I ask members of the Legislature to pass my plan, so that by the time these kids, and all the others like them across the state begin school this fall, their parents will have a check in the mailbox.
I give the speech an A+