THE FOLLOWING IS A SPECIAL YEAR-END EDITION OF THE BARKING LOT!
The Barking Lot is a regular weekly feature of This Just In…Written by my lovely wife, Jennifer and me.  It opens with the weekend dog walking forecast followed by the main blog from dog lover, Jennifer. Then it's DOGS IN THE NEWS and our close. Enjoy!
THE WEEKEND DOG-WALKING FORECAST: We grade the weather outlook for taking your pet outdoors.
TODAY:   WIND CHILL ADVISORY REMAINS IN EFFECT UNTIL NOON TODAY. VERY COLD WIND CHILLS EXPECTED. THE COLD WIND CHILLS WILL CAUSE FROSTBITE IN AS LITTLE AS 30 MINUTES TO EXPOSED SKIN. EXPECT WIND CHILLS TO RANGE FROM 15 BELOW ZERO TO 25 BELOW ZERO IN  PORTIONS OF EAST CENTRAL WISCONSIN, SOUTH CENTRAL WISCONSIN AND SOUTHEAST WISCONSIN. THE COLDEST WIND CHILLS CAN BE EXPECTED BETWEEN 5 AM CST AND 10 AM CST SATURDAY MORNING. DRESS APPROPRIATELY FOR THE VERY COLD CONDITIONS. WEAR MULTIPLE LAYERS, A HAT AND GLOVES WHEN VENTURING OUTSIDE FOR ANY LENGTH OF TIME. A WIND CHILL ADVISORY MEANS THAT COLD AIR AND THE WIND WILL COMBINE TO CREATE LOW WIND CHILLS. FROST BITE AND HYPOTHERMIA CAN OCCUR IF PRECAUTIONS ARE NOT TAKEN. MAKE SURE YOU WEAR A HAT AND GLOVES.
Sunny. High of 4.  "F"

SUNDAY:  Partly cloudy.  High of 12. "F"
NEW YEAR'S DAY MONDAY: Sunny.  High of 4.  "F"
Now, here's my lovely wife, Jennifer with this week's main blog.
Everyone does a round-up and review of things this time of year; The Barking Lot is no exception.  It's rewarding to look back over all the blogs we've done in 2017 to pick out what I think was my most interesting or most heart-warming.  This year, I couldn't just pick one.  Indeed I found one that I classify as "most interesting" and another most "heart-warming."  Perhaps you missed these blogs the first time around or perhaps you'll enjoy reading them once more.  In either case, here are my top choices for Barking Lot Blog of the Year.
From April:
So many dog stories, so little time.  Really, that's the case here at The Barking Lot.  There's never a week when we're working on it and say to each other, "There's just not a single good dog item to put in the blog!"  It's more like "I don't know how to cut it down!"
Of course this week is no exception.  Once again, dogs' amazing abilities and qualities are presented in beautiful stories of kindness and caring.  Have you heard of Seeing Eye dogs… for dogs?  Yes, that's right.  They exist, and they are beautiful.
The Seeing Eye organization was founded in 1929.  While its headquarters were in Nashville, its origins were actually in Europe.   I am frequently impressed by how dogs can enrich the lives of their owners by helping them with endless physical tasks.  Hearing stories of how dogs literally and figuratively open doors for the people they help is truly heartwarming.  But… those dogs are trained.  And they are trained to help humans.
What happens when two dogs who live together, just "siblings" if you will, realize that one of them has lost their sense of sight?  It's extraordinary, really.  You probably wouldn't think that a regular, average, untrained dog of no remarkable breed could suddenly function as a guide dog.  But that is exactly what happens.
Cass, Keller, and Zen (and apparently MANY others) have taken on a role that no one asked them to.  They stepped into a position of helping their sibling after vision loss.  They weren't trained and clearly there was no conversation that went "Cass/Keller/Zen, your dog brother/sister can't see any more because they have glaucoma.  So we need you to help him/her when they go up and down the stairs and things like that."  So how, exactly, does this phenomenon happen?
For stories and theories, please keep reading.
Here's to one more fascinating way dogs bring a special joy to our lives like no other animal can!
And from August:
We know dogs are brilliant.  We know dogs are heroic.  We know dogs are our best friends.  We also, of course, know that dogs are outgoing.  Sure, there are dogs with "issues" that have been rescued from horrible living situations and are not yet fully socialized.  Of course dogs can be TRAINED to be vicious.  Generally speaking, however, dogs are extremely social creatures.  They are remarkably friendly, WAY more than their human counterparts.
Think about it… when you meet a new person do YOU want to be touched by them?  Do YOU want to be immediate friends?  Do YOU want to hang out with them the rest of the day within the first five minutes of being introduced?  Do you respond to a nickname they instantly give you?  Would you accept and eat some random object they hand you?  Probably not.
But a dog is another story.  You can pet them, feed them treats, call them cute names and become another (and instant!) friend of theirs.  And if I'm comparing MYSELF to a dog after meeting a new person, the dog probably stands a better chance of remembering the person the next time it sees them!  (Yeah, I'm that bad with names.)
Why are dogs so tail-wagging friendly?  Leave it to canine scientific research to provide us with the answer!  The bottom line?  It's in their genes!  The internet has been exploding the last couple of days with articles all about these latest findings.  I find all of it absolutely fascinating.  But then again you know me and my love of all that doggie science!
Two articles that I found to be particularly interesting come from National Geographic and the LA Times.
Will dogs EVER stop surprising us?  Nope.  And that's just ONE MORE reason why dogs are the best.
Happy New Year to all our dog-loving friends!  We look forward to all that 2018 offers with captivating canines!
—Jennifer Fischer
Thanks, Jennifer!
Time now for DOGS IN THE NEWS, canines that made headlines the past week.
The news isn't always good.  Husband of woman killed by dogs on Christmas Eve condemns owner: 'I hold you responsible.'
No 'Easy Answer' To Growing Number Of Stray Dogs In The U.S., Advocate Says.
Therapy dogs, bomb-sniffing canines and other pooches growing in number at airports.
If Dogs Can Smell Cancer, Why Don't They Screen People?
How to 'Winterize' Your Dog.
Here at The Barking Lot we love a happy ending.
11 Christmas miracles: Rescue dog gives birth to puppies on Christmas Eve.
This writer believes dogs can get by just fine on a vegetarian diet.
Christmas column offers advice to leaders about why they should have made last-minute requests to Santa to get a dog.
THAT'S IT FOR DOGS IN THE NEWS.
HERE'S OUR DOG PHOTO OF THE WEEK.
A wire fox terrier gets a festive makeover at a grooming salon in St Petersburg, Russia on December 27, 2017. (Photo by Alexander Demianchuk/TASS/Getty Images)
AND OUR DOG PHOTOS OF THE YEAR
We often posted updates on the escapades of surf dog Ricochet. From October, these were submitted by our friend, Judy Fridono.
Surf Dog Ricochet recently acquired a new Labrador retriever puppy named Cori. The first time Cori encountered a swimming pool, she was 16 weeks old and terrified. It took time, patience and baby steps, but her fear transcended into a life-saving initiative.
She started showing an instinct for water rescue when she was 9 months old. She is very focused and attentive when kids are in the water, and has a natural tendency to jump in when she hears splashing.
Drowning is the leading cause of death for children ages 1 to 4. However, the danger of drowning is much higher for children with special needs, specifically those with autism.
Like her predecessor, Ricochet, she has chosen her own life purpose… canine-assisted swimming for kids with special needs.
She works with organizations that teach kids with special needs to swim. Cori is an added benefit to their program and provides assistance like only a dog can!
Cori is able to break down barriers often experienced between swim instructors and students.
Some kids have refused to get in the pool with an instructor, but they willingly get in with Cori.
Because Cori had a fear of water herself, she's able to motivate kids to get over their fear too… "if Cori did it, so can I".
Parents who have been taking their kids to swim lessons for years are thrilled to see improvement after just one session with Cori.
Kids become more inclined to try things when they know Cori will keep them safe.
Cori wears a special lifejacket made for water rescue. There are two handles on the back where the child can hold onto while practicing their kicking, etc.
Because Cori's lifejacket has multiple handles, she can tow more than one child at a time, making it a fun experience for siblings too.
Various buoys are used as Cori tows kids to the steps
Kids are able to reach their full potential through fun, sensory based exercises that are geared to reduce fear and apprehension while improving confidence, social interaction, life-saving skills and more
Cori's physical presence and interaction in the water also reduces anxiety.
Her innate concern and focused attention for kids in the water gives them a sense of added safety.
To get kids closer to the pool and ease their trepidation, they are encouraged to throw balls or toys for Cori to retrieve.
The kids are also urged to sit on the side of the pool with Cori, dipping their toes in the water to get acclimated.
It's also easier for Cori to get a child to wear goggles!
And, kids are more willing to wear a life jacket when they know Cori does too.
Canine-assisted swim lessons always include human-canine bonding between Cori and the child to build rapport and trust.
Fear is replaced with excitement as kids come up with ideas for towing!
Before you know it, the child is laughing, having fun, and learning to swim!
Cori also participates in beach events as some kids have more fear in the ocean.
Kids love when Cori tows them to shore
She also does mock water rescues with the kids
A credentialed swim instructor is always leading the activities
Cori's canine-assisted swimming is part of Ricochet's
Waves of Empowerment program
so beach activities also include surfing with Ricochet, mock water rescue, towing, safety awareness, water games, retrieval exercises and more.
They focus on safety as well as building a child's confidence, increasing self-esteem, and creating a lifelong love of the water. Kids learn through play and each class is tailored to the child's needs and goals.
91 percent of all wandering-related deaths among autistic children are due to accidental drowning. Because of these statistics, Cori also raises awareness of water safety and drowning prevention. Please help her reduce these numbers by sharing this info… and help save a life.
ALSO…
While wildfires ravaged California's wine country this fall, forcing thousands of people to flee their homes, Odin, a pet dog, stayed behind to protect his family's eight rescue goats. The 1-year-old Great Pyrenees, a livestock guardian dog, paced back and forth in front of his charges as his owners rushed to evacuate their 35-acre forest property in Sonoma County on Oct. 8. "I looked at him, and he wasn't going," says Odin's owner, Roland Hendel. "I said to him, 'O.K., Odie, you got this then. Take care of the goats and we'll be back to get you.'" Hendel felt "terrible guilt and sadness," fearing he'd left his beloved puppy to burn in the wildfires that killed at least 44 people and hundreds of animals. When the 49-year-old electrical engineer returned to his property the next day, a surreal sight greeted him amid the burning trees, smoke and ash. "I could make out Odie's tail wagging," Hendel recalls. Odin's fur and whiskers had been singed, but he and all the goats were left mostly unscathed. "He was so happy to see me, and he was very proud of himself," Hendel says. Odin demonstrated courage and perseverance, according to his owner, but he also taught his human counterparts to value life over material things. "Odin risked his life to save those goats, and that's a big part of the lesson," Hendel says. "Life is so precious." Photo: Roland Tembo Hendel

In August in south Texas after a hurricane hit, a dog in the town of Sinton took matters into his own paws to make sure he would be well fed as residents ride out the tropical storm. The golden retriever mix was spotted lugging a big bag of dog food down the street by Sinton resident Tiele Dockens, who was driving with her family to check on the damage from the storm.She shared the picture on Facebook with the hashtag #refugee, which went viral as an image of resilience during the storm.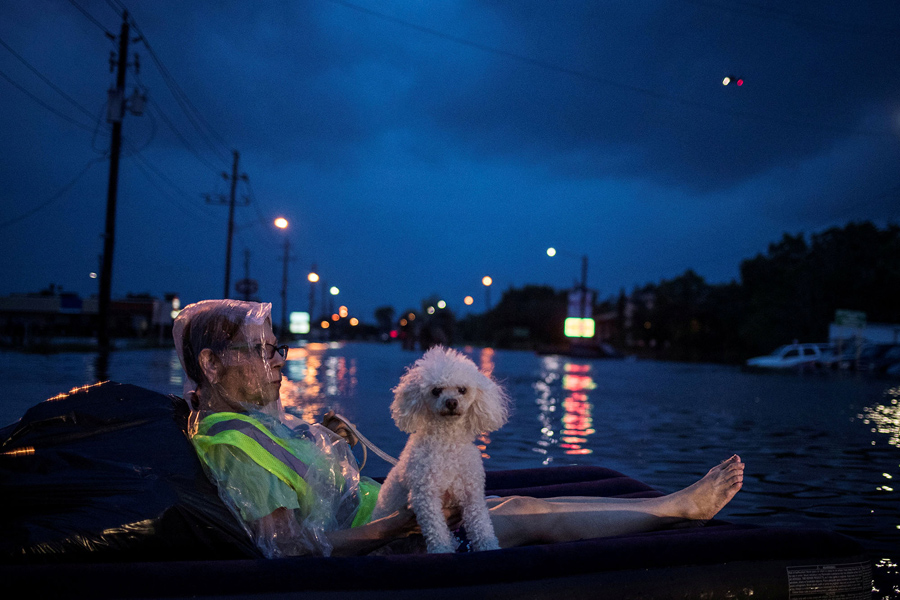 A rescue helicopter hovers in the background as a woman and her poodle use an air mattress to float above floodwaters from Tropical Storm Harvey while waiting to be rescued from Scarsdale Boulevard in Houston on August 27, 2017. Photo: Adrees Latif / Reuters
We close as we always do with this week's closing video.
TC Wait and her husband Dave are the proud caretakers of a number of huskies. But these dogs aren't the superstars that make Iditarod headlines. Rather, they are a hodgepodge crew of retirees, rescues and shelter dogs that love to run.

NOW FOR THE DOG VIDEOS OF THE YEAR
September…
National Geographic photographer Erin Trieb evacuated her mom and dogs from Hurricane Harvey's devastating flooding in Houston, Texas, on August 27, 2017. Based in Istanbul, Turkey, Erin was home in Texas when Harvey struck. She documented her journey to rescue her mom, retrieve her cameras, and check in on her sister's family and home.
More from September and Hurricane Harvey.
That's it for this week.
Thanks for stopping by.
See ya, BARK, next week!
One last look at 2017.
Milwaukee Irish Fest and our daughter Kyla on a visit to  the Celtic Canines after she ran through the Summerfest fountains.
Our 8-year old daughter Kyla gets to meet an Irish Terrier at Milwaukee Irish Fest.  Her face is a combination of "I'm in LOVE" and "Can we PLEEEEEEZE get one?"
Oh, and why is she wearing a swim suit? She had just emerged from the fountains located inside the main gate on a warm mid-afternoon.
Kyla then met an old, rather relaxed dog and its very shy owner.
Kyla makes two new friends.  Our doggy pal's name is forgotten but the experience is not!  She was a senior Irish Terrier and this was going to be her last of 13 consecutive Irish Fests.