October 9, 2015.
Several hours before I was to emcee an event I called the greatest day in the history of Franklin…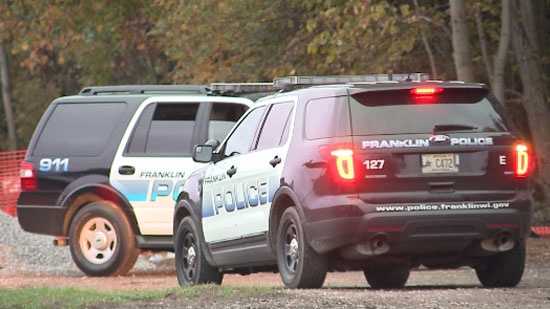 Police Chief Rick Olivia said Franklin officers responded to a suspicious noise at Franklin Woods, 3723 W. Puetz Rd., around midnight.
Olivia said officers found an exploded soda bottle near the area of Kayla's Playground.
"The source of the blast was a plastic soda bottle which contained unknown contents," Olivia said. "It was determined that the bottle exploded under pressure."
Several other soda bottles were found along a path in the woods, within several hundred feet of the playground.
"Anyone who thinks they are being cute by doing something like this, this is serious business," Mayor Steve Olson said.
Olivia said the area was deemed safe, and construction crews returned to finish work at the playground.  Olivia and Olson said a 5:30 p.m. ribbon cutting ceremony would go (and did) as scheduled.
"1,800 people worked on this playground," Olson said. "One or a small number of people are not going to slow this down."
Fast forward to February 7, 2017.
Oliva issued a news release about the incident that read in part:
The Franklin Police Department has taken four suspects into custody related to a year and a half long open active investigation.
Franklin Police arrested a 19 year old Franklin man for state charges of Second Degree Recklessly Endangering Safety and Disorderly Conduct.
On February 03, 2017 the Milwaukee County District Attorney's Office issued 1 count of Disorderly Conduct – Party to a Crime against the suspect. That charge is currently pending in Milwaukee County Circuit Court.
Also taken into custody in connection with the incident were a 20 year old man and two 19 year old men, all from Franklin. All three suspects currently have Disorderly Conduct charges pending in Franklin Municipal Court.
On February 8, 2017, FOX 6 News reported.
Within a week, Samuel Natschke-Jurkiewicz, 19, was charged in Milwaukee County Circuit Court with misdemeanor disorderly conduct. Dominic Tarantino, 19, Tyler Swainston, 20, and Austin Wright 19 faced charges of disorderly conduct on a municipal level.
All four suspects were living in Franklin at the time of the incident.
Court records indicate that on May 8, 2017, the charge against Natschke-Jurkiewicz was dismissed on a motion by the prosecutor because the charge was not proven.
THE TOP 10 FRANKLIN STORIES OF 2017
1) ?
2) ?
3) ?
4) ?
5) ?
6) ?
7) SODA BOMBS ARRESTS
8) FRANKLIN'S AWARD-WINNING JEWEL
9) POLITICAL BULLYING
10) CHAIRGATE RETURNS