The Barking Lot is a regular weekly feature of This Just In…Written by my lovely wife, Jennifer and me.  It opens with the weekend dog walking forecast followed by the main blog from dog lover, Jennifer. Then it's DOGS IN THE NEWS and our close. Enjoy!
THE WEEKEND DOG-WALKING FORECAST: We grade the weather outlook for taking your pet outdoors.
TODAY:   Partly cloudy. High of only 27. "F"

SUNDAY:  Scattered snow showers in the morning. Partly to mostly cloudy in the afternoon. High of 25. "F"
CHRISTMAS DAY: Partly cloudy. High of 24. "F"
OUCH!
Now, here's my lovely wife, Jennifer with this week's main blog.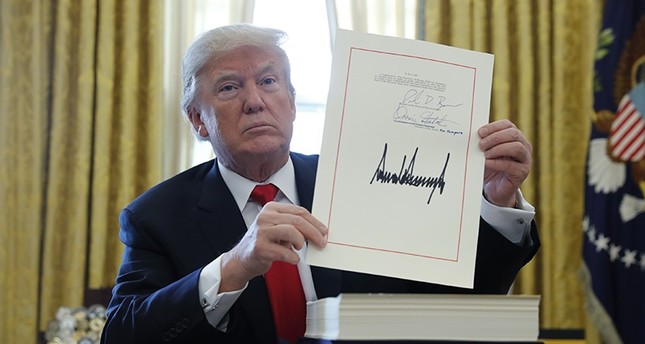 U.S. President Donald Trump displays his signature after signing the $1.5 trillion tax overhaul plan along with a short-term government spending bill in the Oval Office of the White House in Washington, U.S., December 22, 2017. Photo: REUTERS/Jonathan Ernst
Now that historic tax reform is the law, what about those popular charitable donations?
Because of tax reform the number of people who itemize is expected to decline by quite a bit. The standard deduction is essentially doubled, meaning fewer households will itemize — which is the only way to take advantage of the deduction for charitable contributions.
Experts say if you're going to stop itemizing, you should definitely think about making your 2018 contributions by Dec. 31 so you would be able to deduct what you give to charity.
That doesn't leave you much time. Here are some worthwhile charities pertaining to dogs you might wish to consider:
Guide Dog Foundation for the Blind
For 70 years, the Guide Dog Foundation has trained and placed guide and service dogs to provide increased independence and enhanced mobility to people who are blind, have low vision or have other disabilities.
It costs over $50,000 to breed, raise, train, and place one assistance dog; however, all of the Foundations' services are provided at no charge to the individual.  Funding comes from the generosity of individuals, corporations, foundations, businesses, and service and fraternal clubs.
Their mission is to provide guide dogs and instruction in their use, free of charge, to blind and visually impaired men and women from the United States and Canada.  There's no government funding, so they must depend on donations and fundraising to provide guide dogs and instruction in their use.
Dogs for Deaf and Disabled Americans
Trains and places shelter rescue dogs for assistance to disabled veterans, autistic children, and people who are physically disabled so they can live independently.
Professionally trains dogs rescued from shelters to assist people with deafness, hearing loss, and other challenges. Dogs provide safety, companionship, self-confidence, and independence.
Rescues dogs facing imminent execution if they do not get interim financial sponsors, foster parents, or medical treatment required to become adoptable.
They provide service dogs to wounded warriors with physical and psychological disabilities. Your gift gives love, friendship, and independence to those who have sacrificed so much.
Canines for Disabled Kids, Inc.
Provides canine companions for disabled children. Your support helps through scholarships to offset the cost of the dogs for the children they help, counseling services for families looking for information about service dogs, or education offered around the country to interested businesses and schools. CDK relies solely on private donations and grants.
Fido and many others thank you!
—Jennifer Fischer
Thanks, Jennifer!
Time now for DOGS IN THE NEWS, canines that made headlines the past week.
Legal in Most States, Controversial in All: Distracted Dogging.
'A Christmas miracle:' Annapolis fire dog gets donated surgery.
Sugar did something amazing … six times.
US Labor Secretary calls out wacky NYC dog-sitting rule.
Should Shelter Dogs Be Vegan?
Beware of chocolate.
Thought to be lost, a family dog in Wisconsin returns home with the help of a local mail carrier.
THAT'S IT FOR DOGS IN THE NEWS.
HERE'S OUR DOG PHOTO(s) OF THE WEEK.
Dog nativity photograph goes viral on social media.
We close as we always do with our closing video.
Where do dogs in Los Angeles go when they've been accused of behaving badly? They can find themselves quarantined in an animal shelter while their owners may find themselves ordered to appear at Los Angeles Animal Services' administrative hearings.
KCET's cameras were the first allowed into the little known proceedings, which take place in a conference room at the department headquarters in Downtown Los Angeles.
For months, KCET documented hearings as owners defended their pets from claims involving everything from barking to mauling.
One more.
Dogs bring 'a little light' into 'nightmare' of childhood cancer
OK. One more.
Boy surprised with dog for Christmas is pure magic to see
That's it for this week.
Thanks for stopping by.
See ya, BARK, next week!