Culinary no-no began on Father's Day 2007, a beautiful summer day, when I wrote about grilling brats. And eating brats. And topping those brats. I was inspired by my wife, Jennifer who, in my admittedly unscientific opinions, ruins brats by squirting ketchup on them. Other dining taboos quickly came to mind. The original idea was to take this concept only a few months, till the end of summer and then pull the plug. Then the unexpected happened. People started reading Culinary no-no. Lots of folks. So we keep doing the no-no.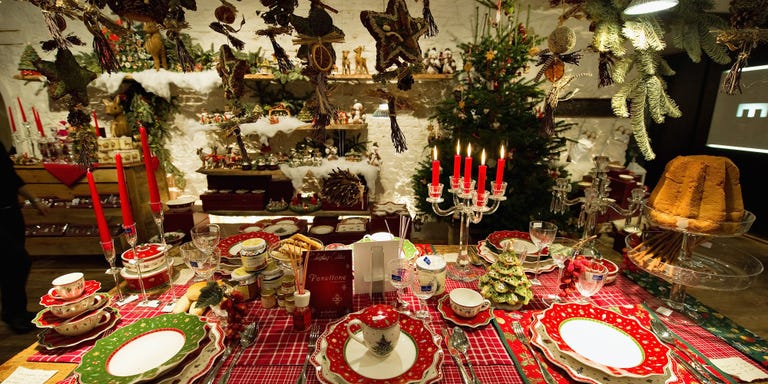 Ah, the elegant Christmas dinner table.
Those are terrific options for December 25th.
But this blog is about the no-no.
You know doggone well someone is going to butcher the traditional holiday dinner. And you don't have to ponder too long to figure out who. They're easy to pick on because their idea of cuisine is quite dubious to put it nicely.
The British.
I hear you.
They're good people, but seriously, what in the world is wrong with them?
Let's examine some Christmas offerings this year across the pond.
That's the beloved Christmas pudding, a holiday staple in England.
Christmas pudding (or sometimes called figgy pudding or plum pudding) features all types of dried fruits, among them raisins, figs, prunes and glazed fruits, as well as citrus zest and nuts. Eggs, breadcrumbs and suet (beef or mutton fat from around the kidney) helps hold the mixture of fruits and nuts together. It is then pressed into a bowl, covered with parchment, and steamed in a pot on the stove for hours and hours until cooked.
Sutton and Sons in London (above) specializes in fish and chips. From December 11 – 31 they're going to cook up deep-fried Christmas pudding. They're also deep frying the Brussel sprouts.
Oh we have more.
All Star Lanes with several British locations.
Granted, one wouldn't expect Grande cuisine at a bowling alley. Still, how bad can the menu be when you read their website?
We do home-style American cookin'. Everything is made in house, to order, including our secret BBQ sauce and home-made chutney. All our food is sourced from the best suppliers; The pork in our dogs is sourced from Dingley Dell, the beef that forges our 6oz burger patties is from Dedham Vale and our whole lobster, well that comes in very much alive!
Then you get to the Christmas specials.
Our turkey, cranberry & chestnut patty, duck fat roasted potato salad, sausage & apricot stuffing fritter, smoked Applewood cheese, and treacle cured bacon. Served with Tater Tots.
It's a burger.
Here's another Christmas burger from MeatUP, a barbecue restaurant in London.
OK. ICYMI, that was turkey, bacon, pigs in blankets, stuffing, sprouts, brie, cranberry sauce and gravy, held together with a candy cane.
And finally, there's Mr. Lasagna in London that only does, you guessed it.
For Christmas 2017…
Turkey, roast potatoes, Brussels sprouts, pancetta and caramelized red onions, layered with a béchamel and cranberry sauce.
Suddenly shepherd's pie doesn't sound so bad.
CULINARY NO-NO BONUSES
Pressure Rises for Child Cooks on TV as Shows Grow More Competitive
15 Things You Should Never Order at a Restaurant, According to Chefs
This British columnist thinks vegan critics like me are morally corrupt