Culinary no-no began on Father's Day 2007, a beautiful summer day, when I wrote about grilling brats. And eating brats. And topping those brats. I was inspired by my wife, Jennifer who, in my admittedly unscientific opinions, ruins brats by squirting ketchup on them. Other dining taboos quickly came to mind. The original idea was to take this concept only a few months, till the end of summer and then pull the plug. Then the unexpected happened. People started reading Culinary no-no. Lots of folks. So we keep doing the no-no.

Driving to church this morning we listened to Casey Kasem's American Top 40 on the radio, a Christmas music edition.
Casey mentioned that the custom of kissing under the mistletoe began in England.
Apparently stealing a kiss started with with British servants in the 18th Century where it was considered bad luck to refuse a kiss if you were underneath the sprig. Once  the couple kissed they took one of the berries off. Once all the berries were gone the requirement to kiss was no longer in effect.
Jennifer and I agreed England has some interesting Christmas traditions, but cuisine is probably not one of them.
What a horrible reputation British food has. Not very tasty,  lacking imagination, dull puddings, and weak tea.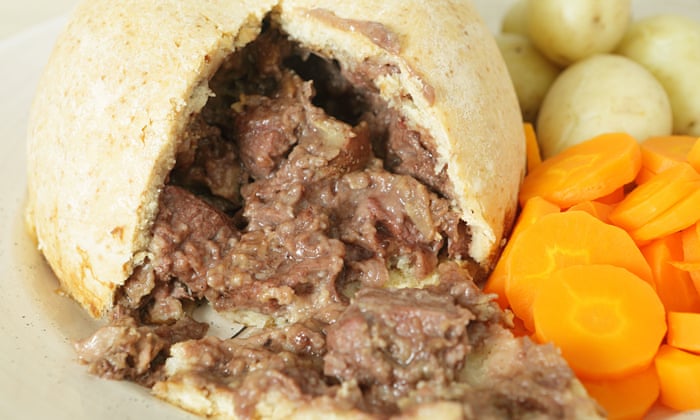 Shepherd's pie. Steak and kidney pie. Bangers and mash. Are you drooling yet? I didn't think so.
In 2014, Matthew Barzun, the US ambassador said in an interview that he had been served lamb and potato "180 times" since he arrived in the UK the previous year.
"There are limits, and I have reached them," said  Barzun.
Critics today claim the quality of food in England has improved exponentially. Maybe so.
However the Vegan Society asserts that more than half of UK adults are now adopting "vegan-buying behaviour" and that trend will spill over to Christmas dinner tables.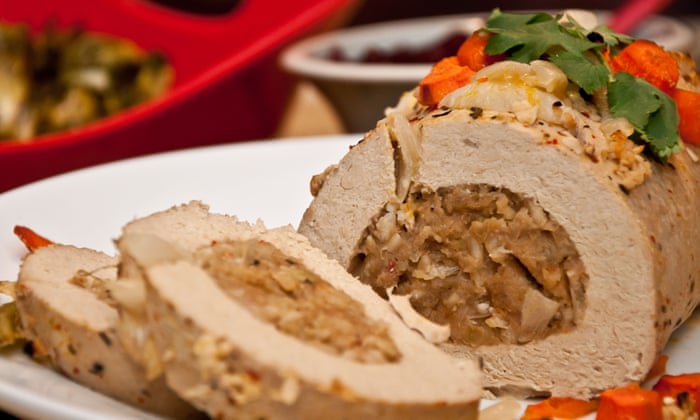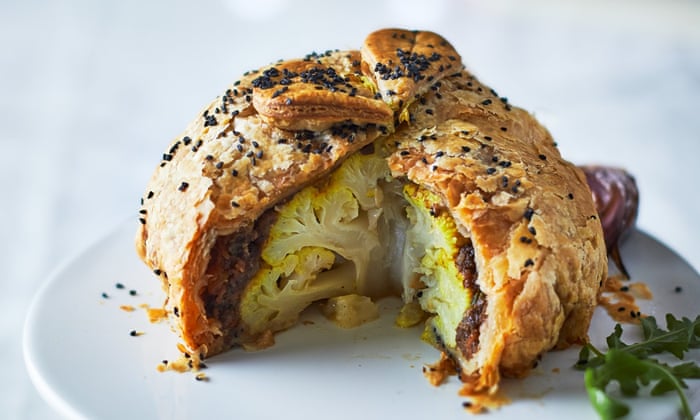 What the hell?
Photo #1 above: Tofu turkey
Photo #2 above: Turmeric spiced cauliflower wellington
They will grace tables in the UK this December 25th.
No thanks.
Those are disgusting enough. If my dear departed Irish mom was alive today she'd turn up her nose at the very thought of…
Derek Sarno, the former global executive chef for Whole Foods Market told the Guardian, "This year, with the quality of vegetarian and vegan food now so good, there may even be squabbles across the dinner table over who gets what."
No frickin' way at our house.
CULINARY NO-NO BONUSES

Could you finish a 1kg Christmas dinner burger?
This Christmas Dinner Pizza Is Topped With an Entire Holiday Menu
11 Food-Themed Ugly Christmas Sweaters Serving Up Holiday Cheer