The Barking Lot is a regular weekly feature of This Just In…Written by my lovely wife, Jennifer and me.  It opens with the weekend dog walking forecast followed by the main blog from dog lover, Jennifer. Then it's DOGS IN THE NEWS and our close. Enjoy!
THE WEEKEND DOG-WALKING FORECAST: We grade the weather outlook for taking your pet outdoors.
WOW!
TODAY:  Mostly sunny. High of 52.   "A"

SUNDAY:  Mostly sunny. High of 51. "A"
Now, here's my lovely wife, Jennifer with this week's main blog.
Kevin and I often discuss The Barking Lot.  Not just planning what we'll write about in the weeks ahead, but about how we find it amazing that there are always plenty of news stories to include in our feature.
There is never a shortage of heartwarming, awe-inspiring news pieces about dogs.  Dogs enriching the lives of their owners, dogs coming to the rescue of a complete stranger, dogs befriending an unlikely species.  I particularly enjoy stories about "–sniffing dogs."  Science has taught us that sniffer dogs are capable of much more than finding a bomb.  From drugs to bugs, they can detect such minute amounts of substances it is mind-boggling.
Of course we are proud of how popular our blog is and we credit a lot of that to the fact that people just love dogs, pure and simple.  But I frequently remark that there is no way we could do a weekly CAT feature even if we wanted to.  You simply do not read constant anecdotes about feline super heroes or studies about kitty personality traits.
Are dogs BETTER THAN CATS?  Well…
Better is truly a matter of opinion.  There are Dog People, there are Cat People.  Yes, I know there are even Some Of Both People.  Unfortunately for Camp Cat, we have some pretty strong reasoning to state that dogs are definitely SMARTER than cats.
Dog lovers, we knew it all along right?
—Jennifer Fischer
Thanks, Jennifer!
And I would totally agree.
Time now for DOGS IN THE NEWS (no trouble finding material every week), canines that made headlines the past week.
FDA: These treats could kill your dog.
'You don't think you should shoot him?,' woman asks cop as a dog rips apart her car.
Your Dog Might Be Licking Its Mouth Because It Thinks You're a Jerk.
The incredible story of a dog's mystery ailment.
Unusual dog destined for death gets another chance.
That Mexican Hairless Dog From 'Coco' Is a Cool Breed, But That Doesn't Mean You Should Get One.
Upon eating owner's letter, dog gets his own from Christian County Courthouse.
How to Take Great Holiday Photos with Your Dog.
THAT'S IT FOR DOGS IN THE NEWS.
HERE'S OUR DOG PHOTO(s) OF THE WEEK.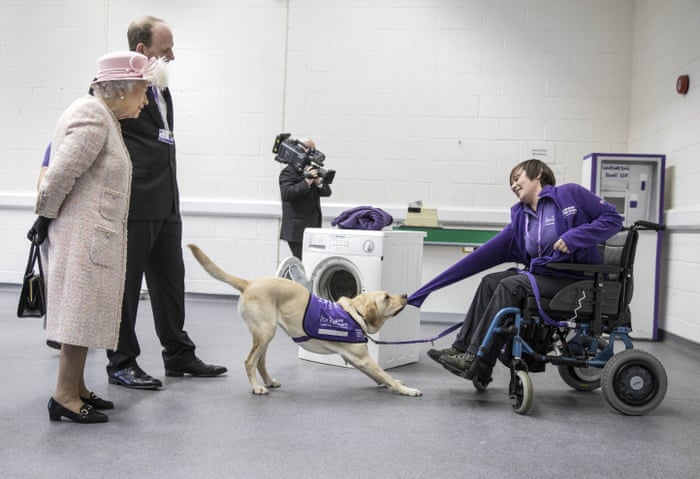 Queen Elizabeth II watches a demonstration by "Hettie" the Labrador dog showing how she can help to undress a disabled owner as she tours the facilities at "Canine Partners" charity in Midhurst in Sussex. Canine Partners is a registered charity that assists people with physical disabilities to enable them to enjoy greater independence and a better quality of life. Canine Partner dogs are trained to perform tasks such as opening and closing doors for their wheelchair-using partners, retrieving dropped items, loading and unloading washing machines, helping their partners to undress and getting help in case of emergency.  Photograph: WPA Pool/Getty Images
And while we're in the UK, these photos in The Sun show pooches who tried to swallow bees.
One more…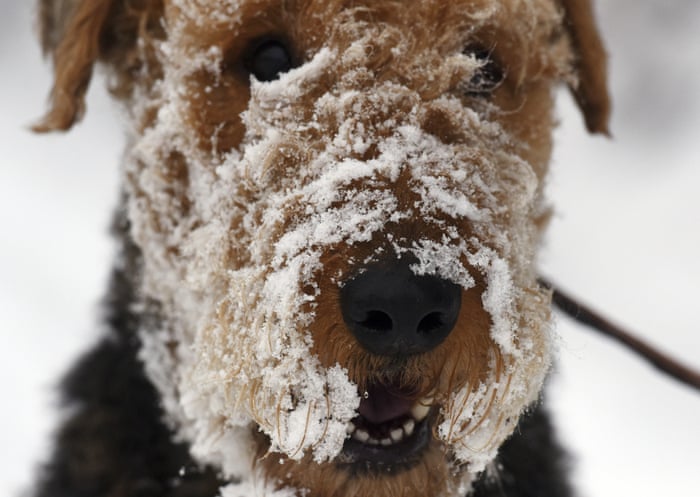 A dog's nose is covered in the first snow of the year in the Schauinsland mountains in the Black Forest.  Photograph: Patrick Seeger/AP
We close as we always do with our closing video.
First responders save your pets lives, even though technically illegal in Wisconsin. Check out the video in this story from Channel 58.
That's it for this week.
Thanks for stopping by.
See ya, BARK, next week!