The Barking Lot is a regular weekly feature of This Just In…Written by my lovely wife, Jennifer and me.  It opens with the weekend dog walking forecast followed by the main blog from dog lover, Jennifer. Then it's DOGS IN THE NEWS and our close. Enjoy!
THE WEEKEND DOG-WALKING FORECAST: We grade the weather outlook for taking your pet outdoors.
TODAY:  Cloudy. High of 42.  "D"

SUNDAY:  Mostly sunny. High of 47.  "D"
Now, here's my lovely wife, Jennifer with this week's main blog.
Kevin has many "good reasons" why a dog is just not right for the Fischer Family at this time.  Of course topping the list is that we're just not around enough during the day (and many evenings) to justify owning a four-legged friend.
We're not the doggy day care type of family or that issue would be easily addressed.  I guess we have the same attitude towards our someday-dog as we did with our daughter…  It is OUR responsibility to raise/care for our offspring.  It is NOT someone else's job to raise our kid, it is OURS.  We're no different with our dog…  If we want the joy of pet parenthood then we are responsible for said pooch.
Yes I know we have many friends reading this blog who will vehemently disagree with this position.  They are wonderful owners, and we fault no one for choosing Central Bark or any other pup sitter.  This is simply our own opinion.
So if standard 9 to 5 day care isn't an option for us, what on EARTH would we do if we went on an extended vacation?  We've been to Disney World almost more times than we can count.  If we don't want to board our dog at an extended-stay facility and couldn't impose on friends and relatives then what choice would we have?
Fortunately by the time we really DO get a dog, Disney will really have this program  in place and I think it's a fantastic idea.  I know those dog-allergic and dog-fearing will be having fits over this.  Not surprising… today everyone is "sensitive" about something and we need a support group to help them through their personal tragedies.  But for the rest of us with standard coping mechanisms, lots of dog-owning families will surely benefit.
Honestly I can't believe it took Disney this long to create these options.  Sure, they had "on property" boarding for pets for many years.  But for the majority of pet owners this wasn't good enough and I don't doubt why.  With the new program, you'll be able to have your pup with you at the happiest place on earth.  And that lends a whole new dimension to the term "family vacation."
—Jennifer Fischer
Thanks, Jennifer!
Time now for DOGS IN THE NEWS, canines that made headlines the past week.
How far-reaching has the opioid crisis become?
Iditarod Doping Mystery: Who Slipped Tramadol to the Dogs?
She put her dog down — she thought.
Ikea is also for pets. New Oak Creek store to stock new Lurvig pet furniture.
Innovative dog-training program aims to help Wisconsin veterans suffering PTSD.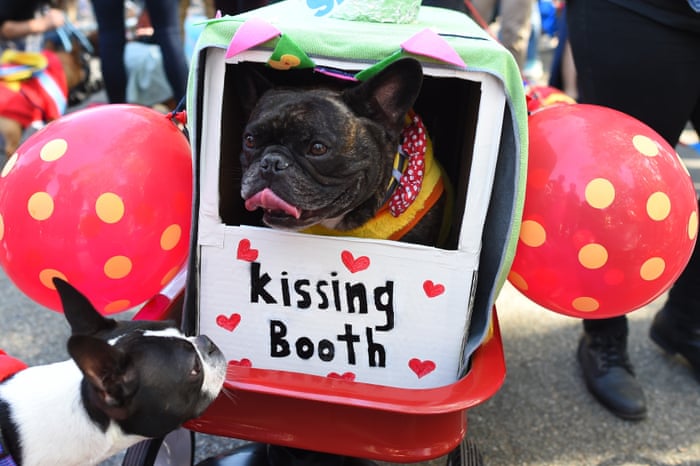 A dog in costume during the 27th annual Tompkins Square Halloween dog parade in New York City. Photograph: Timothy A Clary/AFP/Getty Images
Same event. Photo: Amy Lombard for The New York Times

Macaroon and his owner, Holly Tooker. Macaroon came as the "Brown-Eyed Grill" to her veggie-skewering chef. Photo: Amy Lombard for The New York Times

Pip the Yorkie as Amelia Doghart. Photo: Amy Lombard for The New York Times

Friends Diana Lucchi, left, and Asha Vereen built a saltwater aquarium for their three dogs, who took home first place in the costume competition. They are, from left, Giupetto, as an angelfish, Gianna, as a lionfish, and Penelope, as a clownfish. Photo: Amy Lombard for The New York Times
Oh, we've got more. Just click right here.
We close as we always do with our closing video.
We head west to California:
That's it for this week.
Thanks for stopping by.
We'd really appreciate it if you forward this on to other dog lovers you know. Let them have some fun!
See ya, BARK, next Saturday!