The Barking Lot is a regular weekly feature of This Just In…Written by my lovely wife, Jennifer and me.  It opens with the weekend dog walking forecast followed by the main blog from dog lover, Jennifer. Then it's DOGS IN THE NEWS and our close. Enjoy!
THE WEEKEND DOG-WALKING FORECAST: We grade the weather outlook for taking your pet outdoors.
TODAY:  Partly cloudy. High of 75. "A"

SUNDAY:  Periods of rain. Thunder is possible early in the day.  High of 68 in the morning, then falling temps to 55.  90% chance of rain.  "D"
Now, here's my lovely wife, Jennifer with this week's main blog.
And, here we go again.  Jennifer and her dog-geek "NOW guess what scientists and researchers discovered" blog…
What can I say?  I love dogs and although I never would have had the patience (or, let's be honest, brains) to become a scientist I do enjoy any time a canine publication comes out.  And while I don't have a definitive amount, I'm pretty sure the dog-related studies far outnumber anything done about cats.
(Note to a dear friend and long-time reader:  I can already feel the friendly-yet-chastising email coming about how cats are equally wonderful and just as capable as surprising us in scientific ways.  But I digress…)
Apparently I'm not alone in thinking that dogs really do have facial expressions.  OK, they don't quite smile the same way as we do or laugh like their owners but clearly they don't just use their tails to communicate.  But a recent finding suggests that dogs have developed expressions in response to human behavior.
I'm not going to analyze the entire study.  I'll let you read about it and draw your own conclusions.  Feel free to leave a comment about your own experiences!
—Jennifer Fischer
Thanks, Jennifer!
Time now for DOGS IN THE NEWS, canines that made headlines the past week.
Iditarod dogs test positive for prohibited opioids, race officials say.
More than 25,000 wild dogs are running amok on Guam.
A woman's dog died, and doctors say her heart literally broke.

An animal owner's worst nightmare.
Tightening the Leash on Fake Service Dogs.
Lulu the CIA's Bomb-Sniffing Dog Fails Out of School.
Hero dog refused to leave goat herd, survives wildfires.
A California family thought their dog had died in the fires, but…
How a Prescription for a Dog Helped One Man Lose Nearly 200 Lbs.
Now he's a 'canine crusader.'
You're going to want to like this page immediately.
Dog portraits offer a look into canine souls.
THAT'S IT FOR DOGS IN THE NEWS.
HERE'S OUR DOG PHOTO(s) OF THE WEEK.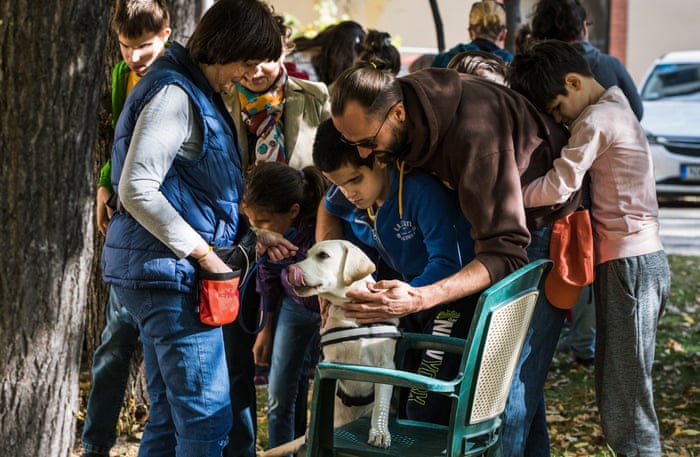 In Budapest, Hungary, blind children pet a labrador at the Baráthegyi guide dog school on a blindness awareness day. Photograph: Marton Monus/EPA
ALSO…
Seven years ago, a chance encounter with a staffordshire bull terrier wearing a scarlet neckerchief in a pub gave London-based film-maker Abbie Lucas and journalist Paul Fleckney an idea. For their new book, Great British Pub Dogs (published October 19 by Little, Brown), the pair traveled the country to document the canine residents of the UK's pubs. "It's really useful knowing where they all are," says Fleckney, who, like Lucas, doesn't own a dog but would love to. "Most pubs aspire to be a home from home and having a dog does that almost singlehandedly," he adds. "They seem to bring people together. So many publicans said how the dog seems to make people more friendly and less likely to misbehave."
At the bar of  Rosemary Branch, Haggerston, North London. Described by her owners as "obstinate", Pearl was a miniature schnauzer and was known locally for her bee-stripe jumpers. Sadly she passed away earlier this year. Photograph:  Abbie Lucas
We close as we always do with our closing video.
Norbert, an 8-year-old Chihuahua mix and his mom, author Julie Steines, joined Kathie Lee Gifford and Hoda Kotb to chat about her new book, inspired by the pup, called "Norbert's Little Lessons for a Big Life."
Check out the video here.
That's it for this week.
Thanks for stopping by.
We'd really appreciate it if you forward this on to other dog lovers you know. Let them have some fun!
See ya, BARK, next Saturday!