The Barking Lot is a regular weekly feature of This Just In…Written by my lovely wife, Jennifer and me.  It opens with the weekend dog walking forecast followed by the main blog from dog lover, Jennifer. Then it's DOGS IN THE NEWS and our close. Enjoy!
THE WEEKEND DOG-WALKING FORECAST: We grade the weather outlook for taking your pet outdoors.
TODAY:  Rain all day and night. High of 63. "F"

SUNDAY:  Mostly to partly cloudy. High of 54. "C"
Now, here's my lovely wife, Jennifer with this week's main blog.
I've enjoyed being scared since I was in Junior High.  I LOVED all those creepy movies like Children of the Corn, The Changeling, The Shining…  When my best friend and I were in high school and college, we'd go to see the most psychologically disturbing movies we could stand.  When the remake of Cape Fear came out you BET we saw it.  Particularly disturbing was the fact that the vehicle belonging to the tormented family in the movie was the same kind we drove to see it that night!
I still like psychologically creepy movies and books – Dean Koontz is my all-time favorite author of that genre.  I guess I must believe in ghosts if I allow those sorts of things to give me the heebie-jeebies, right?  So what would I do if I thought my dog (or I should say my future dog) saw a spirit?
Wait.  What???!!!  We've gone from I-like-creepy-movies to I-might-believe-in-ghosts to my-dog-sees-dead-people????  Well, the Halloween season IS upon us.  Or is that Howl-o-ween?  Honestly I didn't realize that there is a lot of talk about whether dogs can or cannot see spirits.
Considering all the remarkable stories about dogs that we have brought you over the years on The Barking Lot there is very little that shocks me about the canine sub-species.  Dogs continue to inspire and impress me of course but even the most extraordinary accounts elicit a simple, "I'm not surprised," when I read or hear about it.
I'm not about to consult Madame Maltese the Medium to see if I can contact my late Uncle Danny.  But I certainly read the following two articles with interest.  Dogster provides some attention-grabbing anecdotes and theories here.  A bit more skeptical and analytical, Stanley Coren offers us his perspective on what dogs might or might not see.
I'm sure that reactions and opinions to this will certainly run the gamut.  Feel free to comment – we'd love to hear your thoughts and experiences!
—Jennifer Fischer
Thanks, Jennifer!
Time now for DOGS IN THE NEWS, canines that made headlines the past week.
California becomes the first state to require pet stores to sell rescue animals.
Who Would You Save — Your Dog Or A Stranger?
Is it 'crazy' to spend money on dog that is dying?
A tiny dog lost her home after the floods in Texas. But that wasn't the end of her story.
Abandoned dog was dragging 6-pound tumor, and then…
Family dog in 'protection mode' helps patrol chopper find toddler in Minnesota cornfield.
Race Car Driver Saves Stray Dog but Misses His Chance of Winning.
Bring your dog to Disney World? Now you can.
Nicole Miller Teams With Puppies Behind Bars for Limited-Edition Dog Accessories.
Meet the New York City Groomer Giving Free Haircuts to Help Shelter Dogs Get Adopted
Noble Labrador is hired to be this hotel's dog concierge.
Want a Job as a Dog Walker? It's Just Like Getting into Harvard. Click here and scroll down on Page One for the article.
THAT'S IT FOR DOGS IN THE NEWS.
HERE'S OUR DOG PHOTO(s) OF THE WEEK.
A big bunch of stuff this week.
We've often posted updates on the escapades of surf dog Ricochet. Here's the latest, submitted by our friend, Judy Fridono.
Surf Dog Ricochet recently acquired a new Labrador retriever puppy named Cori. The first time Cori encountered a swimming pool, she was 16 weeks old and terrified. It took time, patience and baby steps, but her fear transcended into a life-saving initiative.
She started showing an instinct for water rescue when she was 9 months old. She is very focused and attentive when kids are in the water, and has a natural tendency to jump in when she hears splashing.
Drowning is the leading cause of death for children ages 1 to 4. However, the danger of drowning is much higher for children with special needs, specifically those with autism.
Like her predecessor, Ricochet, she has chosen her own life purpose… canine-assisted swimming for kids with special needs.
She works with organizations that teach kids with special needs to swim. Cori is an added benefit to their program and provides assistance like only a dog can!
Cori is able to break down barriers often experienced between swim instructors and students.
Some kids have refused to get in the pool with an instructor, but they willingly get in with Cori.
Because Cori had a fear of water herself, she's able to motivate kids to get over their fear too… "if Cori did it, so can I".
Parents who have been taking their kids to swim lessons for years are thrilled to see improvement after just one session with Cori.
Kids become more inclined to try things when they know Cori will keep them safe.
Cori wears a special lifejacket made for water rescue. There are two handles on the back where the child can hold onto while practicing their kicking, etc.
Because Cori's lifejacket has multiple handles, she can tow more than one child at a time, making it a fun experience for siblings too.
Various buoys are used as Cori tows kids to the steps
Kids are able to reach their full potential through fun, sensory based exercises that are geared to reduce fear and apprehension while improving confidence, social interaction, life-saving skills and more
Cori's physical presence and interaction in the water also reduces anxiety.
Her innate concern and focused attention for kids in the water gives them a sense of added safety.
To get kids closer to the pool and ease their trepidation, they are encouraged to throw balls or toys for Cori to retrieve.
The kids are also urged to sit on the side of the pool with Cori, dipping their toes in the water to get acclimated.
It's also easier for Cori to get a child to wear goggles!
And, kids are more willing to wear a life jacket when they know Cori does too.
Canine-assisted swim lessons always include human-canine bonding between Cori and the child to build rapport and trust.
Fear is replaced with excitement as kids come up with ideas for towing!
Before you know it, the child is laughing, having fun, and learning to swim!
Cori also participates in beach events as some kids have more fear in the ocean.
Kids love when Cori tows them to shore
She also does mock water rescues with the kids
A credentialed swim instructor is always leading the activities
Cori's canine-assisted swimming is part of Ricochet's
Waves of Empowerment program
so beach activities also include surfing with Ricochet, mock water rescue, towing, safety awareness, water games, retrieval exercises and more.
They focus on safety as well as building a child's confidence, increasing self-esteem, and creating a lifelong love of the water. Kids learn through play and each class is tailored to the child's needs and goals.
91 percent of all wandering-related deaths among autistic children are due to accidental drowning. Because of these statistics, Cori also raises awareness of water safety and drowning prevention. Please help her reduce these numbers by sharing this info… and help save a life.
 We close as we always do with our closing video.
A veteran performer shares his home with his canine co-stars in Reno, Nevada.
And finally, Cori.
That's it for this week.
Thanks for stopping by.
We'd really appreciate it if you forward this on to other dog lovers you know. Let them have some fun!
See ya, BARK, next Saturday!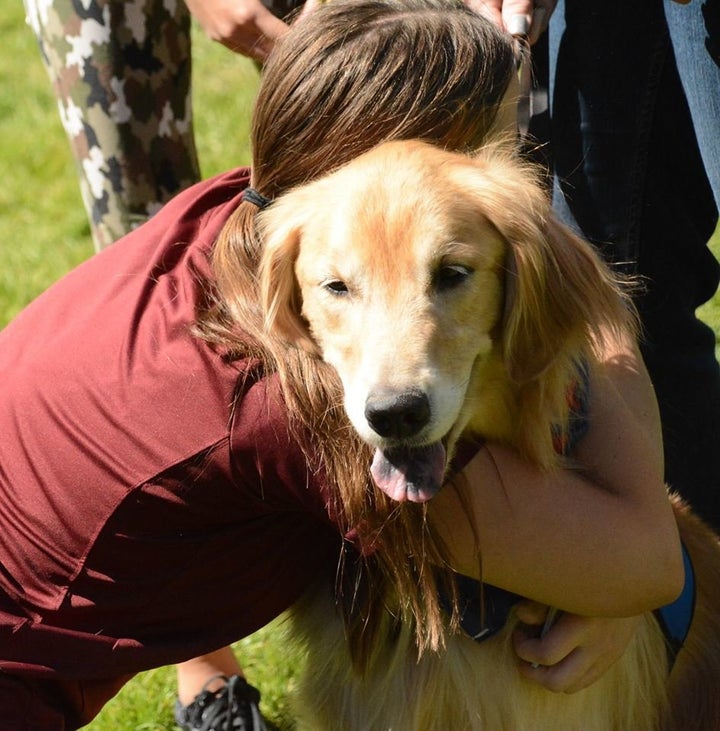 Taken recently in Las Vegas.