Culinary no-no began on Father's Day 2007, a beautiful summer day, when I wrote about grilling brats. And eating brats. And topping those brats. I was inspired by my wife, Jennifer who, in my admittedly unscientific opinions, ruins brats by squirting ketchup on them. Other dining taboos quickly came to mind. The original idea was to take this concept only a few months, till the end of summer and then pull the plug. Then the unexpected happened. People started reading Culinary no-no. Lots of folks. So we keep doing the no-no.
I've never worked for or at a local newspaper. However, I'm pretty sure editors receive some real lollapaloozas when it comes to submitted letters.
BTW, want better odds of your letter getting printed in the Milwaukee Journal Sentinel? Rip anybody in, or anything to do with, the GOP.
One would think the one fry short of Happy Meal letters never make it to publication. Au Contraire.
There are occasions when an editor either uses poor judgment or simply wants to jazz up that particular section of the paper.
WHAT'S THIS GOT TO DO WITH THE NO-NO?
I'm getting' to it. I'm gettin' to it!
Consider this letter that combines cartoon legend and star…
And well-publicized and documented NFL star running back and wife beater…
Ray Rice.
Connection begins now: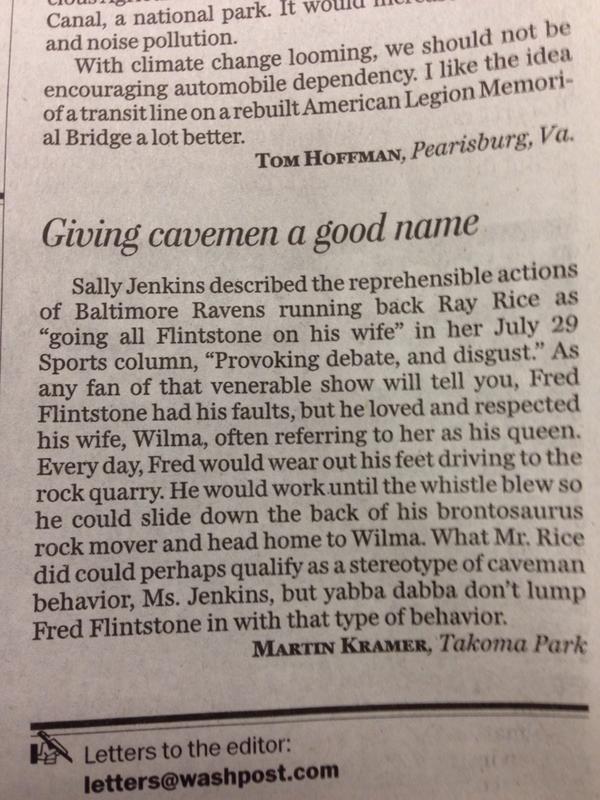 You get the point.
Which brings us to this week's no-no.
Pizza is loved.
The average pizzeria uses roughly 55 pizza boxes per day.
We consume around 251,770,000 pounds of pepperonis every year.
94 percent of Americans eat pizza regularly.
93 percent of Americans have eaten pizza in the last month.
Pizza accounts for more than 10 percent of all food service sales.
Americans eat approximately 100 acres of pizza a day or about 350 slices per second.
Each person in America eats about 46 pizza slices a year.
Kids ages 3 to 11 prefer pizza over all other food groups for lunch and dinner.
The most popular pizza size in the U.S. today is 14 inches in diameter.
Pizza is popular.
You don't mess with pizza.
A few weeks ago the following appeared in the Pioneer Press in Minnesota:
REGULATING PIZZA DELIVERY
Obviously, there are too many pizza delivery vehicles on the streets of St. Paul. This is, in part, because of too many pizza restaurants delivering in the same neighborhood. If only we could regulate just one pizza shop for a particular neighborhood. And those who do not buy any pizza would be required to pay 21.11 per month for pizza they do not want. And pay $52 in additional property taxes to make the plan work.
Eileen Quinlan, St. Paul
Wrong, bizarre, wacky, nutty on many levels.
For starters she's calling for tax increases.
She also wants to regulate, i.e, set a limit on the number of start-up small businesses.
How did she come up with those numbers?
How do you determine who's not eating pizza? How do you enforce or police that?
And what does this issue have to do with property values?
The problem with these ridiculous ideas is that they're picked up by real life policy makers who then seriously run with the proposals and before you know…a  bill becomes a law.
My advice to the folks across the border to our west…
CULINARY NO-NO BONUSES
Restaurant traffic turns negative
Save