Every Friday night we smooth our way into the weekend with music, the universal language. These selections demonstrate that despite what is being passed off as art today, there is plenty of really good music available. Come along and enjoy.
It's that time of year.
Time for one of the biggest and most popular annual events in the Badger State.
There are some very good music acts scheduled to appear at the Wisconsin State Fair that officially opened Thursday. Let's highlight a few, shall we?
We open with a guy who at the age of 15 became the lead singer and spokesman for one of the bands that made it  big during the British Invasion.
Well, you got a little extra in that homemade video!
That clip was filmed at the WI State Fair at the Bank Mutual Amphitheater on Thursday evening, August 11, 2016. And the group will be back at the same stage Tuesday, Aug. 8 & Wednesday, Aug. 9 at 8pm.
Whoa yeh.
But that video ended rather abruptly, depriving you of the next song in the set.
We can' t have that.
The band was just getting into this big hit.
A rare twin spin on the Goodnight blog!
Next, this artist made #95 on Rolling Stone's list of the 100 Greatest Singers of All Time.
Patti LaBelle was the lead in the space-funk trio "LaBelle" in the 1970's.
"She makes lyrics come alive," said producer Kenny Gamble. "And after all these years of singing, she's hitting notes that some opera stars can't hit."
The Godmother of Soul will be named a BMI Icon Aug. 31 at the 2017 BMI R&B/Hip-Hop Awards at The Woodruff Arts Center's Symphony Hall in Atlanta. She will receive the award in recognition of her "extraordinary career achievements and countless contributions to the musical landscape over the past five decades." With more than 50 million records sold worldwide and more than 50 years in show business, LaBelle has enjoyed a successful career. The multiple Grammy Award-winning singer has been inducted into the Grammy Hall of Fame, the Hollywood Walk of Fame, the Apollo Theater Legends Hall of Fame, the Songwriters' Hall of Fame and in 2005, the World Music Awards recognized her years in the music business with the Legend Award.
Now 73, LaBelle is best remembered for this 1975 hit.
Go sister!
Patti LaBelle is on the Main Stage on Saturday night, August 12.
The State Fair used to be dominated by country music. Not anymore. There's more diversity for sure. But you can always count on a dose of talented country musicians at the Main Stage.
Alan Jackson's Honky Tonk Highway Tour started off this year with the announcement that he's a 2017 Country Music Hall of Fame inductee. The tour began in January with sold out stops in Oklahoma and Florida…followed by massive crowds at the Houston Rodeo and Atlanta, a few miles from his hometown, and a huge crowd at downtown Nashville's Ascend Amphitheater early this summer.
"More than 25 years after Alan Jackson released his debut album, all he has to do to hype up fans is casually step up to the microphone," The Tennessean reported. "He did that and so much more – throughout the set, as on his albums, Jackson's voice was unwavering and strong. His affable attitude beamed brighter than his spotlights."
This Sunday it's Legends Night at the Fair. The Beach Boys perform on the Main Stage, and opening for them a group that has thirty-seven Top 40 hits to their credit, including fifteen Top 10 tunes and a quartet which soared to No. 1. On the R&B charts? They have fifteen No. 1 singles, and seventeen No. 1 albums.
Here they are on television 25 years ago.
The Temptations today.
That's it for this week.
Good night.
Sleep well.
Have a great weekend.
We close with BBVD. "Big Bad Voodoo Daddy" was named after an autograph by blues legend Albert Collins. Together for 23 years, the big band with a portfolio of jazz and swing has sold millions of records and has appeared in concert all over the world.
Saturday, Aug. 12 at 8:30pm at the Bank Mutual Ampitheater, BBVD just might bang out this gem from a classic Disney animated film.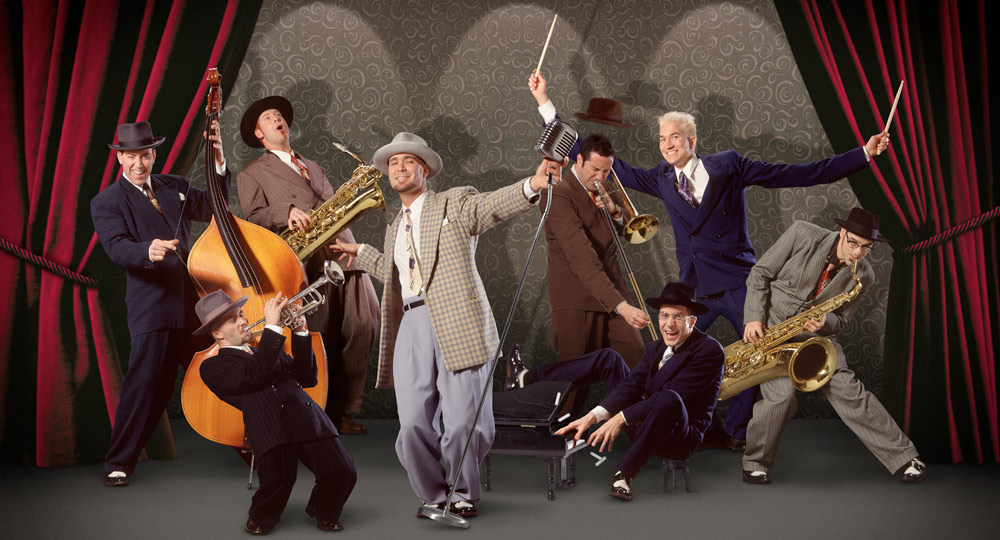 Enjoy the Fair!