The Barking Lot is a regular weekly feature of This Just In…Written by my lovely wife, Jennifer and me.  It opens with the weekend dog walking forecast followed by the main blog from dog lover, Jennifer. Then it's DOGS IN THE NEWS and our close. Enjoy!
THE WEEKEND DOG-WALKING FORECAST: We grade the weather outlook for taking your pet outdoors.
TODAY:    Sunny. High of 75. "A"

SUNDAY:  Partly cloudy. High of 83. "A"
The Doglaration of Independence
Here's my lovely wife, Jennifer with this week's main blog.
Independence Day is exuberantly celebrated in our family.  We're raising our daughter to be as patriotic as we are, loving all things USA.  We eagerly plan our annual trek to the Franklin Independence Day parade as part of our festivities.
Kyla helped me prepare our checklist for everything we needed to take to make our parade-viewing as comfortable as possible.  We brought Cousins subs, bottled soft drinks, bottled water, and sweets to share with friends we were meeting.  I had sunblock, Wet Ones for sticky hands, paper plates and napkins and a large picnic blanket.  I had a small spray bottle with water and even a pre-soaked wash cloth in a zip bag in case anyone was too hot or uncomfortable.  I also brought a garbage bag because there aren't any garbage cans along the route despite my suggestions to city officials.
Our friend remarked how prepared I was for even a simple parade.  I told her that I must have been a Boy Scout in a former life, because it's my goal to always have everything I need at my fingertips.  I had no idea that a short while later, I would be EXTRA glad that I had slightly over packed.
Kevin, Kyla and I sat in our chairs under a large shade tree while we waited for some of the post-parade traffic to die down.  The shade was refreshing after sitting in the direct sun for nearly two hours.  We sipped our iced tea, lemonade and Diet Coke and watched people & dogs pass by, eager to get home to their air conditioning.
Kyla has learned from Mommy to always keep a keen eye out for pups to pet.  That day was no different.  She enthusiastically pointed out a pair that could easily and appropriately been named Mutt and Jeff.  Turns out it was actually Percy and CJ.  Their dad asked Kyla if she would like to pet Percy, the large shaggy friend.  He told her CJ (the dog McNugget) wouldn't be a good choice to pet but Percy loved attention.
While she was making friends, I asked their mom & dad if perhaps they would like a bottle of water for the boys.  They gratefully accepted my offer.  Of course the ONE thing I hadn't brought along was a bowl.  Admittedly the thought had occurred to me but at the last moment, I literally forgot that singular detail.  It ended up that the lack of bowl didn't matter much.  Percy appreciatively lapped from the bottle as I cupped one hand underneath the spout so he could drink more easily.  CJ was hesitant at first but clearly he needed some refreshment too.  Eventually he overcame his shyness and decided a stranger's hand was acceptable as long as it had water in it.
Mom and Dad chuckled and teased Percy, wondering if he was going to drink the entire bottle himself.  It looked like that could be the case but finally both dogs had their fill, just before the liquid ran out.  The family was ready to head home, approximately 15 minutes walking time according to Dad.  They thanked me profusely and I was more than happy to help as I told them.
I would never judge a pet parent but I couldn't help but think that their pups would have been much more comfortable if they would have had access to water.  What if we hadn't crossed paths?  Presumably they wouldn't have suffered any heat-related illness but why take any chances?  I'm not the only one who thinks that way.  See the very first point of advice here.
—Jennifer Fischer
Thanks, Jennifer!
Time now for DOGS IN THE NEWS, canines that made headlines the past week.
Here we go…again.
A growing number of courts across the country are allowing specially trained dogs to accompany child abuse victims.
Puppy Abandoned in Airport Bathroom with Devastating Note Because There Was 'No Other Option.'
Four months ago, the vet told Molson he had three months to live.
Officers rescue small dog from Milwaukee lagoon — twice.
South Milwaukee removes ban on pit bulls.
Is your dog a good neighbor?
Should I Rat Out My Neighbors For Not Cleaning Up After Their Dog?
This couple gets a new you know what for every wedding anniversary.
THAT'S IT FOR DOGS IN THE NEWS.
HERE'S OUR DOG PHOTO OF THE WEEK: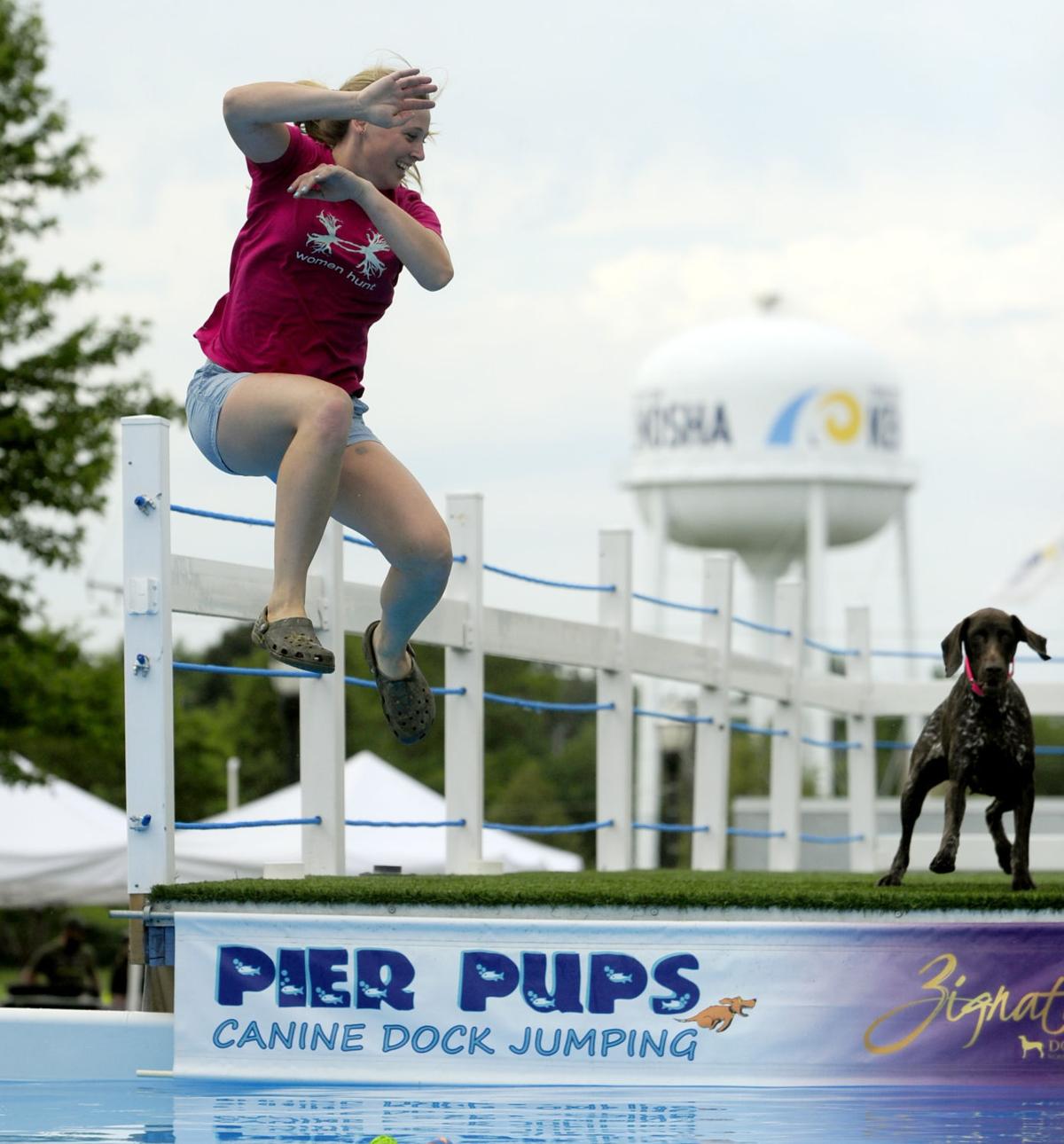 After many tries to get her dog Copper to jump after her toy, Maddie Maerzke of Waterford jumps in as a last-ditch effort during the Pier Pups Dock Diving Contest of Kenosha's "Celebrate America" festivities last Sunday on the lakefront. Kenosha News photo: Kevin Poirier
We close we always do with our closing video.
WATCH: Police Rescue Two Suffering Dogs Left Behind in 167 Degree Car. This is why Jennifer blogs about this every year.
ALSO …
That's it for this week.
Thanks for stopping by.
We'd really appreciate it if you forward this on to other dog lovers you know. Let them have some fun!
See ya, BARK, next Saturday!
Save
Save