Culinary no-no began on Father's Day 2007, a beautiful summer day, when I wrote about grilling brats. And eating brats. And topping those brats. I was inspired by my wife, Jennifer who, in my admittedly unscientific opinions, ruins brats by squirting ketchup on them. Other dining taboos quickly came to mind. The original idea was to take this concept only a few months, till the end of summer and then pull the plug. Then the unexpected happened. People started reading Culinary no-no. Lots of folks. So we keep doing the no-no.
For many, a salad is just the right choice on a rather warm day.
I'm not crazy about salads. When the choice at a restaurant is between a soup or salad, 98.5% of the time I'm taking the minestrone.
There are exceptions, but they have to go beyond the bland and typical.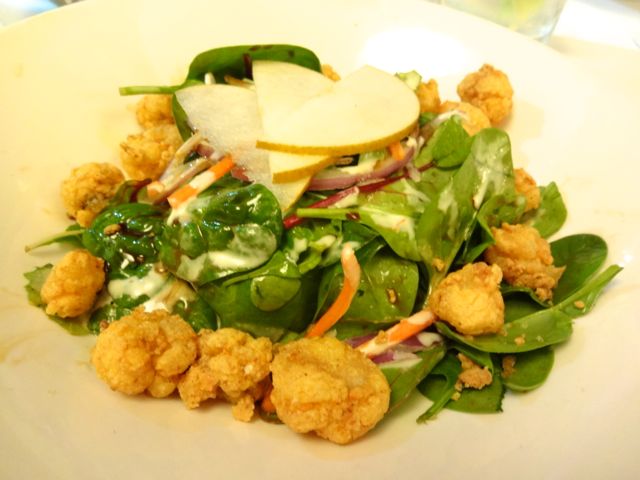 The Crispy Rock Shrimp Salad with Asian Pear, Red Onions, Soy Reduction, and Wasabi Cream, served at the California Grill at Walt Disney World.
The famous Cobb Salad, invented at the Hollywood Brown Derby. The above is from the Brown Derby in Disney World.
A spinach salad with eggs and hot bacon dressing, usually found at a good German restaurant.
And then there's a favorite often served at summer BBQs, picnics, church potlucks, and special family events. I never pass it up.
The seven-layer salad.
About a week ago Jennifer came home from shopping at Pick 'n' Save quite pleased with a bargain purchase.
Not one, but two containers of the supermarket's seven-layer salad. Jennifer insisted the price was too good to pass up.
We grilled that night and this, I thought, would be a perfect side dish.
One of the great ingredients of the seven is easy.
The bacon in the salad was so minuscule it was difficult to even see.
No wonder the stuff was on sale.
But that wasn't the no-no, which this week isn't the most egregious of the more than 500 I've posted, but enough to make me write about it.
You're obviously thinking there was something weird tossed in there, like strawberries or parsnips.
To confirm my review that one of the seven should have been left out I turned to someone who likes salads much, much more than I do. She's a co-worker and I won't use her real name. Let's just call her Dawn.
If you were making a seven-layer salad, Dawn, how would you build it?
Well, she replied, there would be this, and this, and that, and probably this. With ease Dawn rattled off what I considered to be the must-have components. All seven.
No mention whatsoever of strawberries or parsnips.
Dawn and I agreed that a seven-layer salad should be void of…


Yet the Pick 'n' Save salad was loaded with it.
"Filler," said Dawn. "That's all celery is good for."
I've had seven-layer salad a gazillion times. This was the first time I'd ever seen it made with celery. And yes, it mattered because it changed the whole texture, and thus, the taste.
Seven-layer salad is like lasagna. It's not supposed to be crunchy. And least not my seven-layer salad.
Since I'm not a salad connoisseur I pondered if I could be wrong. Is celery acceptable when used this way?
Lo and behold, if you go on the Internet there's all kinds of recipes that advocate throwing celery in with the peas and cheese.
I also discovered suggestions to use cauliflower, sugar, cucumbers, carrots, cheese tortellini, diced roasted beets, sunflower seeds, garbanzo beans, black beans, and peanuts.
That's just too creative.
No-no thanks.
Next week marks the 10th anniversary of Culinary no-no. Thank you very much for reading.