Every Friday night we smooth our way into the weekend with music, the universal language. These selections demonstrate that despite what is being passed off as art today, there is plenty of really good music available. Come along and enjoy.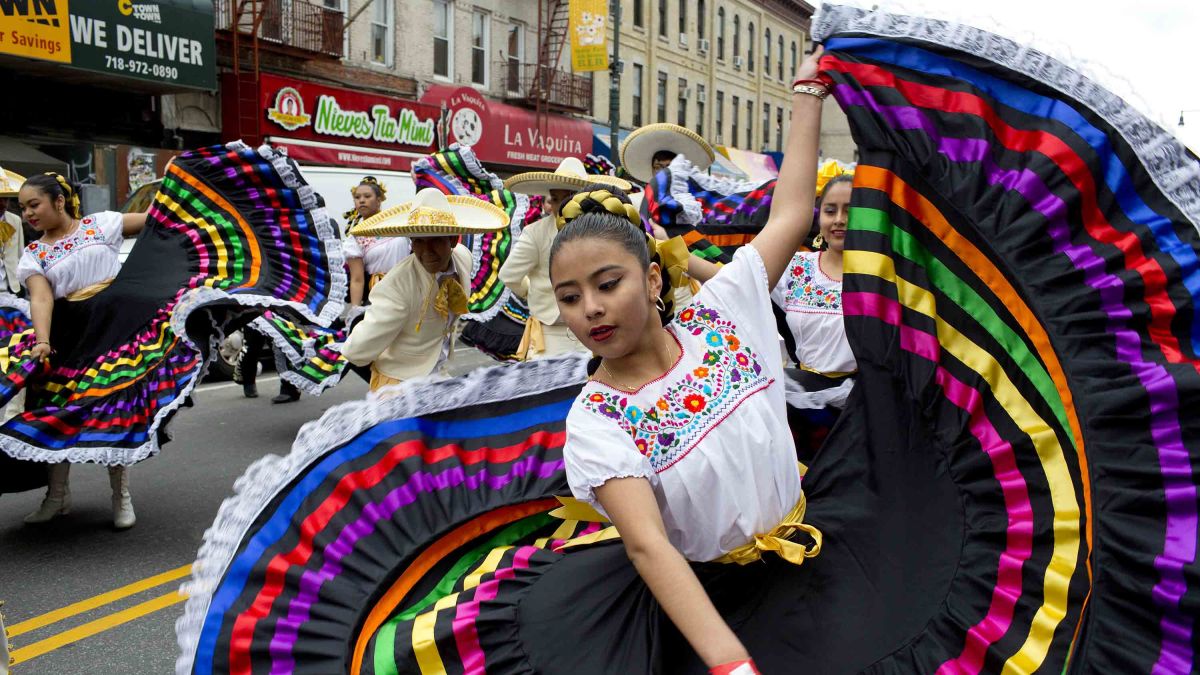 Next Friday is Cinco de Mayo, the fifth of May that commemorates the Mexican army's unlikely 1862 victory over France at the Battle of Puebla during the Franco-Mexican War (1861-1867). In Mexico there's little fanfare, but here in the States, we celebrate with parades, honking of car horns, chips and salsa and margaritas.
OK, so we're a week early, but tonight, to get you in a celebratory mood, music with a Latin flair that would be perfect for your Cinco de Mayo party. Let's get started.
One of the most popular performers to hail from Mexico is guitarist, composer, singer and band-leader Carlos Santana. His career skyrocketed  following his legendary performance at the Woodstock Music and Art Festival in 1969. The film "Woodstock" featured Santana's appearance and he was on his way to stardom with a style that over the years has combined Latin, salsa, blues, rock, Afro-Cuban, jazz, fusion, and world beat music. He is a member of the Rock and Roll Hall of Fame, has sold more than 90 million records, and performed to over 100 million people around the world.
Santana's second album titled 'Abraxas' in 1970 reached No.1 on the album charts and went on to sell over four million copies worldwide. One of the tracks was "Oye Como Va," written in 1963 by Latin jazz and mambo musician Tito Puente.
The lyrics, "Oye como va, Mi ritmo, Bueno pa' gozar." translate to "Listen to how [it] goes, My rhythm,  Good for enjoying."
Ed Calle is a Venezuelan-born academic who's played on albums with performers ranging from Frank Sinatra and Plácido Domingo to Rihanna. The saxophonist has won a Latin Grammy Award and in 2004 recorded an entire album devoted to Santana.
Speaking of Santana…
In 1972, the San Francisco Latin rock band Malo released "Suavecito," a love poem that singer and timbale player Richard Bean wrote for a girl he had a crush on in high school. The soft ballad went to #18 on the Billboard charts giving Malo national fame. The band was led by guitarist Jorge Santana, brother of Carlos Santana. Malo would never again enjoy the commercial success of "Suavecito" but continued recording and touring and developed a loyal following. From their 1973 album "Evolution," the track "Entrance to Paradise" features an organ solo by Ron Demasi.
Next, a track from "Mambo Fever," one of the albums in the kitschy and cool Ultra-Lounge series. Ultra-Lounge describes its music as traveling back in time.
"Not too far back. Just a few decades or so. Back to a time when 'revolution' meant watering down your scotch with ice and taking out the olive and putting in an onion. This is a place clothed in leopard and sharkskin. An ear bathed in gimlets, hi-balls, straight up, on the rocks, shaken, not stirred, hi-octane elixirs dressed in garnish garni. A time viewed through the seductive haze of slow-burning lipstick-kissed cigarettes that end up ashtray dancing with cigar stubs and cherry stems. The atmosphere mambos to the soundtrack of cool. Rumbling saxophones, jazzy vibes, over-heated Hammonds, and the sexy chill of a brush across a cymbal. Bold, exotic rhythms strut to the cough and cacophony of the Atomic-Age."
The performer of our next featured track is a fascinating story. Legendary percussionist Jack Costanzo has often been called "Mr. Bongo."
The Chicago native heard a visiting band from Puerto Rico perform at the Merry Gardens Ballroom in the Windy City when he was 14. At one point during the show the band's drummer switched to bongos and Costanzo was hooked.
He wanted to buy some bongos, but there was no place in Chicago that sold them. So Costanzo made his own out of butter bins and a trimmed down drum head.
"I had to learn on my own, which is good, because I developed my own style," Costanzo said. "The way I started to play is, my mother had cold crème jars, and I'd loosen the lids, get a knife and spoon, and hit them like drums. It just came to me, and I did it. My mother wasn't too happy; I just made noise!"
Now 97, Costanzo still occasionally performs in public.
"I never smoked, I never did drugs, and that helped me be a healthy person," said Costanzo. "When you're playing congas and bongos, it's enough exercise for anybody."
Here's that Ultra-Lounge track, and what happens when you take the best TV theme song of all-time and Latinize it.
A couple of years ago "Peter Gunn Mambo" was added as a bonus track on the "Latin Fever" CD. Album covers like the one above that was first issued in 1958 were rather common.
The woman pictured above is Bonnie Logan who has Wisconsin ties. Logan was the subject of a Middleton, Wisconsin newspaper article in 2014 you can read here.
When our family travels to Walt Disney World we always visit Epcot and the Mexico pavilion where we love to see Mariachi Cobre.
Notice anything about the above picture?
It should be quite obvious.
They're all men.
Nothing wrong with that. But we're about to turn the tables.
From the next group's official website:
Founded in 1999 by trumpet player Cindy Shea, the Two Time Grammy Award Winning Mariachi Divas de Cindy Shea is a multicultural, all-female ensemble that continues to push and expand the scope of mariachi music. Since 2003, Mariachi Divas has been the official mariachi of the Disneyland Resort where they entertain audiences of all ages and backgrounds on a year-round basis. In addition to performing regularly at the Disneyland Resort and when they are not busy recording albums, Mariachi Divas and their music can be found in films, music videos, Hallmark greeting cards, and movie soundtracks a well as touring across the United States and Mexico.
Enjoy this lively number.
That's it for this week.
Goodnight.
Sleep well.
Have a great weekend.
We close by answering the musical question.
What happens when marimba rhythms start to play?
Save