October 17, 1990
I was working for WTMJ Radio News. It was shortly after 3:00 PM as I recall. Afternoon drive time had just begun for radio, and the TV News department that radio shared a newsroom with was getting prepared for its big local newscasts later that afternoon.
There was sudden excitement with intense discussion about how to handle potential breaking news.
Lawrencia Bembenek, pictured above in a Milwaukee courtroom, was convicted of the 1981 murder of Christine Schultz, her then husband's ex-wife and sentenced to life in prison. For nine years she claimed she was innocent.
On July 15, 1990, Bembenek managed to slip through a basement laundry-room window at the Taycheedah Correctional Institute hop a seven-foot, barbed-wire fence, and disappear. Her lover, Milwaukee factory worker Dominic Gugliatto vanished the same day.
Three months later the WTMJ newsroom was all abuzz with word that the two fugitives had been spotted and arrested in Canada.
Was there a mad dash to break into programming and go live with the bulletin?
I'll never forget management at the time insisted that before that could happen more substantiation was needed.
While the discussion was going on, about 10 minutes later, no more, Channel 6 broke the story. A scoop had been missed in an effort to be accurate and safe.
THIS WEEK
BuzzFeed has published memos alleging that intelligence chiefs of the United States briefed both President Obama and President-Elect Trump on Russian interference into the US 2016 election. Allegations were also made about Trump's personal sexual conduct. There is no evidence the content in the memos is true.
Buzzfeed's boss, Ben Smith defended publishing the memos in a note to staff on social media: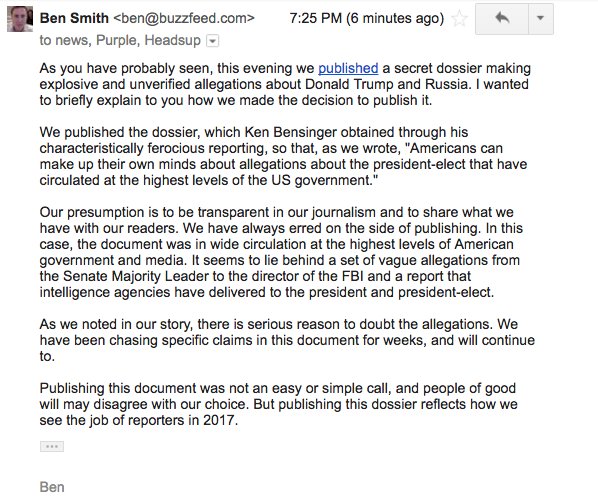 Smith's line, "Publishing this dossier reflects how we see the job of reporters in 2017," caught the attention of NY Post columnist John Podhoretz who wrote:
"This is an amazing thing to say, because if you think it through, it means publishing open libels and slanders is the job of reporters in 2017."
That's chilling.
<link rel="stylesheet" href="https://s0.wp.com/wp-content/themes/vip/people-2016/static/css/allCSS.css&#8221; media="screen" charset="utf-8″&gt