No, that's not an overstatement.
It's national news that Charlie Sykes retired from his WTMJ Radio talk show after what in that business was an unheard of 23 years on the air. His last day broadcasting was Monday. On Tuesday Governor Scott Walker issued a statewide proclamation.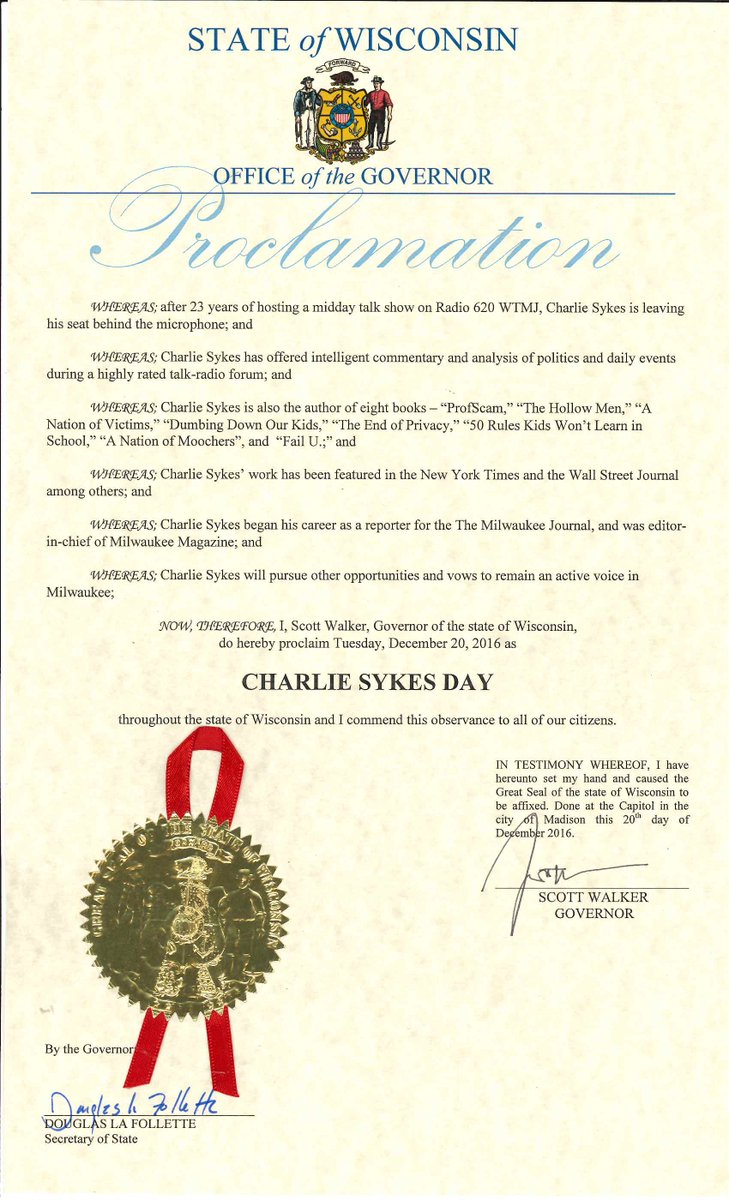 Tributes have been flooding in and Charlie deserves all of them.
In 1993 I was News Director at WTMJ radio. The station had just hired Charlie who had been doing a talk show at rival WISN.
I knew Charlie long before then, having covered side by side with him similar stories when he wrote for the Milwaukee Journal.
So I'm sitting in my WTMJ office back in 1993 and in walks Charlie. No one needed to introduce us to one another.
I assumed this was the obligatory customary formal reaching out to inform he was happy to be at WTMJ and that he looked forward to working with me. Well, yes, but there was more.
Charlie came from WISN where he was guest at the time on Mark Belling's weekly TV show and Mark's weekly radio week-in-review discussion. Now Charlie was at WTMJ.
He told me he would soon be starting his own Sunday morning TV show and he wanted me to be a regular panelist.
Immediately I was excited. But just as immediately after expressing I loved the idea I had to temper my enthusiasm.
My reply to Charlie was something to the effect, "Wait a minute. I get to go on TV and say whatever I want and nothing will happen. There will be no repercussions?"
Charlie assured me I would be fine.
I'm in, I told him.
Lynn Sprangers, Mikel Holt, and I were the original panelists on "Sunday Insight," that featured a predictable on-air verbal confrontation between yours truly and Holt, who was actually a good friend.
Then I became a regular on Charlie's weekly radio week in review on Friday mornings from 11:00-12:00 that we did just before going into  the studio to tape "Sunday Insight."
Management also allowed me to produce and voice a daily 2-minute radio commentary that aired twice during critical morning drive time.
I also filled in for Charlie as host on his talk show when he was gone. This happened a lot, especially when he was on a book tour. During the Miller Park debate I filled in for Charlie frequently, and became quite popular with those lobbying for either side.
At the same time Milwaukee Public Television Channel 10 was ready to launch its own TV pundit roundtable weekly show called "InterCHANGE." It needed a conservative panelist. Host Mark Siegrist, who was working with me at WTMJ Radio, invited me to come onboard. They taped very late Friday afternoon, so I didn't have any conflict with the "Sunday Insight" taping.
Did I mention I was WTMJ News Director at the time?
I was setting the agenda for what the radio news department examined.  I also left the building to cover stories, phoned in stories, and when back in the studio anchored newscasts.
And on the same day I was expressing explicitly my opinions on various issues, leaving no grey area behind.
This was 1993, 1994. Most folks understood, and could comprehend between Kevin Fischer the news reporter/anchor and Kevin Fischer the pundit.  But others objected, and got angry.
They assumed that just because I was now at WTMJ I still had 11 years on my resume at WUWM, so I had to be a flaming lefty, right?
The late Tim Cuprisin, at the time the radio-TV critic for the Milwaukee Journal was incredulous. How could a supposedly objective news reporter who'd won his fair share of awards be given the altitude to spew his personal feelings and views on the largest radio station in the state? Why, this was outrageous.
My how times have changed in the media.
More and more my conservative beliefs were broadcast to thousands.
One day I was doing what I had since 1978. I was at the Milwaukee County Courthouse, covering the regular monthly meeting of the Milwaukee County Board. During a lull in the proceedings I had left my media desk spot to stroll behind the County Board room and was accosted by a Milwaukee County Supervisor  who never said 'no' to my request for an interview or answers to questions. There was always mutual respect. That day in the hallway behind the meeting room I was blasted.
The always sweet, well-mannered, Milwaukee County Supervisor Dorothy Dean who I had never seen lose her composure blew up at me.
"You've become a clown," she yelled at me.
"You're an entertainer!"
My respectful, far less quiet attempt to respond to a colleague who had been 100% responsive went nowhere.
I was disappointed. You loved me before, but no more?
Disappointed, but not deterred. I never softened. If anything I accelerated my conservative messages.
Former state Representative Jeff Stone once stopped me in the rotunda of the state Capitol and mentioned no state staffer had the influence I had. Indeed, lawmakers would grab me and ask if they could come on the program the next time I subbed for Mark Belling, which I did often after I left WTMJ and went to work for the state Senate.
I thoroughly enjoyed working with Charlie. Major highlights were broadcasting live from the US Capitol after the GOP took control of the House and Newt Gingrich inverted stations to broadcast live. I went along to provide special reports.
Then there were the live broadcasts in 1996 from the GOP national convention in San Diego and the Democrat National Convention in Chicago.
We worked in tandem. He'd weave in my reports during his live discussion with guests.
And today I blog about those memories.
All of this would not have been possible without Charlie Sykes waltzing into my WTMJ office 23 years ago.
I value those times and above all my friendship with Charlie, an honorable, principled, decent guy.
I can't imagine the daily onslaught of nasty, evil, disgusting messages Charlie has received over 23 years. For him to persevere despite all the garbage day in and day out in such a manner speaks volumes for his character and professionalism.
Charlie deserves the best in what I happily know will not be an inactive retirement.
I am enormously grateful for the many opportunities he opened up for me.
I close with a story I love to tell and have done so for more years than Charlie broadcast  at WTMJ.
Charlie and I often covered Milwaukee Mayor Henry Maier at Milwaukee City Hall in the late 1970's and early 1980's. Maier constantly verbally attacked Charlie's employer, the Milwaukee Journal. So Charlie would often feel the  brunt of Maier's angry outbursts.
My memory isn't that good. At this news conference the issue being discussed may have been, and often it was, Milwaukee's deep tunnel project.
Whatever the matter at hand Charlie proceeded to ask a pointed, directed, and tough question.
The mayor huffed and puffed and erupted.
No one in the room, the mayor pointed out had asked such a question. It was the Journal's representative that lofted such an inquiry. Maier said he refused to answer.
Without hesitation Mark Siegrist who was working for Channel 12 jumped in and verbatim asked Maier the exact question Charlie had posed. I mean exactly, word for word.
Maier, too, without hesitation, proceeded to calmly answer the question.
The assembled reporting crew looked at one another, and smiled.