THERE ARE THOUSANDS AND THOUSANDS OF  FOOD BLOGS, BUT ONLY ONE CULINARY NO-NO!
NOTE: This is not the most egregious Culinary no-no ever published. But it's an observation I find noteworthy and hope you find interesting.
We begin with a question. Do you know who this is?
If so you're very good.  If not, stay tuned. We'll get back to her later.
When you think of tasty food…
A gas station doesn't immediately come to mind, if at all.
Gas stations that offer a myriad of products besides gas are known as convenience stores. Here's a startling stat. Every day half of Americans make a stop at a convenience store where they can be exposed to a number of unhealthy options. This is off the main point of my no-no but it's worth mentioning that endurance athlete Frank Beard admittedly might be the exception but he lost six pounds after eating only gas station food for 30 days.

Of course I just take one glimpse of those greasy hot dogs and the needle on the scale moves. Maybe we'll explore in a future no-no.
Near my Franklin residence is a very convenient convenience store.
Kwik Trip.
The award-winning Kwik Trip.
And if you've ever been inside a Kwik Trip, you certainly know why.
Impressive.
Clean.
Everything in order.
Great variety.
Friendly service.
From yelp.com:
I recently made my first stop at this store after it became a Kwik Trip (before that, it was an Andy's gas station/convenience store). I had received a flyer in the mail advertising their grand opening deals and decided to go check it out. This is a very nice store. The layout is spacious and the staff is very nice. The store is clean and well kept.
Kwik Trip offers a variety of food and beverages. I definitely recommend the breakfast sandwiches. They are hot and fresh. I also purchased some of their chicken and cheese wraps for lunch. They were very good and kept their freshness throughout the week. The prices are pretty reasonable.
I will be sure to make more trips here in the future.
A welcome addition to the neighborhood.  Being that I live and work in the Franklin area, the opening of Kwik Trip was greatly anticipated and I'm happy to say it's lived up to the hype. Everyone who works there is very polite, making the customer service a dream. An example: upon entering the store one day I was greeted by a lady who told me that if I couldn't find anything I'd like to eat at the hot bar to let her know what I *would* like to eat and she'd have the kitchen staff prepare it for me. I took her up on her offer and asked for a slice of pepperoni pizza. It was hot and delicious. And cost around $2.00 to boot. This is one of the many reasons I love this store: amazing customer service! And that goes a long way in my book.
Did I mention Kwik Trip is award-winning?
In 2015 the Wisconsin Economic Development Association (WEDA) announced the winners of their first annual Community and Economic Development awards. The awards program was developed by the WEDA and its partners to recognize best practices and economic development-focused groups  around the state that are making their community or region a better place to live, work and play.
Kwik Trip was a 2015 nominee for the Economic Driver Award.
Info from WEDA:
The Economic Driver nominees have a business that continues to investment with their Wisconsin business operations, human capital, and communities over a period of years. The nominees have demonstrated:
Continued Investment and Job Creation in the State of Wisconsin;
Commitment to advancing their business models and product development efforts;
Commitment to their employees and being an employer of choice;
Commitment to the communities in which they operate;
Commitment to worker safety and the environment. 
Kwik Trip is a leader in the convenience and fuel store industry nationwide. Started in Eau Claire in 1965, the company has grown to 494 stores in the Upper Midwest, with 296 in Wisconsin alone. Kwik Trip's success can be attributed to a number of powerful factors. First and foremost is a commitment to its customers, or guests as they refer to them, delivering first quality products at affordable prices, very attractive store designs, and stores that are immaculate. Next is its commitment to employees or "Co-workers" as they are called. Kwik Trip is benefited by a dedicated workforce of employees who are making their careers with the company. Training and advancement opportunities are a hallmark at Kwik Trip.
More great stuff about Kwik Trip from Convenience Store News that designated Kwik Trip Innovator of the Year:
Kwik Trip has become one of the c-store industry leaders in foodservice — noted for owning and operating its own food commissary, dairy, bakery and other food manufacturing facilities, as well as its own trucking fleet.
Here's an amazing bullet point:
Kwik Trip also offers a wide range of grab-and-go foods for breakfast, lunch, dinner and snacks, most of which are produced and delivered from its own bakery and Kwik Trip Kitchen commissary. Breakfast offerings include bacon croissants, Western English muffins and sausage-and-egg sticks. The bakery supplies Kwik Trip's signature Glazer doughnuts (think Krispy Kreme), muffins, cookies, Danish, bagels, bars and breads.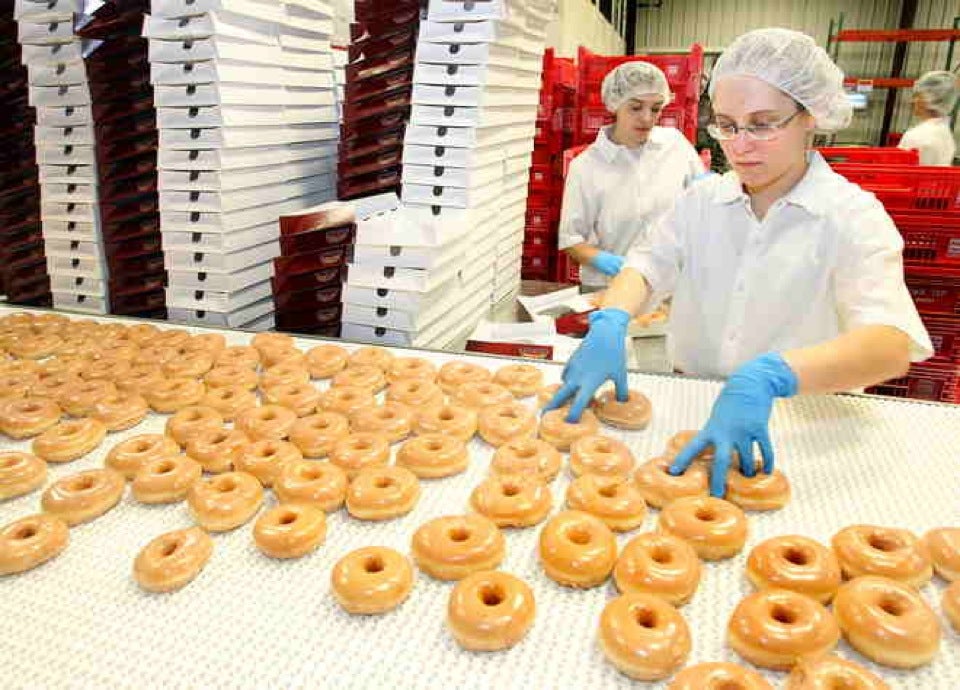 A gas station that makes its own bakery?
And one more complimentary note:
Kwik Trip's hot dispensed beverages include a wide range of coffees, cappuccinos, lattes, steamers and hot cocoa, and the stores feature a huge selection of cold fountain drinks as well.

Hot dispensed beverages.
They include a wide range of coffees.
And they do.
BRIEF DISCLAIMER: I love Kwik Trip, for all the atta boys mentioned above.
How often have you seen it? You're filling your gas tank and at the pump or in one of the windows a sign reads there's hot coffee inside.
Let's not get too analytical here. Hot should mean hot, right?
I repeat. I love Kwik Trip. But for the past few months when fall and now winter have set in each and every one of my early morning stops at the ever-so-close Kwik Trip for hot coffee have resulted in lukewarm coffee that cooled off in a mere few miles.
For gas station, I'm sorry, convenience store coffee, Kwik Trip's Karaba is very good. But to me it's just not hot enough, with or without lid, and I've been testing since the end of summer. And now that we're firmly in the grip of winter I'd prefer my coffee stay hot a bit longer.
Back to our opening photo.
In 1992, a 79-year-old woman, Stella Liebeck, ordered coffee at a McDonald's drive-through, spilled the coffee, suffered burns, sued the company and was given a jury award of $2.9 million, later reduced to about $500,000.
Kwik Trip has no worries about a similar frivolous lawsuit.
BTW: The breakfast sandwiches, a price value, but also lukewarm.
Save
Save
Save