The Barking Lot is a regular weekly feature of This Just In…Written by my lovely wife, Jennifer and me.  It opens with the weekend dog walking forecast followed by the main blog from dog lover, Jennifer. Then it's DOGS IN THE NEWS and our close. Enjoy!
THE WEEKEND DOG-WALKING FORECAST: We grade the weather outlook for taking your pet outdoors.
TODAY: Partly cloudy. A high of 59.  "C"
SUNDAY:  Mostly sunny. High of 63. "A"
Here's my lovely wife, Jennifer with this week's main blog.
I have mentioned this several times in the past, but for new readers to The Barking Lot, it bears repeating…
Kevin can say that the reason we don't have a dog is "because no one is home during the day" all he wants.  Don't let him fool you.  That might be a tiny bit true, but it's not THE reason.  You see, Mr. I Don't Want A Dog is actually Mr. Softie in disguise.  He doesn't want a dog because he doesn't want to say goodbye to our beloved pet.  He doesn't want to see our dog age at what he feels is a terribly unfair pace.  He doesn't want to endure the heartbreak of the end of its life.  And while I completely understand his perspective, I also completely disagree with it.
I've blogged about my own experiences with having to euthanize my beloved pets, and I've also shared the devastation we felt with our dog-in-law Leia's death.  My in-laws have (so far) chosen not to adopt another dog.  But there isn't a day that goes by that she is not thought of and remembered with an incredible amount of love.  As a pet owner, you do whatever you can and whatever your resources allow to give your furry friend the best life possible.
This is now the third time I will be blogging about an incredibly promising drug trial that could (and has, in some cases) extend the length and quality of your dog's life.  I first wrote about Rapamycin in November 2014.  Less than a year later there was an encouraging update, promoting even more hopeful news that dogs might be able to live longer.  
And again, almost exactly a year later there is still MORE good news about this drug trial.  I can't imagine any dog owner that wouldn't want to utilize it if at all possible.  If there is any chance of extending our precious pets lives, we'll do it.  Selfishly, there might be hope for our family too…  If I can convince Kevin of medical advances like this perhaps he will be more willing to give in and FINALLY get our own four paws!
—Jennifer Fischer

Thanks, Jennifer!
Time now for DOGS IN THE NEWS, canines that made headlines the past week.
Liberal website claims Dogs' Lives Don't Matter To Cops.
Wolves are killing hunter dogs in Wisconsin.
Meet Kobe who's in some tough training these days.
A day in the life of a service dog.

10 reasons to thank a Military Working Dog (MWD).
Strangers come together to give dying dog one last special day around town.
Dog plays Cupid to help his owner 'pop the question.'
Autistic Boy Makes Heartwarming Connection With Service Dog
'Real life' room lets shelter dogs de-stress (and hang on the couch).
What could make a Hawaii vacation better? PUPPIES.
They're not hot dogs…in Malaysia.
Should you let your dog lick your face?
Are you kidding me? Ridiculous column says Halloween dog costumes should be illegal.
THAT'S IT FOR DOGS IN THE NEWS.
HERE'S OUR DOG PHOTO OF THE WEEK:
Police dog Fred jumps on his handler, officer Drew Severson, in apparent celebration after locating a drug sample Thursday at the Janesville, Wisconsin Police Department. Photo: Angela Mayor
We close as we always do with our closing video.
A 13-year-old black lab was recently diagnosed with cancer. Wellington's owner, Amy Loveless, made a bucket list. The very first item on the list: a wedding on the seaside near their home in England.
That's it for this week.
Thanks for stopping by..
See ya, BARK, next week!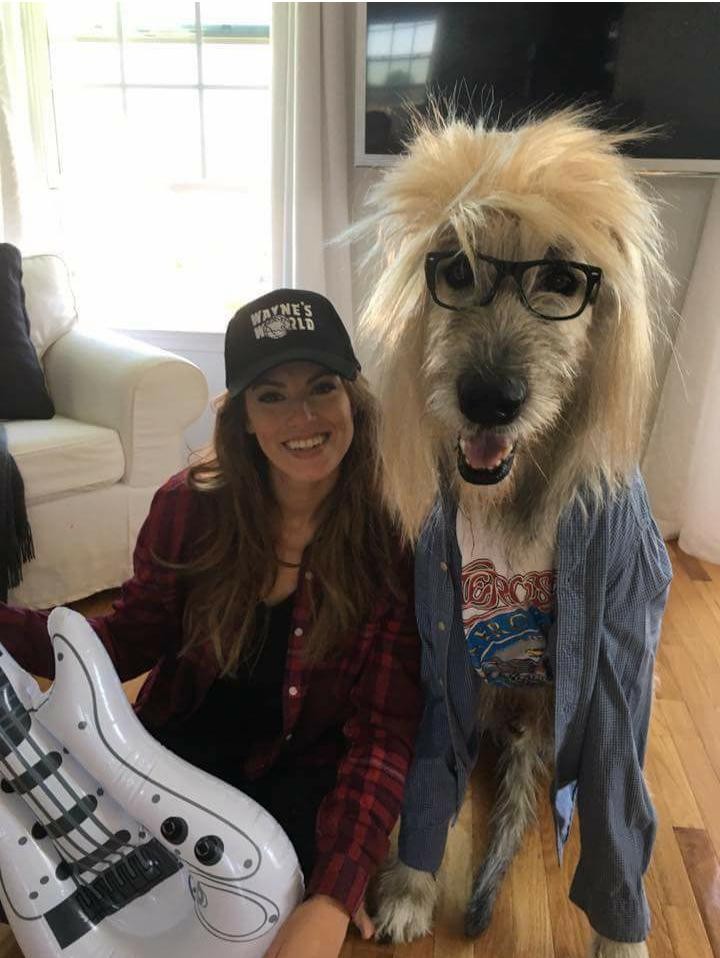 Former Miss Delaware, Kate Banaszak, and her dog Kellan, dressed up as Wayne and Garth from Wayne's World. Photo: REDDIT
Save