In 1976 a program debuted that changed television. It featured three female detectives who took their instructions from a boss they never saw who spoke them over a squawk box.
This was highly unusual for the mid-70's. Women didn't have lead roles in hour-long series. And they didn't parade around on TV bra less.
Forty years ago yesterday, September 22, 1976,   "Charlie's Angels" was the pioneer of "jiggle television." Critics had a filed day, ripping what they viewed as horrible acting.
But viewers loved it and Angels Farrah Fawcett,  Kate Jackson, and Jaclyn Smith.
Smith, the only Angel to appear in all five years of the show, now 70 told People, "It was groundbreaking. It was about three emotionally and financially independent women. We shot at beautiful locations with fancy fast cars, and they cared about each other, so there was a heart to the show. People said we were sexually exploited, but it was a nursery rhyme. We were in a bathing suit at the beach, and if there was a hint of a love scene, it was so proper. I think the producers were smart. They wanted to bring in that younger audience and did want families to watch together."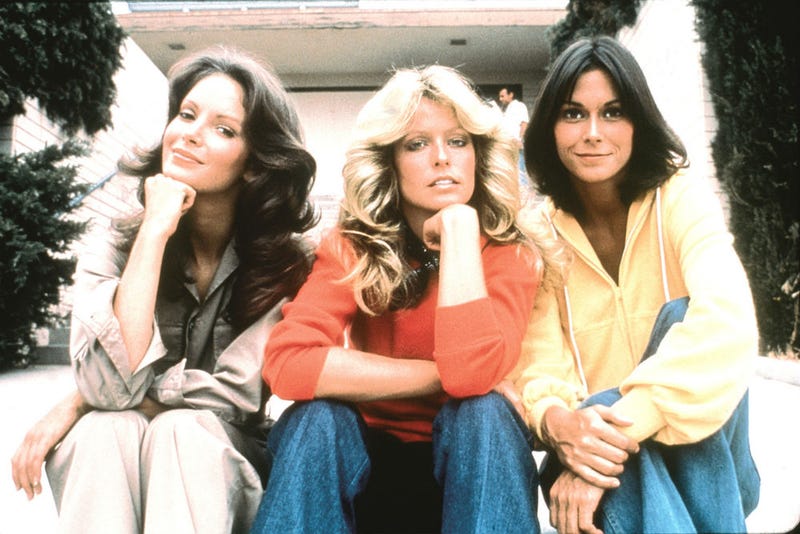 TV theme music/songs were big business back then. Henry Mancini's recording of "Charlie's Angels" peaked at #23 on the Adult Contemporary chart in 1977. Here's the  late, great Mancini conducting the orchestra. And it's vintage Mancini.
BONUS!
When "Charlie's Angels" aired in its first season it followed another popular  ABC-TV program, "Baretta," starring Robert Blake as the maverick  undercover New York detective Tony Baretta.
That show's theme song also turned into a hot seller. In 1976 it did better than the Charlie Angel's theme, rising to #20 on the Billboard Hot 100 chart. Do you remember?