NOTE: This week's installment contains material from a previous no-no.
It's been a Sunday tradition for me my entire life.
Holy Mass at St. Anthony's Church on the south side of Milwaukee on Mitchell Street.
Baptized there, St. Anthony's has been my only parish. Following the weekly service when I was growing up it was back home where we lunched on ham and rolls from Jan's Sweet Shop, also on Mitchell Street.
Sometime in the mid-1970's the ham and rolls routine became a bit tiresome, so after I'd usher alongside my dad we'd head across the street to Athens Restaurant (known as Dixie Dinette before that) for a complete breakfast that I swear barely crossed the $2.00 mark.
Pat later relocated to Meyer's Restaurant near 60th and Forest Home. It's now serving great meals near 73rd and Forest Home in Greenfield.
She was always a favorite of my parents. Twenty-some years ago Pat would joke that she'd been waiting on me for the past 50 years. Not quite. But she still waits on me today and is a dear friend.
If we get seated in her section on Sundays around 11:30 when it comes time for my order, I don't even have to speak. After all, she's been waiting on me for what, a half-century?
I simply nod and hand Pat my menu and she starts to write…and speak.
"Chopped sirloin. Medium. A-1. Hash Browns. White toast. Regular coffee."
"Sounds good to me," I respond.
"I oughta know," Pat replies with a grin. "I've been waiting on you for 50 years" with a chuckle as she heads to the kitchen.
That's Pat at Christmastime. She's waitress/server with a big "S" on her chest.
Let's move to Lake Buena Vista, Florida. Some call it Orlando. They've got this restaurant…
The California Grill, right on the top floor of the Contemporary Resort in Walt Disney World, a five-minute walk from the Magic Kingdom. This amazing restaurant is a must stop whenever we vacation at the Mouse House. When we do, we request Nancy if possible to be our server. Nancy is a true cheesehead from the Fox Cities we first met at another Disney dining spot, Victoria and Albert's at the Grand Floridian Resort.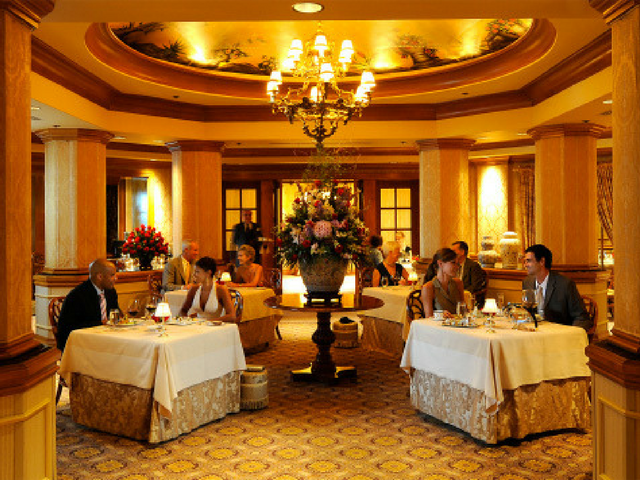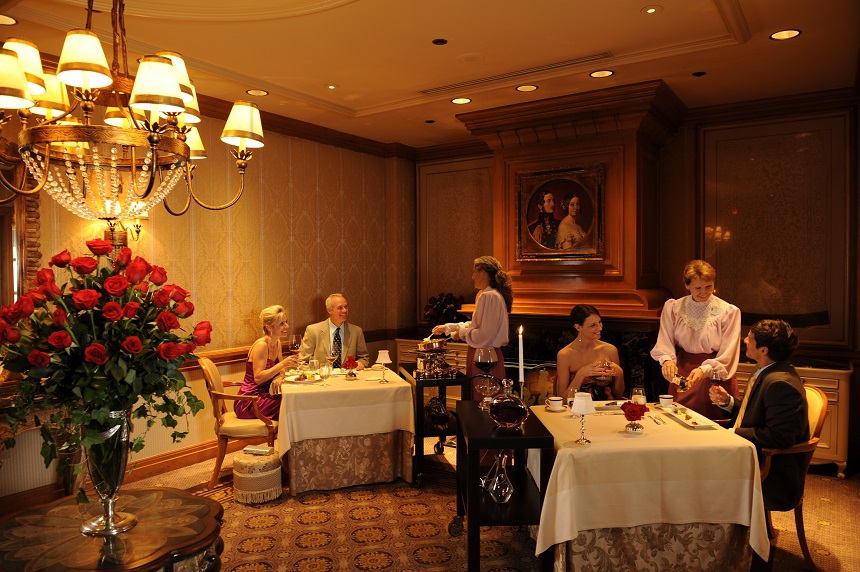 There are other serving favorites we enjoy.
Penny when she was at Casa di Giorgio.
Joliet at Trattoria di Carlo.
Dawn and Delaney at the Packing House (They call themselves the "Double D's."  We'll just move on.)
Regular warm, welcoming, smiling faces on regular servers automatically bring a sense of comfort, that the experience is going to be very nice and then some.
From my perspective, the interaction is priceless. Pat isn't just a waitress. She's family. We see her more often than my closest relatives.
Down in Florida, an annual chance to see Nancy seems like it was yesterday when we last talked about Wisconsin weather and the exploits of the Packers and Badgers.
Right about now regular readers who know the drill are thinking this must be where the actual no-no begins to emerge.
That's one of the many popular Timbre restaurants in Singapore. While they pack them in, Timbre restaurants have a big problem: a waiter/waitress shortage. They've implemented what they think is the solution. Take a look.
Do you see it?
It's no optical illusion or magic trick.
Looks like something out of the Jetsons. That's a drone circling above the young couple's table.
Don't have enough servers? The Timbre chain will adjust by using drones that can fly and don't have to be paid wages.
From Marketwatch:
Infinium Robotics' drones are due to be introduced at the restaurant chain by the end of the year, carrying up to 4.4 pounds of food and drink each. The airborne, unpiloted robots will deliver food within the restaurant by swooping over the heads of diners on paths charted by a computer program, using infra-red sensors placed around the restaurant.
Infinium says the drones will be able to free up staff members to focus more on interacting with customers or other tasks that require higher-level thinking. It's especially important in Singapore, where the country's food-and-beverage industry lacks nearly 7,000 people.

Yeh, but that's Singapore, not the good ol' US of A.
Again, from Marketwatch:
"The food-and-beverage (F&B) sector is plagued by a severe shortage of workers," according to a report from Singapore's Ministory of Trade and Industry. "Many seemed to attribute this to the low profile of the industry, long and irregular working hours, as well as the negative connotation associated with an F&B service staff.
It's a similar situation in the U.S., where the 2012 average annual salary for waiters and waitresses was $18,590, according to the American Job Center. And it's not easy for the U.S. restaurants to find waiters either: Nearly 43% of open jobs in the food-service industry remain unfilled for longer than three months, according to the Bureau of Labor Statistics. 
Could U.S. establishments benefit from drone waiters?
"Robots can shift tasks away from humans, and we can do the higher cognitive functions," said Jonathan Rupprecht, a commercial pilot and practicing lawyer. "Robots can't do art, can't mix drinks. They can't put garnishments on food. You can spend more money on the chef, then free him up with robots that can work long hours." 
The claims are nothing can go wrong. No collisions. No dumpings. No wrong deliveries.
I'm all for taking advantage of technological advances. This isn't one of them because I have my doubts. Sorry, But I prefer the less than minimum-wage paid waiter or waitress working hard to earn his/her tip over a drone.
Are we trying to obliterate all forms of human interaction? I'm using one of them right now.
Pat, how's that dog of yours, Lulu doing?
What trouble did she cause this week?
Pat, what are your plans for Florida in May?
Will you be able to get away for some grouper?
Nancy, what do you recommend on the menu this time?
Nancy, how about those Packers!
Dawn, how are your kids doing in sports?
Dawn, you still watching me on InterCHANGE while you work out?
Delaney, how's married life?
Delaney, how's your Mom?
Delaney, why won't you get me more water?
Delaney, Double D's? You're not serious, are you?
So, how's this fail-safe experiment working out at the restaurants using this high-technology?
The robots couldn't carry soup.
They couldn't hold items steady.
They frequently broke down.
They couldn't take orders.
They couldn't pour water.
They spilled drinks.
And here's the kicker.  Zhang Yun, vice-principal of Guangdong University of Technology, explained that while robots were excellent at improving productivity in the manufacturing industry where tasks are repetitive, they were unable to perform well in fields where frequent human interaction was necessary.
The robots recently were given the Donald Trump treatment, fired from what promised to be a cost-savings marketing gimmick to get diners in the door.
CULINARY NO-NO BONUSES
Stuffing it down their throats
School cafeteria food has never been confused with fine dining, but student distaste for school lunches has risen to new heights since the food standards imposed by the Healthy Hunger-Free Kids Act of 2010 began being implemented.